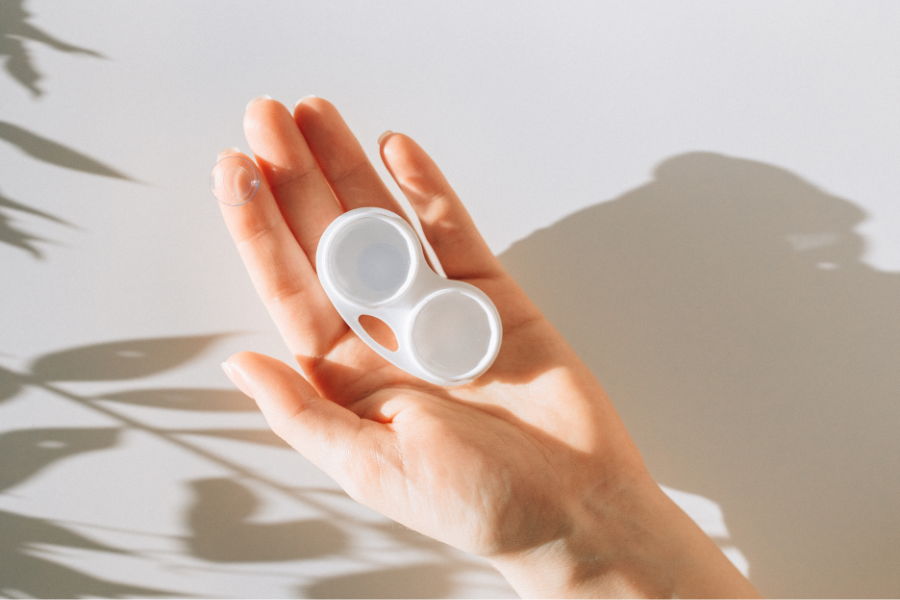 The right pair of glasses can tell your story to the world. Think about it: Harry Potter would be nearly unrecognizable without his signature circular frames! Although they can help you see better — and look fabulous while you do it — the reality is that glasses aren't everyone's cup of tea.
Some people just prefer the way they look au natural. Others can't be bothered with glasses fogging up, sliding down, or getting lost. Enter contact lenses: a convenient, reliable, and unnoticeable alternative! Both can help you see better, but which one is right for you?
"Each one has its own benefits and pros and cons," says Dr. Andrew Liang, our Optometrist at HealthOne. There's no "wrong" or "right" answer to the question – it's completely up to personal preference! In this blog, we'll be sharing how contact lenses are different from glasses to help you make an informed decision.
Contact Lenses Vs Glasses
Let's start by understanding the differences between contact lenses and glasses. "The biggest difference is that contact lenses sit on your eye," Andrew explains. "There are two main reasons why people come in and want contact lenses instead of glasses: convenience and looks."
If you're someone who plays a lot of sports or goes to the gym, for example, it isn't exactly convenient to have glasses falling down your face. When you wear contacts, you can enjoy your daily activities without anything getting in the way. "That's the #1 reason people come in for contact lenses," Andrew shares.
People might also avoid wearing glasses for aesthetic reasons. Maybe you have an important work meeting coming up or a first date where you want to feel your best. Glasses can certainly make some people feel more confident, but others might feel better about their appearance without them.
Now that you know the two main reasons why people choose contact lenses, let's take a look at the different types that exist.
Daily Contact Lenses
The first type of contact lenses you should know about are daily disposables. "These are contacts that you wear once and toss away," Andrew explains. "They're a lot healthier because you always get a fresh lens, and it's a lot more convenient if you travel a lot as well."
Wearing daily contact lenses is as easy as 1, 2, 3: open, wear, and dispose! They're Andrew's personal preference (and the type he wears in his own life) because they're convenient and healthier, too. Choosing this option is a no-brainer for some, but an important thing to consider is the cost.
Contact Lenses Price
Andrew shares that on average, daily contact lenses cost $1.05/$1.10 per lens or $2.20 each day. This adds up to approximately $700-800 a year, which can be fairly pricey depending on your unique needs and budget. A good alternative if you're weary of the cost of daily disposables is to get biweekly contact lenses instead.
They provide the same benefit of not having to wear glasses, but instead of wearing new ones daily, you wear the same pair for a period of two weeks. You'll use a cleaning solution in between wears to keep them clean.
"Those will cost you closer to $400 per year, and when you add the cost of a cleaning solution it's about $500 a year. That price difference often makes people prefer the biweekly over the disposable," Andrew says.
Another thing to consider is how often you'll be wearing your contact lenses. If you only anticipate wearing them 2x a week, it may actually be cheaper to get daily lenses instead of monthly ones. "They're only as expensive as how often you wear them," he adds. "That's why I always ask my patients what they expect out of their lenses. Based on their answer, I give them a recommendation in terms of what will work best for them health-wise, and also take into consideration what their budget is."
Helping you find the right vision solution for your unique lifestyle needs is our #1 priority here at HealthOne Optometry!
Prescription Contact Lenses
Now that you know the basics about how contacts compare to glasses, you might be thinking about making the switch. Can you bring your regular prescription to an Optometrist and call it a day?
Not quite – a glasses prescription and contacts prescription are actually two different things!
"They don't make every prescription available in contact lenses – for example, if you have astigmatism," Andrew says. "What a doctor does in that situation is find a contact lens prescription that's the closest manufactured to your glasses prescription and adjust the lens to fit your eye correctly."
Fit is of utmost importance if you're going to be wearing contacts. It's not as easy as popping them in and walking away with perfect vision. "We need to match the curvature of your contact lens to the curvature of your eye to make sure it's not too tight or too loose," he adds.
The good news is that once you get fit for a particular brand, you likely won't have to be fit for it again. But if you're switching brands or wearing contacts for the first time, a fitting will be highly beneficial so make sure your vision health is prioritized. At HealthOne, our Optical team can teach you how to put your contact lenses in and remove them safely.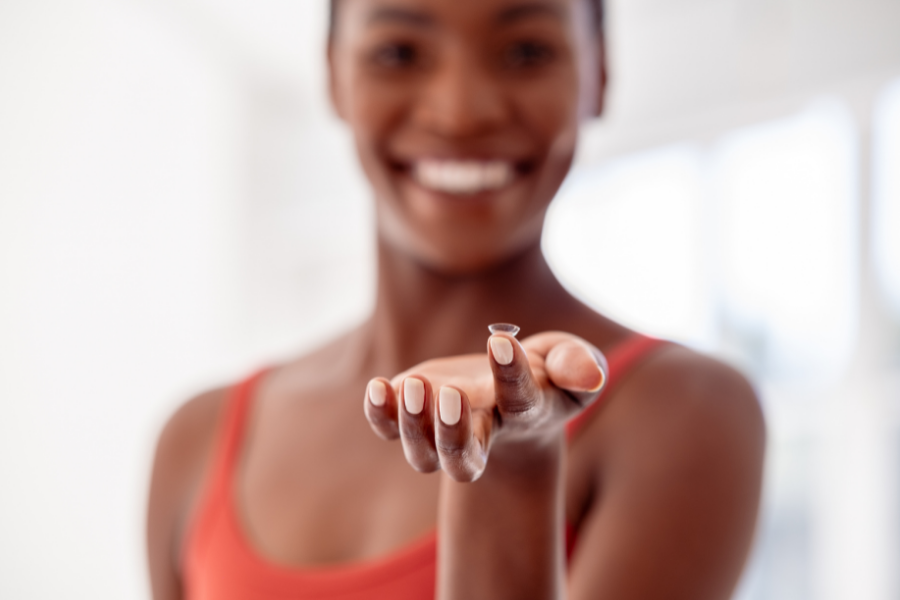 How to Put In Contact Lenses
If you plan on wearing contact lenses, whether every day or only for certain occasions, it's important that you learn how to put them in correctly.
Based on the size of your eyes and your sensitivity to lenses, an Optometrist may use different techniques to ensure they're inserted properly.
"If the patient wants to leave with contact lenses, they have to demonstrate to us in the office that they can insert and remove them safely," Andrew shares. At HealthOne, our Optometry staff offer 1-on-1 appointments where they will teach you how to do so. "This appointment can be anywhere from 10 minutes to an hour depending on how long you need," he adds. If you've already worn contact lenses before and know the ropes, however, it isn't a necessary appointment.
The Benefits of Visiting an Optometrist
This is one of the main advantages of getting your contact lenses from an Optometrist. They'll learn about you, your vision, and your unique healthcare needs so you always receive a 5-star experience. While some people opt to buy their contact lenses online, there's a hidden reality that a lot of people often don't know about. Andrew explains:
"A lot of these online suppliers or big box stores get their contact lenses from a warehouse which means those lenses could have been stored for years before you end up receiving them. You also don't know what type of location or environment they were kept in. With our clinic, we order directly from the manufacturer at the time of the order which means the expiry date will be as far out as possible."
Think about it: you wouldn't want to find expired milk in your UberEats grocery delivery order, would you? You shouldn't receive expired products when it comes to your vision, either! If you want professional support and the best quality products available, visiting the pros is a no-brainer.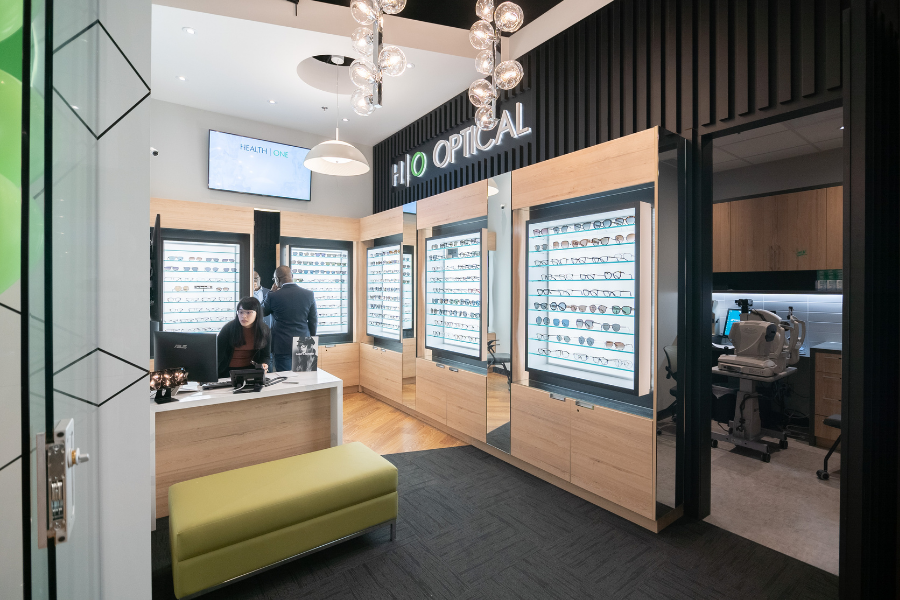 Contact Lenses Toronto
We hope this blog has educated you about how contact lenses differ from glasses! Ultimately, the two main reasons why people opt for contact lenses are convenience and looks.
You'll need to visit an Optometrist like Andrew if you're interested in making the switch because your prescription will be different from the one you use for glasses. He'll assess your vision and ask questions about your lifestyle and budget to help you find the perfect contacts for your needs!
Click here to book an appointment at HealthOne Optometry.
One Life. Live Inspired.