At HealthOne, we believe no one should have to live life in pain or discomfort, and are excited to partner with Bauerfeind to bring their modern medical aid solutions to the downtown PATH. HealthOne has created a healthy living partnership with Bauerfeind Canada to provide world-class bracing and compressions that will support you on your wellness journey.
When we can walk and run without pain, we can freely engage in movement to improve our health and well-being. Orthopedic bracing can help to improve the alignment and biomechanics of the whole body.
- HealthOne Medical & Wellness
SEE ALSO: Creating an Inspired Work Space with Ergonofis
GenuTrain®
Bauerfeind creates products for Olympic level athletes as well as for everyday use. They have products to support many areas of the body including the shoulders, elbows, hands and wrists, back, hips, thighs, knees, ankles, and feet. Their numerous products in each category provide targeted relief for injuries and pain.
This week at the HealthOne Hub we are featuring one of Bauerfeind's most popular products, the GenuTrain® knee brace. The GenuTrain® is extremely versatile, offering relief to a large variety of knee concerns including weakness, swelling, and pain. The technology focuses on stabilizing the knee joint to achieve faster mobilization.
Common conditions that would benefit from the use of a GenuTrain® include:
- Irritation (tendomyopathy, ligament insertion degeneration, meniscopathy, osteoarthritis, arthritis, post-traumatic and post-operative)
- Recurrent joint effusions
- A feeling of instability
- Knee strains or sprains
- Recurrent knee pain
- Pre and post-operative knee swelling and inflammation
- Adolescent knee pain
- Degenerative joint disease (osteoarthritis)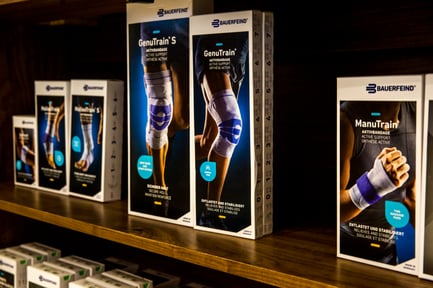 Mobility and flexibly are essential for all that we do as humans. Moving regularly aids in healthy levels of circulation, metabolism and respiration. Orthopedic bracing allows us to continue to move and perform at our best even when faced with injury or illness.
- HealthOne Medical & Wellness
Clinical Use
Recent research completed by Bauerfeind demonstrated that using the GenuTrain® technology as part of a treatment strategy following a sports injury significantly reduced pain. It also led to an increase in the patient's feelings of stability.
The GenuTrain S® (featured above at the HealthOne Hub) is a model specifically designed for managing symptoms of osteoarthritis, also known as degenerative joint disease. Degenerative joint disease is a form of arthritis caused by inflammation, breakdown, and eventual loss of cartilage in the joints. In Canada, there are currently 4.6 million people living with osteoarthritis (Statistics Canada), a number that is expected to rise over the next generation to more than 10 million or 1 in 4 people.
GenuTrain® is also the official knee brace of the NBA, with players using the brace for knee sprain, strain, tendonitis, runners and jumpers knee. The Active knit® material is lightweight, breathable and moisture-wicking to provide maximum comfort while on the court.
SEE ALSO: Beautiful Skin with the Vivier Peel
Learn More at the HealthOne Hub
To find out what Bauerfeind advanced bracing options could be right for you, make an appointment with our rehab and physiotherapy specialists or visit the HealthOne Hub for more information! We are passionate about restoring mobility and would love to offer a combined treatment strategy to restore normal movement to your healthy lifestyle.
Whether you are an Olympic level athlete, a passionate runner, or trying to recover quickly after an injury or illness, Bauerfeind has bracing options that can offer you relief. To see a full listing of Bauerfeind products, visit their website at www.bauerfeind.ca.
Have an inspired day!
To stay up to date on our HealthOne services, products, and events follow us on Instagram! @HealthOneTO