When you break a bone, you go to the hospital. When you have a sinus infection, you visit the doctor. But if you're struggling with your mental health, it can be hard to decide if you should visit a professional. Why is that?
The startling reality is that at any given time, 1 in 5 Canadians are experiencing a mental health problem. Despite this, the CMHA suggests that nearly half of people who feel they've experienced depression or anxiety have never brought it up to a doctor.
At HealthOne, we believe that mental health should always be prioritized as much as physical health. Maintaining optimal levels of both can lead to a healthier, happier life. In this blog, we'll be focusing on what anxiety disorder is, the most common form of it, how it feels, and how to get help.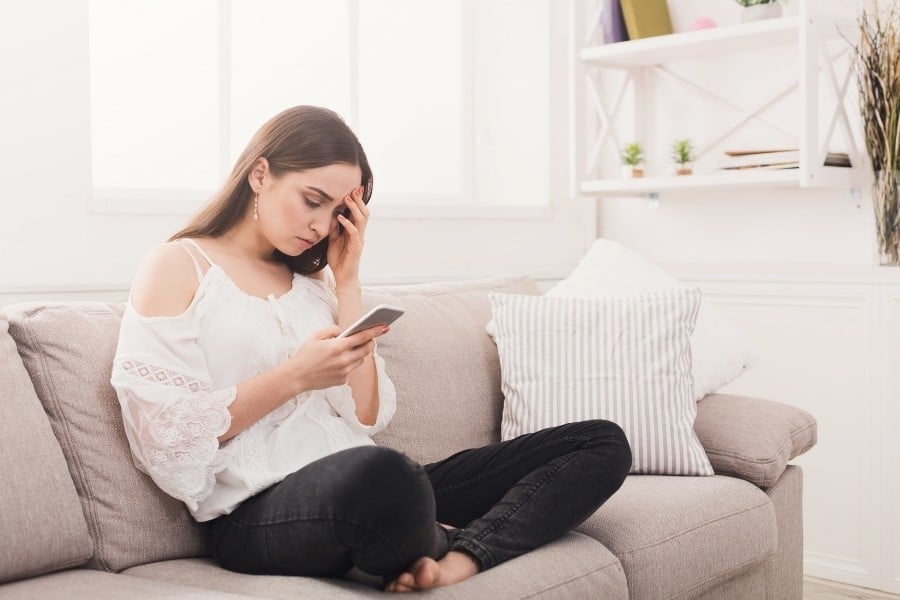 What is anxiety disorder?

Everyone experiences anxiety at some point in their lives, according to Adam Brotherwood, a Social Worker at HealthOne. There are many symptoms associated with it including restlessness, fatigue, and irritability.
Anxiety can impact how well you sleep, your ability to concentrate and increase muscle tension throughout your body. "You can have regular worries and anxiety, but over time – especially now, during COVID – it can build up and become more difficult for us to do the things we want to do," he says.
People who experience these symptoms might be unsure if they have a diagnosable anxiety disorder. The main difference is that an anxiety disorder will impact your daily life. You might feel frustrated more often, deal with problems in your social life, or have pervasive thoughts late at night.
"When anxiety symptoms become intrusive and prevent us from living and doing our daily tasks, that's when we need to have a closer look and take action," Adam says.
Visiting a licensed professional is a great first step towards positive change. They can provide unbiased advice about the situation you're dealing with and provide support if you don't feel comfortable discussing your struggles with family or friends. A mental health professional will assess your needs, determine the best treatment plan, and evaluate which type of anxiety disorder you might be battling with.

Types of anxiety disorders

Adam shares that the most common type of anxiety disorder is generalized anxiety disorder (GAD). "This one is the biggest, and it's characterized by chronic worrying, nervousness, and intrusive thoughts," he explains.
Other types of anxiety disorders include social anxiety disorder, panic disorders, obsessive-compulsive disorder (OCD), and post-traumatic stress disorder (PTSD). It's possible to experience overlap, he adds — for instance, someone with OCD may also experience symptoms of GAD. Everyone's situation is unique.
This is why it's so important to seek help if you feel as though you're struggling. Only a licensed professional, such as a therapist or doctor, can properly diagnose you with an anxiety disorder. At HealthOne, we have a variety of professionals available to support your journey and provide the support you need.
Generalized anxiety disorder symptoms

Like Adam mentioned, generalized anxiety disorder (GAD) is the most common anxiety disorder in adults. The most telling symptom to look out for is chronic worrying.
"There's normal worrying where you worry about something and let it go, but with this one, it's constantly on your mind. It intrudes on other thoughts."
With GAD, it can feel like your thoughts and worries are taking over your life. You might feel out of control, or experience tight muscles all the time that prevent you from being able to relax. "Some people would describe it as feeling like they're on edge all the time," Adam adds.
While chronic worrying can take a toll on your life, the silver lining is that it's treatable. Connecting with the right professionals and treatment options can help you pave a new path towards success.
Anxiety disorder treatment

Adam shares that the most effective treatment options for generalized anxiety disorder are counselling and medication – or a combination of both. Extensive research has been done to support this.
During therapy, you'll meet with a licensed mental health professional (such as a social worker or psychotherapist) for counselling sessions which can be done in-person or virtually. Many therapists use Cognitive Behavioural Therapy (CBT) or Acceptance and Commitment Therapy (ACT) to treat GAD. But what does the process entail?
"A lot of it includes disempowering anxiety and taking your control back," Adam shares. "So rather than letting anxiety rule your decisions and behaviors, it's about taking control of your actions again." This may include facing your anxieties head-on, talking about them, or doing exercises at home and work that prevent you from avoiding the things you're anxious about.


Medication can also be a helpful treatment option for someone struggling with GAD. If a patient is interested in going down this route, Adam encourages honest and open dialogue about potential next steps.
"If someone is considering medication, I talk with them about the societal prejudices about taking medication for mental health issues. A lot of people are weary, so I try to discuss and explore that a bit more," he explains.
Most anxiety medications take about 6-8 weeks for the effects to kick in, he adds, and you normally have to take it on an ongoing basis. It's important to understand that there's a level of commitment required. If you're willing to take it as prescribed, medication can noticeably improve your symptoms.
Therapists cannot directly prescribe anti-anxiety medication, but family doctors can. In this instance, you would visit your family doctor to receive an additional evaluation of your mental health. After this, they would confirm the best medication for you. We're pleased to have mental health and medical practitioners at the same clinic to provide you with a seamless patient experience.
It can be an anxiety-provoking experience to reach out and get help, which is why it's always important to have access to the right support. Whether from a therapist, a doctor, a friend or a loved one, having other people around can make overcoming GAD a lot easier.
Adam is one of four therapists on our team who offers individual anxiety counselling. We offer FREE 15-minute virtual Meet & Greets so you can meet one (or multiple) therapists of your choice, ask questions about their approach, and decide if they could be the right fit for your unique needs.
Whether you experience occasional feelings of anxiety or severe symptoms that interfere with your quality of life, our team is here to help. Click here to book a free Meet & Greet at HealthOne.
One Life. Live Inspired.