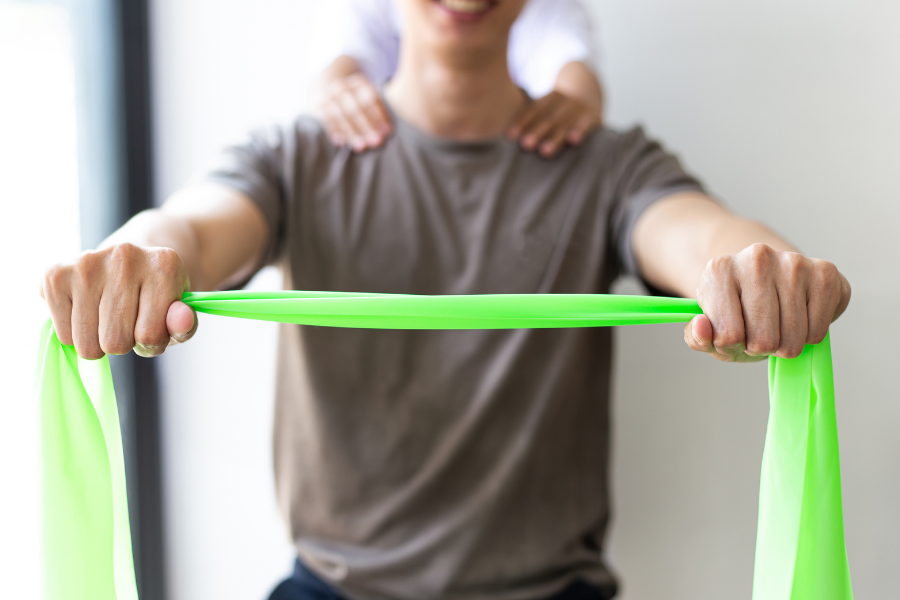 If you're on the hunt for a physiotherapist, you've come to the right place! Whether you have a newly sprained ankle or your neck aches from working at home, it's always a wise decision to visit a manual practitioner.
We recently sat down with our physiotherapist, Alex Chow, to learn about common exercise mistakes and everyday injuries a physio can treat. In today's blog, we're outlining four helpful tips to help you find the right physiotherapy clinic in Toronto.
Although all registered physiotherapists have the same educational background, a lot of things can differ from person to person. Factors like their certifications, client testimonials and the clinic they work at can set a good physiotherapist apart from a great one. Let's dive into the tips that Alex had to share!

Tip 1: Check their credentials.
Did you know that "physiotherapist", "physical therapist" and "PT" are protected titles in Ontario? This means that a professional can only use them if they're part of the College of Physiotherapists of Ontario.
To register, a physiotherapist must prove that they have a degree in physiotherapy and pass a physiotherapy competency exam. As stated on their website, "The College of Physiotherapists of Ontario regulates physiotherapists, also known as physical therapists, to ensure the ongoing improvement of the practice of physiotherapists and to serve the public interest."
This means your practitioner will provide treatment based on specific rules and standards that are followed across the province. You'll receive the highest quality of care and your safety and privacy will be prioritized.
Once you've covered the basics, you should also consider if a physiotherapist has completed additional training or certifications.
"There are so many treatments out there like ultrasound, TENS, and shockwave," Alex shares. "All of those are great and a lot of people can do them. But if someone comes in with pain and injury, there should be a component of a rehab program that involves some sort of exercise or movement. It's the active component that some practitioners leave out, and that's one of the reasons why people don't make a full recovery."
This is why Alex recommends finding a physiotherapist with a background in exercise. "Whether they used to be an athlete, they used to do sports, or they go to the gym regularly," he explains.
Some physiotherapists are also Certified Strength and Conditioning Specialists (CSCS). This is a certification that gives them the scientific knowledge to train athletes and optimize their athletic performance. If you're highly involved in sports, finding a physio who's a CSCS is a definite win-win!
Bottom line: First and foremost, make sure your physiotherapist is registered with the College of Physiotherapists of Ontario. Then, learn more about their additional credentials to help you refine your search!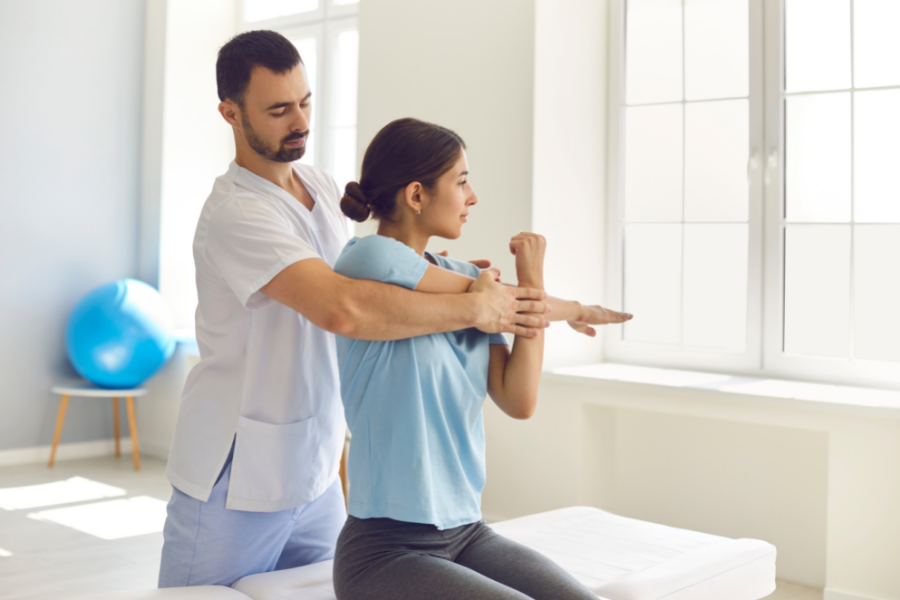 Tip 2: Read online reviews.
You wouldn't purchase an expensive camera or new pair of running shoes without reading reviews first (...right?). Your search for the right practitioner shouldn't be any different! Before deciding which physiotherapist to visit in Toronto, you should take a look at what their patients have to say.
"I always like to look at online reviews," Alex shares. "If a clinic is well-reviewed, and the practitioners are well-reviewed, you know it's a reputable clinic."
Most physiotherapy clinics have a profile on Google Business. On this platform, customers can rate businesses from 1-5 stars and leave a comment about how their experience was. Here are a few testimonials about our physiotherapists at HealthOne!
"Ginalyn is knowledgeable and passionate about her work. She's a great listener and discovers the full story in order to figure out a plan for recovery. I have referred her to many friends." - Jane
"Alex prescribed a very effective strengthening and stretching regimen to target my problem areas. It's been HUGELY helpful. Would recommend Alex to anyone looking for professional and thorough physio treatment." - Krista
"This place is really great. The staff really take an interest in you but also how best to proceed, and recover from an injury." - Dan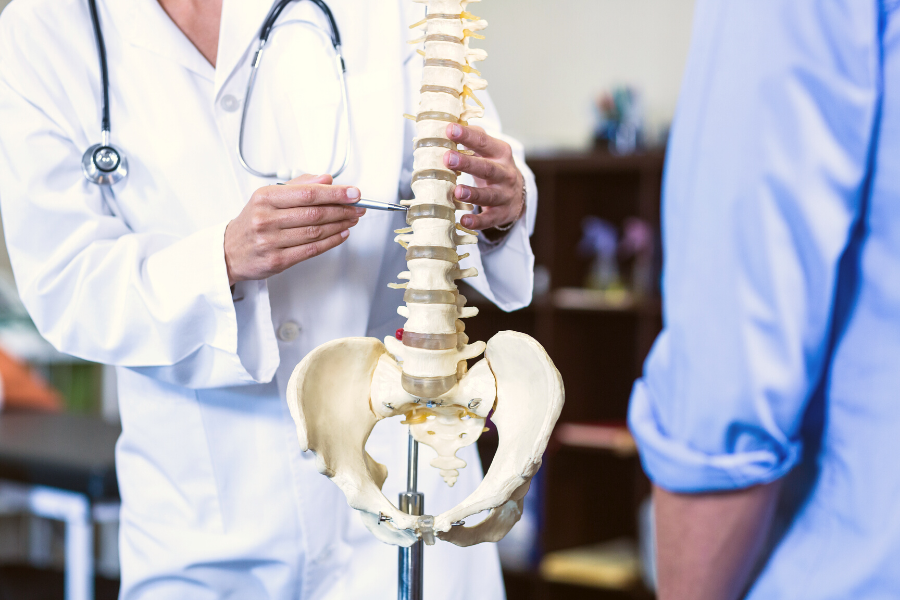 Tip 3: Look for a multidisciplinary clinic.
You've checked their credentials and read promising reviews online. What remains on the search to find the right physiotherapist for your needs?
Our third tip is to consider visiting a physiotherapist who is part of a multidisciplinary team. When you have multiple practitioners on your care team, your health problems can be viewed and treated in many unique ways.
"The way different practitioners think and are trained can really compliment a client well because they're getting different approaches," Alex shares. "I recommend that people see not just their physio, but to see what chiro is like – or their RMT, osteopath, even dietitian. There are so many ways of looking at one issue that it's important to find a team that works well together."
Although different rehab practitioners have different types of training, many of them can treat the same issues. If you visit a physiotherapist for a low back injury, for example, they might refer you to a chiropractor to further support your recovery. At HealthOne, all of our Rehab & Orthotics team members are located in the same office for maximum convenience.
Beyond this, we're proud to have eight departments in one location to make your healthcare experience both seamless and enjoyable. Our Medical, Dental, Optometry, Wellness, Mental Health and Pharmacy teams work in the same location as our Rehab & Orthotics practitioners (including Alex!). Whether you need to pick up a pain relief medication or get bloodwork, your experience of well-being will include so much more than physio.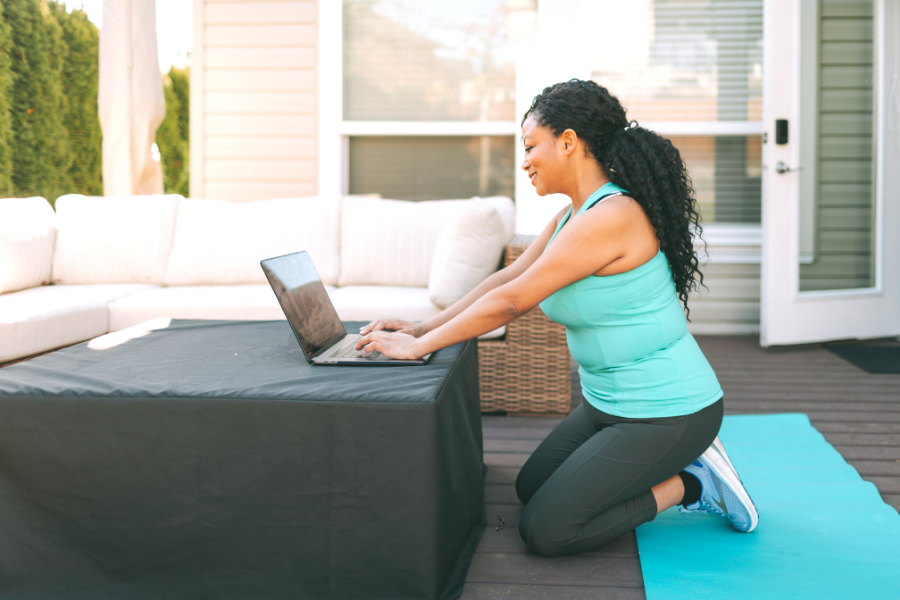 Tip 4: Consider virtual and in-person services.
Food delivery, workout programs, shopping, you name it... nearly everything is available online these days. Surprisingly, even physiotherapy has found its place in the digital world! Considering the amount of time many of us are spending at home lately, our fourth tip is to look for a physiotherapist who also offers virtual services.
There are certain components of physiotherapy, like hands-on manual adjustments, that are best performed in person. However, a large amount of their treatment can be done from the comfort of home!
"There are lots of benefits to virtual physiotherapy," Alex says. "You can still diagnose most injuries without having to be in the same room. It involves running through different tests, doing moves, and the important thing about a virtual session is a lot of the focus is on creating a program they can do on their own."
Every person's physio journey is different, and in most cases, your practitioner will recommend follow-up visits to monitor your progress and adjust your treatment if necessary. Virtual appointments can be especially useful for this reason! Your time is valuable, so saving yourself the time of commuting to a clinic is a definite plus.
At HealthOne, our virtual physiotherapy services are done on a secure, private platform that you can access on your phone, tablet, or laptop. If you're on the go or want the convenience of physio from home, consider looking for a clinic that offers this option! As our final tip, it's more of a "nice to have" than a "need to have" option – but certainly worth looking into based on your preferences and lifestyle.
We hope that our recommendations have given you professional insight into starting your physiotherapy journey! If you've read this post and still feel a bit left in the dark, here's a quick overview of the basics.
What is Physiotherapy?
Put simply, physiotherapy involves the assessment and diagnosis of an injury. This could include an acute injury (like twisting your ankle during a sports game) or more slow-progressing aches and pains that develop over time.
Whether your injury involves your muscles, bones, joints, tendons, or ligaments, the goal of physio treatment is to come up with a program to help you recover.
"The initial assessment comes down to assessing what the actual issue is, and this looks different for everyone. Typically, it involves some sort of exercise program like going through stretches or strengthening exercises. There's a hands-on therapy component as well."
Examples of hands-on therapy include acupuncture, electroacupuncture, deep tissue massage, or even adjustments. One thing's for sure – your physio experience will always be uniquely designed for your current physical state and your future goals.
Does Physiotherapy Work?
You might feel hesitant to book an appointment if you're new to the idea of physiotherapy. Rest assured; there are thousands (if not more!) people out there who can speak to the effectiveness of this treatment.
Here are some reviews from our physiotherapy patients at HealthOne:
"This was my first physio experience and I was not sure what to expect. I was assessed and provided with a detailed explanation of the plan to help alleviate my pain. My practitioner was very knowledgeable, answered all my questions and made me feel very comfortable during all my treatments. My shoulder pain is essentially resolved now and I would definitely return again and recommend HealthOne." - Dennis
"I started physio with Alex ~ 1.5 months ago for chronic lower back pain. Ever since I herniated my disc 2 years ago I've been struggling with this on and off. Alex was very attentive and took the time to properly explain the mechanism behind my pain, muscles, how the body functions, etc. He's prescribed a very effective strengthening and stretching regimen to target my problem areas. It's been HUGELY helpful and I now know what to do to prevent/manage lower back pain as it arises. Would recommend Alex to anyone looking for professional and thorough physio treatment." - Krista
How Much Does Physiotherapy Cost?
At HealthOne, an initial assessment is one hour long and costs $130. Each follow-up appointment is half an hour and costs $85. To help you start your journey on the right foot, we also offer free consultations!
Not sure if physio is right for you? Want to learn more about a specific practitioner's approach and beliefs? Curious about the treatments we offer? Use this complimentary 15-minute appointment to iron out any uncertainties you have before booking an assessment.
OHIP Covered Physiotherapy
The last thing you might be wondering is whether or not your insurance covers physiotherapy treatment. If you're covered by OHIP, the answer is yes! The funding is provided by the Ontario Community Physiotherapy Clinic Program for people who meet specific requirements. Visit this page to learn more about Ontario's requirements for OHIP covered physiotherapy.
Physiotherapy Toronto
At the end of the day, we all want to move better and with less pain. If you're looking for physiotherapy in Toronto, there are many practitioners and clinics to choose from that can provide you with an outstanding experience! Our professional, Alex, recommends these four tips to help your search:
Check that the Physiotherapist is registered with the College of Physiotherapists of Ontario. Bonus if they have a background in exercise and additional certifications!

Read online reviews from previous patients about their experiences.

Consider visiting a physiotherapist who works on a multidisciplinary team so you can receive a complete care approach.

Evaluate whether or not you'd be interested in virtual care as part of your physiotherapy treatment. If so, visit a practitioner who offers virtual services as well as in the clinic.
We would love the opportunity to speak with you about your physio needs and answer any questions you have during a FREE 15-minute consultation! Click here to book a complimentary Meet & Greet with Alex Chow, Physiotherapist at HealthOne. We look forward to helping you feel and move your best.
One Life. Live Inspired.