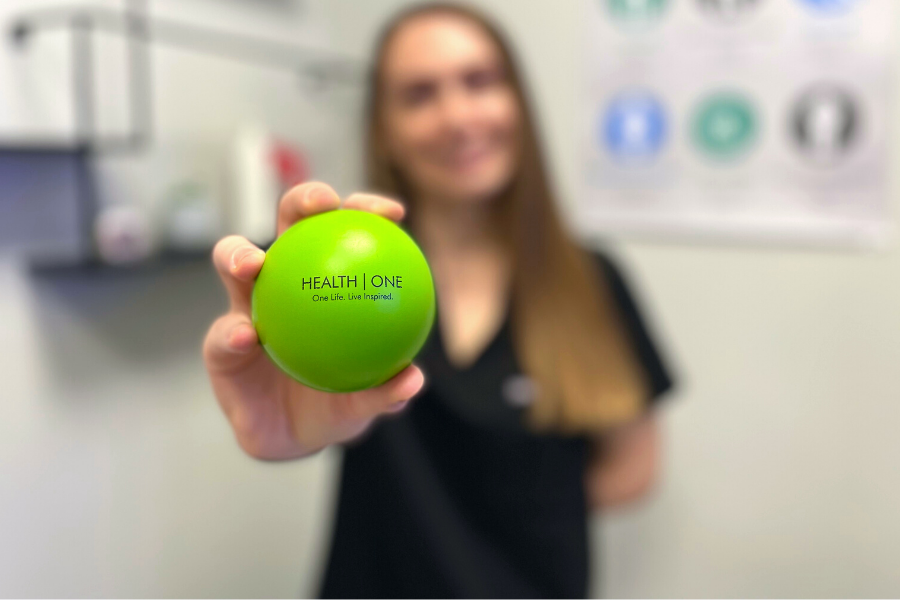 Do you wake up in the morning with subtle aches and pains? A stiff neck or sore back can put a damper on anyone's day. While Tylenol and Rub A535 can do the trick temporarily, they rarely treat what really matters: the underlying root cause.
"Neck and back pain are definitely the two most common types of pain my patients experience," says Jessica Bonzon, our Osteopath at HealthOne. "It's usually aggravated by having a desk job and working in front of a computer for many hours."
Whether you're a work-from-homer, office commuter, or do a bit of both, one thing's for sure: aches and pains can slow you down. Luckily, with the help of a manual practitioner like Jessica, you'll be pain-free and feeling your best in no time. We sat down with her to learn more about osteopathy!
What is Osteopathy?
Jess defines osteopathy as a hands-on, holistic form of manual therapy. Other common forms of manual therapy include physiotherapy and chiropractic care. Although all three of these professionals can treat a lot of the same problems, the main difference lies in their approach.
"Unlike most other manual therapies, osteopathy focuses on all components of the body," Jessica explains. "This includes the bones, joints, muscles, nerves, connective tissue and internal organs. We treat the patient as a whole, not just the area of their pain."
A common misconception she hears is that osteopaths only work with bones. In reality, she focuses on how all the components of the body work together. Osteopaths use a wide variety of hands-on techniques to reduce pain, improve movement and encourage blood flow.
"Because every patient and every injury is different, the treatment approach will always vary," she says. "The areas of restrictions and tensions can be very different from a patient to another, even if they have the same symptoms on paper. I also adapt my techniques depending on the age of the patient, their level of physical activity, and current level of pain."
What Happens at Your First Osteopathy Appointment?
During your initial appointment, Jess will ask about why you booked a consult and the symptoms you're experiencing. She'll also ask questions about your medical history and lifestyle.
"Afterwards, I perform an examination and clinical tests to determine the root cause of the pain," she explains. "I'll use my hands to find areas of weakness, tenderness, restriction or strain within your body, particularly the spine." Then, she'll determine your specific treatment plan.
To maximize your time together, Jess will usually begin treatment during the first appointment. She'll use a range of hands-on techniques that focus on soft tissue manipulation and mobilizing the joints. Afterwards, she'll go over your home exercise program (if applicable) and discuss how soon you should book a follow-up appointment.
Contrary to what one might assume, you don't need a referral to visit an osteopath. Your family physician–or even dentist–might refer you, but you can also book your first assessment easily online without hassle.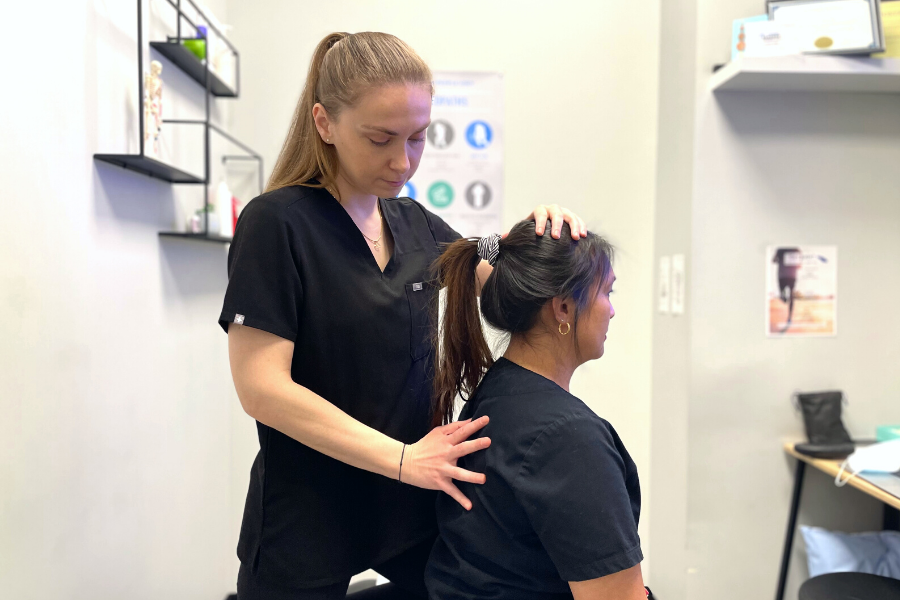 What Does an Osteopath Do?
Osteopaths work with patients of all ages, from babies to seniors and everyone in between! All of their treatment is done using their hands and body (for example, releasing muscle tension in the neck or performing joint mobilizations).
They normally see patients for more than one session. Most of the people who visit Jess feel significant changes within 2-3 treatments. The ultimate goal is to reduce your pain and minimize your symptoms—but once that's been achieved, it certainly not "bye" forever!
Jess strives to be there for her patients no matter what life throws at them. If aches and pains creep up again, or you develop an entirely new injury, her door is always open for additional visits and care. You can also visit Jess for preventative measures so you can avoid pain from developing in the first place!
Do Osteopaths Have Medical Degrees?
The scope of Osteopathic care varies across the world. In Ontario, there is currently no law that defines a scope of practice for osteopathy just yet –but Jess mentions that the process leading to regulation has started.
In terms of her own experience, she studied for five years in Paris, France and has a master's degree in Osteopathy. On top of this, she has a Diploma in Osteopathic treatment of the Temporomandibular Joint (TMJ) & Headaches. "I have taken many additional courses focusing on the jaw, bruxism, and in relation to the temporomandibular joint in general. It's an area I'm very passionate about and that I specialize in treating," she says.
This gives Jess the knowledge, skills and expertise to effectively reduce your pain. Some of the most common areas she treats include:
Neck and back pain. These are often aggravated by having a desk job and working in front of a computer. (Sound familiar?)
Jaw pain and chronic headaches. Often due to teeth clenching and aggravated by stress, poor posture, and muscle imbalances in the upper body.
Shoulder and knee injuries.
Concussions and whiplash.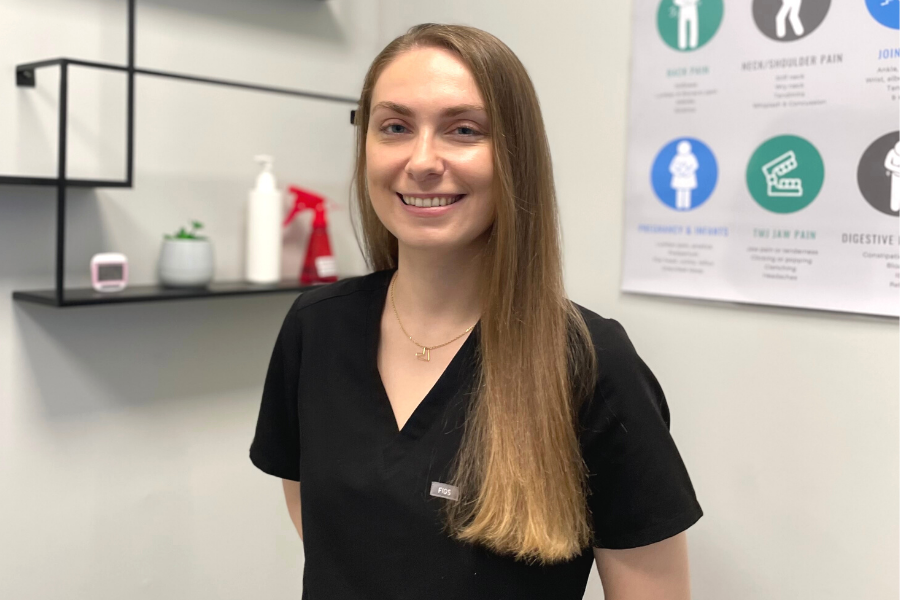 Osteopath Toronto
If any of the above sound familiar (or you have another type of pain entirely), a free consultation is the best place to start. Even if your symptoms are minor or you think they'll go away on their own, it never hurts to have a professional like Jessica take a look.
A big advantage of visiting our osteopath is that she works on a team of many other Rehab professionals who also treat pain. As we mentioned before, manual therapists can treat a lot of the same concerns. If you book with Jess but after a consultation, she thinks our physiotherapist should treat you instead, she'll easily make that referral for you (and we're all conveniently located in the same clinic location! Does it get any better?)
HealthOne Rehab is located in the heart of downtown Toronto in the One York building. Let an expert like Jess reduce your pain and help you feel your best! She also won the award of Best Osteopathic Manual Practitioner in 2020 in the Toronto Readers' Choice Award, so you can feel confident knowing you're visiting one of Toronto's best osteopaths.
Book an appointment with our osteopath today!
One Life. Live Inspired.