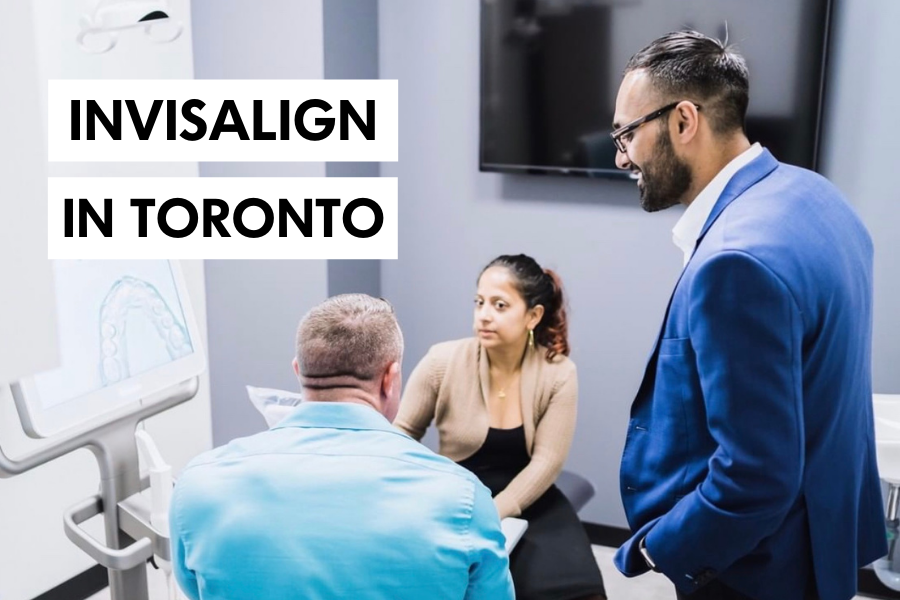 Invisalign clear aligners have taken the world by storm. They've transformed over 10 million smiles and counting–and even given Raptor's superstar, Kyle Lowry, a picture-perfect grin!
People choose Invisalign for all kinds of reasons, from correcting gaps and straightening teeth to fixing bite abnormalities. But if you're considering clear aligners and you live in the GTA, it can be challenging to find the right provider. You need a dentist that will meet your smile goals and have you looking and feeling your best!
What clinic should you visit? Which dentist will do the best job? Are all Invisalign providers the same?
Fear not, fellow Torontonian! In this blog, we're outlining four things to consider to help you make the right choice. By the time you're done reading, finding the best provider will feel as easy as it is for Kyle Lowry to throw 3-pointers.
What is Invisalign?
You can think of Invisalign clear aligners as a modernized version of braces. They're made of a smooth, clear plastic that feels comfortable in your mouth. When you become an Invisalign patient, a dentist will use a high-tech scanner called the iTero element to get a 3D image of your teeth. This allows every tray of your clear aligners to be custom-fitted for your smile.
Depending on your case, you'll be instructed to change your trays every 1-2 weeks. Each tray is slightly different, designed to put enough pressure on your teeth and bones to move them into the correct position. Treatment can last anywhere from 3-12 months based on your unique needs and the plan set out by your dentist. You'll also come back for regular check-ins with your dentist every 4-6 weeks to monitor progress.
Invisalign treatment has been widely praised for its many impressive benefits. Unlike braces, you can remove your clear aligners to floss, eat, or drink beverages other than water. Because it's clear, Invisalign aligners are also barely noticeable when worn. You can read more about life with Invisalign by reading our previous blog!
In short, Invisalign is a cutting-edge dental solution that can take your smile from "good" to "great". With that, let's uncover the four things to consider before getting your treatment in Toronto.
1) What patients have to say.
When looking for an Invisalign provider in Toronto, it's essential to read reviews. Start your search on Google Business, where you can search for different clinics and read what their patients had to say.
You'll find information about the dentists, facilities, and treatment experience, which are all valuable to know about before booking your first consultation. Here are a few examples of what patients had to say about getting Invisalign at HealthOne.
"Doctor Yasmin gave me a thorough overview during my Invisalign consultation. I definitely recommend this clinic for your dental needs!" - Sunil
"I went here to get my Invisalign done. My total treatment was 4.5 months (although I had braces in 09). Dental assistant Justine ensures you're comfortable and talks you through what Dr. Vakilian is doing, and checks in on your comfort level throughout the entire appointment." - Tatjana
Other places to find reviews can include the clinic's website or their social media page.
2) Which dental team you're visiting.
Just because two dentists have the same degree doesn't mean they'll provide the same service. It's important to learn more about their care approach before booking that initial consultation! Our Dental Director, Dr. Sunny Gill, explains:
"Invisalign is a tool. This means it will be used differently depending on which dentist you visit. If you buy three paintbrushes and give them to three different people, you're going to have three different paintings. It's no different with Invisalign, which is why you have to find a provider that matches your goal."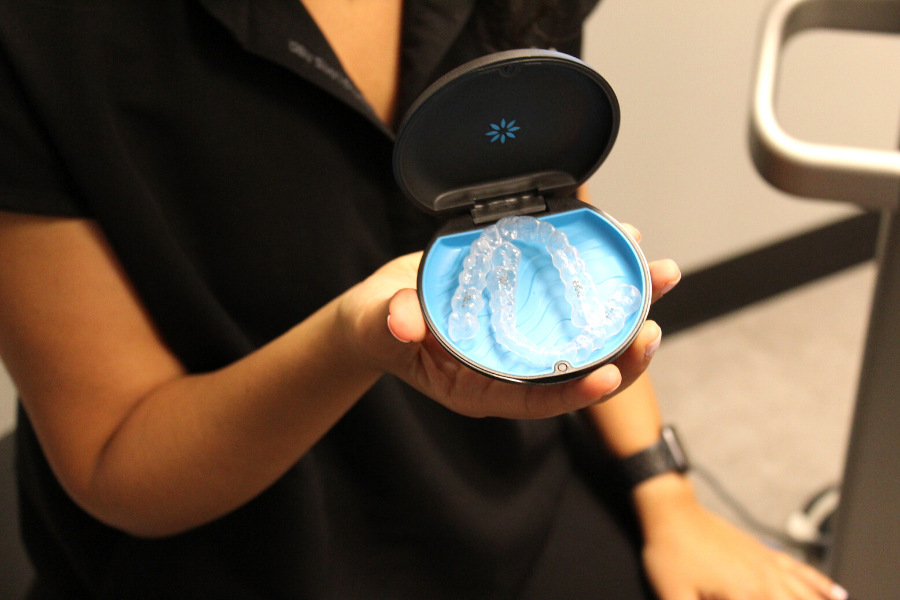 At HealthOne, we focus on providing practical results in a sufficient amount of time. Our dentists look for the simplest way to achieve the best possible solution. "We almost never extract teeth, and we pretty much never use elastics," Sunny adds. "We like to be super-efficient in a way that fits your life and lifestyle."
Our average case time is around 6 months, but we've had cases as little as 90 days. It all depends on what we're trying to accomplish. Never hesitate to reach out to a clinic and inquire about their approach to Invisalign treatment. Ask any questions you have, and gather all the information you're curious about before deciding on that provider. After all, you're the patient – you deserve to be happy with your results!
That brings us to the third thing to consider when looking for an Invisalign provider in Toronto, which is...
3) If they're part of the Invisalign advantage program.
As if Invisalign didn't already have many advantages over traditional braces, get ready to be "wow'd" by their Advantage Program!
It's a tier-based system that recognizes dentists based on how many Invisalign treatments they have completed, from bronze to diamond plus. When looking for a provider in Toronto, these rankings can give you a great indication of how experienced that dentist is.
For instance, our dentist Dr. Sunny Gill is recognized as a Diamond Plus provider. This puts us in the top 1% of Invisalign providers in North America! Many clinics will indicate if they're part of the Advantage Program on their website or on-site in their office. If you're ever in doubt, just ask.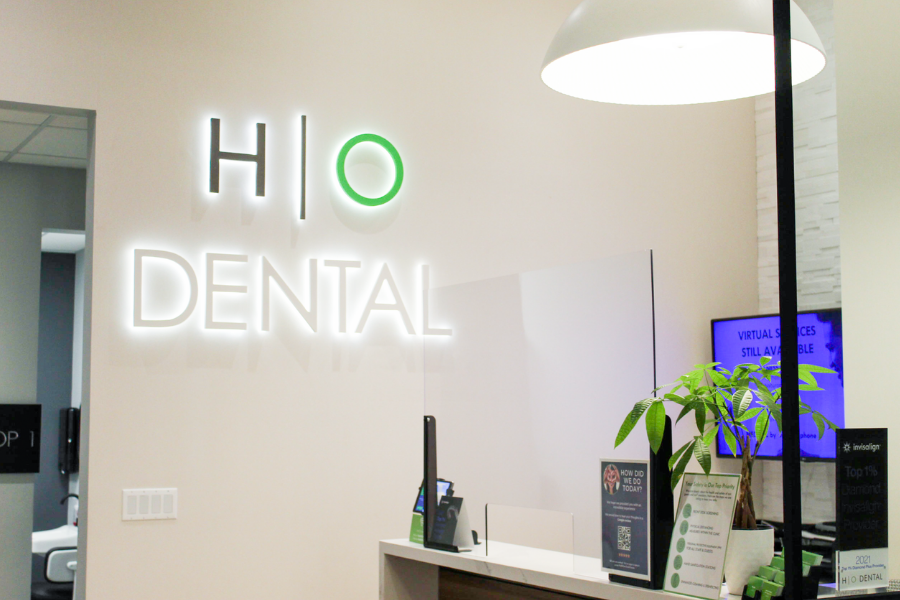 4) If they go above and beyond.
The last factor to consider is if there's anything that makes that clinic stand out from the rest. Like we mentioned, the GTA is full of dentists who can provide you with Invisalign treatment. But many things can differ from place to place, including...
A lot of people forget that Invisalign is about more than just aesthetics–it has a lot to do with your oral health, too. A good dentist will perform a complete examination first to ensure the teeth are healthy and there won't be any complications with treatment.
Our dentist, Dr. Yasmin Vakilian, explains: "We're moving teeth, so if there's an underlying issue it needs to be assessed prior to starting Invisalign. It's kind of like before building a house, how you fix the foundation. We like to check everything first as well."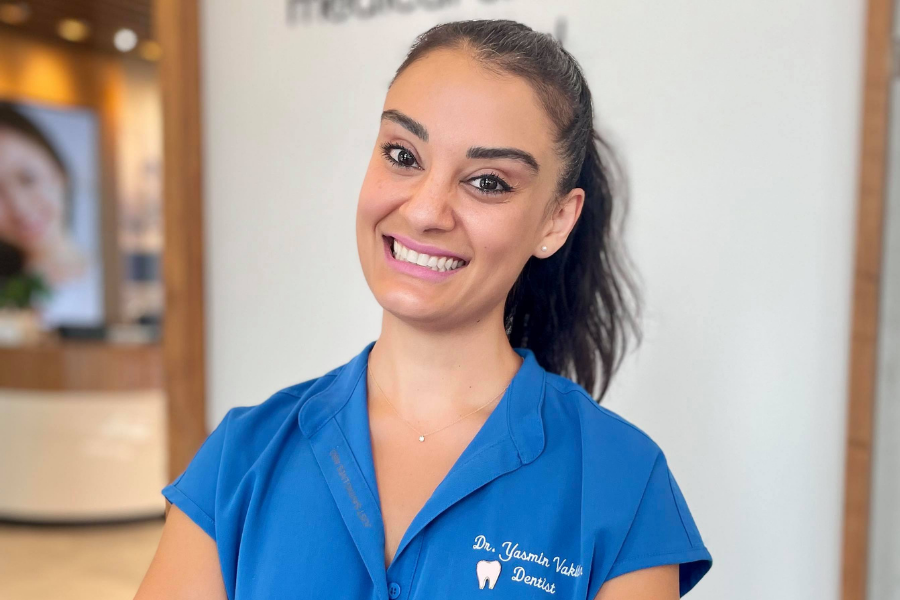 You can't achieve your perfect smile without having your oral health in check! Do your research, learn what makes each clinic unique, and you'll be on your way to finding the right provider in no time. Here's a glimpse into the details of treatment after you settle on a GTA dentist.
How Long Does Invisalign Take?
Like Sunny mentioned, the length of your Invisalign treatment all depends on your unique case. A less complicated treatment could take as little as a month and a half, but most cases end up taking around 6 months from start to finish. The number of trays you require will also vary from person to person. Your dentist will outline the expected details for your treatment plan during an initial consultation.
Every step of your Invisalign journey will be driven by digital innovation. Since Align Technology was founded in 1997, they have been making leaps and bounds in the orthodontic world by continuously improving how Invisalign treatment is delivered. Learn more about the Invisalign digital experience here.
How Much is Invisalign?
The cost of Invisalign will also vary for every person. Factors like how many teeth need to be adjusted, treatment length, and whether or not you have insurance coverage will all come into play.
At our clinic, clients can qualify for up to $3000 in insurance coverage which includes Health Spending Accounts (HSA's). Pacific Blue Cross defines a Health Spending Account as a "group benefit that provides reimbursement for a wide range of health-related expenses, over and above regular benefit plans."
We also offer payment plans to suit every person's budget. Our Treatment Coordinator, Jasmin, will discuss your financing options in detail to make sure your needs are taken care of.
Does Invisalign Work?
Considering that Invisalign treatment has transformed over 13 million smiles to date, it's safe to say that the answer is yes! Thanks to high-tech 3D mapping by the iTero element, every stage is completed to the highest level of precision.
It's important to understand, however, that Invisalign treatment isn't for everyone. Although it can fix a wide variety of concerns, research shows that it is not as efficient for fixing more advanced malocclusions. Speak with your dentist during a consultation to learn if Invisalign is the right treatment for your desired results.
If you do move forward with Invisalign, your dentist will do check-ins to make sure you're progressing according to plan. They'll be available if you have questions or concerns about your treatment. For most patients, when they're finished, their dentist will also recommend wearing a retainer to bed. It will be custom-made for your teeth to prevent your teeth from shifting out of place.
Invisalign Toronto
At the end of the day, we all deserve to feel good about our smiles. It's one of the first things people notice about us, and it certainly makes a lasting impression! Finding a good Invisalign provider in the GTA can feel daunting, but we hope these 4 tips will make your search a lot easier. To recap, we recommend looking into
What patients have to say. Read online reviews about each clinic and dentist!
Which dental team you're visiting. Every clinic uses Invisalign in a unique way.
If they're part of the Invisalign Advantage Program. Experienced dentists = a huge plus.
If they go above and beyond. Research the details before deciding to become a patient.

We'd love the opportunity to meet you and discuss your suitability during a FREE Invisalign consultation! Dr. Sunny Gill, Dr. Yasmin Vakilian, and the rest of our team are highly experienced at providing patients with brilliant smiles in quick turnaround times. Get started by booking an Invisalign consultation at HealthOne Toronto.
One Life. Live Inspired.