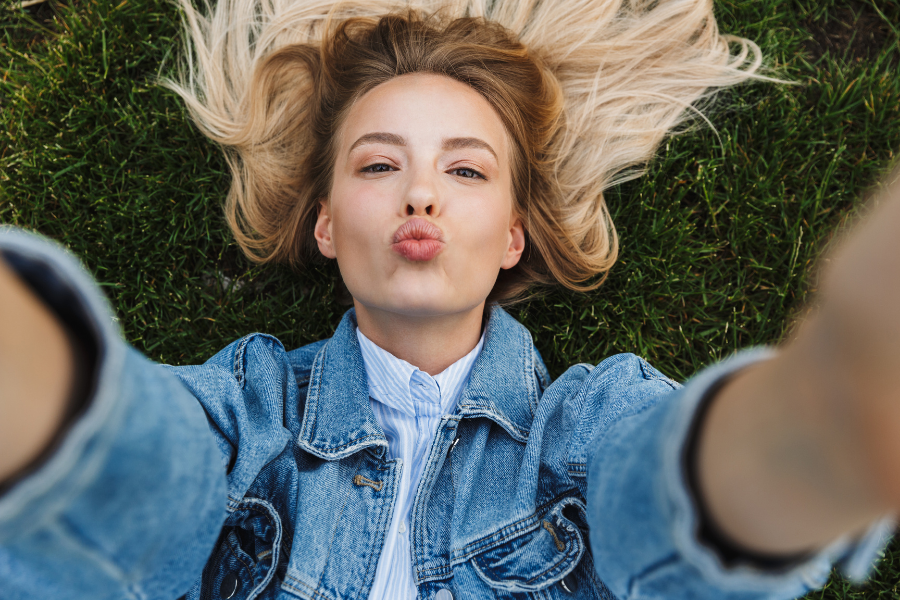 Are you curious about lip fillers? You've come to the right place! This popular injectable procedure has taken the beauty industry by storm.
Sure, influencers and celebrities love to flaunt their brand-new lips – but it's also becoming sought-after by women who aren't famous on Instagram.
"The lips are a big source of insecurity for a lot of people," says Ada Shim, Advanced Injections Specialist and Clinical Director at HealthOne Skin Clinic. "So once you start to treat that, they can feel a lot more confident in themselves. When you look good, you feel good, and it changes your energy. That's why the beauty industry exists!"
Gone are the days when injectables procedures were seen as "taboo". You can achieve natural, beautiful results without looking like a duck (we promise!). We sat down with Ada to learn all the details about this well-loved cosmetic procedure.
What are lip fillers?
Let's start with the basics: what exactly are lip fillers? Lip fillers are a non-invasive cosmetic procedure performed by an experienced nurse like Ada.
It's done by injecting one or both lips with a filler material, which is typically a form of hyaluronic acid. HA is a naturally occurring substance in your body that retains moisture and keeps your tissue moist and lubricated.
The type of filler used will vary from clinic to clinic. At HealthOne, we use professional-quality products by Restylane and Belotero. According to Ada, Belotero is extremely well-loved by her patients. "It integrates really nicely with the body, so when it's all settled in you won't feel any lumps or bumps," she says.
A lot of first-time clients worry that lip fillers will ruin their lips. They're often afraid of looking overdone, having sausage lips, or the ever-dreaded "duck face". According to Ada, these fears are very common and the world of social media is largely to blame. But when you visit an experienced injector, those types of results will never happen!
"The beauty industry is very subjective," she explains. "If you're asking for a certain aesthetic but the injector thinks huge lips are the only way to go, you're going to end up with huge lips. In this day and age, a lot of people offer lip fillers and many of them are not really qualified to do it. That's why looking at someone's portfolio is so important."
You should always look for an injector who posts a lot of before and afters. This will give you a better idea of the types of results they provide. Ada, for instance, specializes in the "your lips but better" approach which is posted on her Instagram. Here are a few examples of the work she's done at our clinic!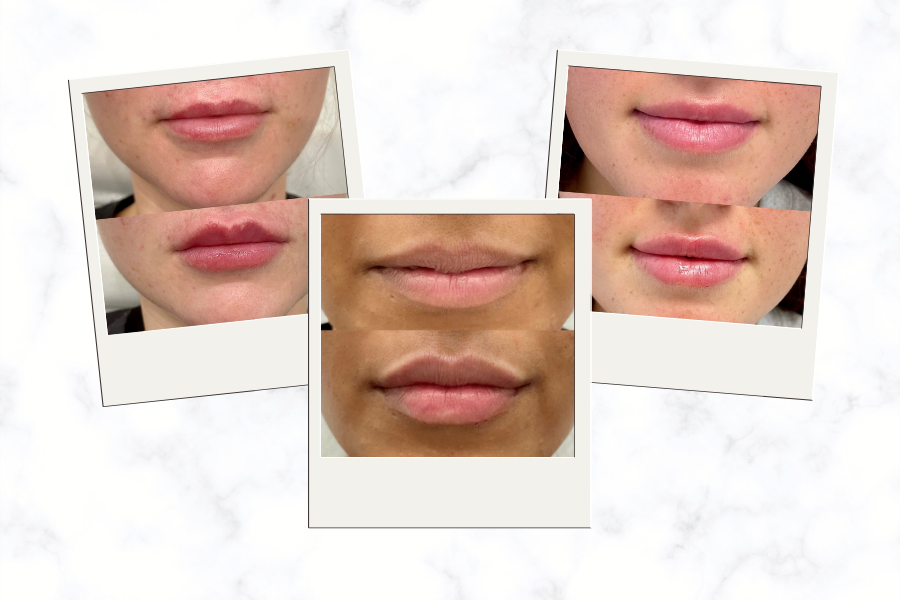 Lip fillers before and after
We can't get enough of these natural, beautiful results! Nothing artificial or fake-looking here. You should also keep in mind that a good injector will treat each patient differently. Here are some of the things Ada considers:
Ethnicity and natural anatomy.

Did you know that different ethnicities often have different lip ratios? For example, someone who's African American or Asian is more likely to have a 1:1 ratio between their top and bottom lip vs. a Caucasian person whose ratio might be closer to 1:1.5 or 1:1.9. "I consider what's natural for them and enhance it to maintain that natural look," Ada shares. "If I had an African client and made their bottom lip bigger than the top, it wouldn't really suit their face."

What you do for work.

Just because Kylie Jenner's lips broke the internet doesn't mean

you should want the same look as her. Ada always

considers

what her clients do for work when developing their

treatment

plan. "I have some patients who are very athletic, or who are police officers or work in an office.

Usually,

they're looking for the

'

my lips but better

' look

—

almost like they've got some plumper on," she says.

It

always comes down to

your lifestyle and aesthetic desires

.
Your facial proportions.

Remember: your lips are only

one part

of your face. A good injector will consider all of your other features, too. Ada explains that as a general rule of thumb, she imagines two vertical lines coming down from the sides of the nostrils to the chin. Putting the majority of the lip filler in between those lines keeps the lips looking more like a "bow" shape and less like a "sausage".
Don't worry if you're unsure about the kind of lips you want. For beginners and first-timers, we always recommend that you start slow and work your way up. If you want a more noticeable change, you can always add more filler later on! Here's an overview of what happens when you visit our clinic.
What happens during a lip fillers appointment?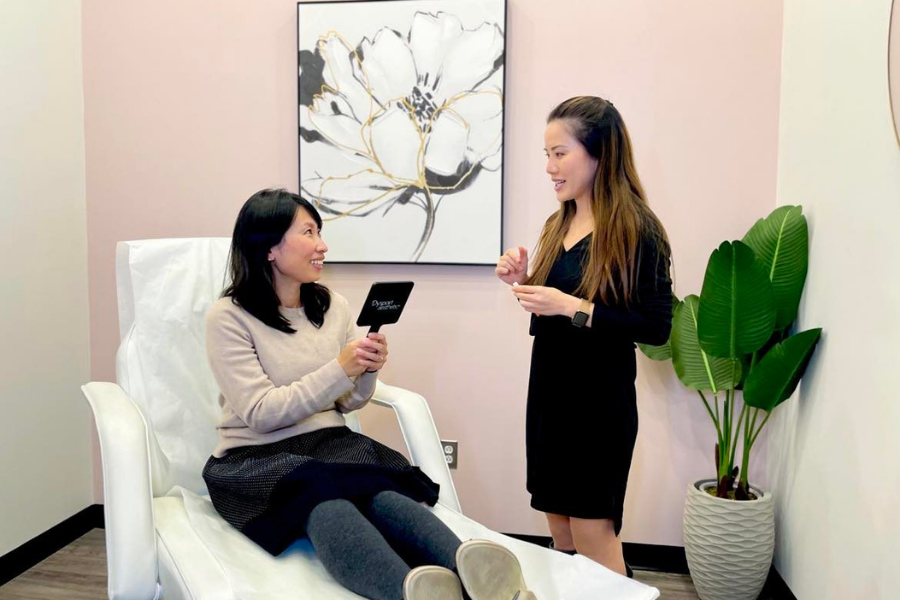 We understand that getting injectables for the first time can be nerve-wracking, to say the least. That's why getting to know your injector and learning about their approach is so important.
"You should always look for someone who resonates with you and you have a good connection with," Ada says. At HealthOne, our clinicians will always start each treatment with a thorough and comprehensive assessment. The treatment plan will be determined based on this, your budget, and the prioritization of your aesthetic goals.
Step 1: Medical History
The first step once you arrive is to complete a form about your medical history. We'll discuss with you your health status to ensure that you're a good candidate for lip injections.
Step 2: Assessment
We'll sit down with you and perform a full facial assessment from your hairline down to your décolleté. We'll also ask about your desired outcomes and make recommendations for additional treatments if we think they might be beneficial.
Based on the assessment, we'll determine how much hyaluronic acid filler is required to achieve your desired lip look. Once a plan is in place it's time for the magic to happen!
Step 3: Pre-procedure Preparation
During this stage, we move into the treatment room and begin preparing for the procedure itself.
This is when we take "before" pictures of your pre-procedure lips so that we have something to refer back to when we're all done. Before pictures are a great way to track progress and to be able to see the difference once the treatment is complete.
Step 4: Lip Fillers Procedure
This is when we finally get down to business and complete the actual lip injections.
Throughout the entire process, your comfort is the top priority. We welcome any and all questions — there's nothing that you shouldn't feel comfortable asking! Our goal is for you to go into the treatment room feeling calm, cool, and comfortable (but feeling a little nervous is totally normal).
How are lip fillers performed?
Injectors all have their own techniques and approaches to how they perform lip injections.
We begin by applying a medical grade numbing cream to ensure that you're comfortable throughout your treatment. Then, once the numbing has had time to settle, we begin the injection process. This can take anywhere from 10 to 30 minutes depending on your treatment plan.
This is not a step that every injector does, but we make sure to include this step at HealthOne to make your experience as comfortable as possible.
Once the injections are complete, we massage the lips to ensure there are no lumps or bumps. Next, we take after pictures to compare to the pre-procedure pictures we took earlier. For the final step, we review post-care instructions so your healing process goes smoothly.
Do lip fillers hurt?
This is one of the biggest questions potential clients have – and it's for a good reason. Rest assured; if your injector is well trained you shouldn't feel much pain at all.
In fact, people often overestimate how much the procedure actually hurts. As we mentioned, at our clinic we always apply a strong numbing cream to help to manage the discomfort level. Most clients are able to tolerate the procedure well.
What to expect post-treatment
As for what you can expect after the procedure, swelling, redness, and itchiness are all common side effects.
You can also expect some bruising at the site of injection which will quickly come down after 5-6 days.
After the procedure, we recommend icing the area to keep the swelling down. This swelling can peak at 24-72 hours, but will quickly come down afterwards. You'll be able to see your final results after 2 weeks.
How much are lip fillers?
The price of lip fillers depends on the amount of filler needed for your desired look. Sometimes clients require multiple appointments to achieve the results they want.
At our clinic, a full syringe costs $600 and a partial syringe costs $450 (0.6ml). We always make sure to be transparent with our clients about the expected cost of their procedure. For beautiful, natural results that do wonders for your confidence, it's always worth considering this kind of financial investment!
How long do lip fillers last?
Lip fillers are semi-permanent, which means your results won't disappear overnight. Typically, results can last anywhere from 6-8 months.
This is ultimately dependent on a variety of factors, though, including age, metabolism, and the volume of filler injected. If you'd like to maintain the size of your post-procedure lips, you'll likely have to come in once or twice a year max.
Lip fillers Toronto
Whether you have a huge following on Instagram or don't even dabble in the social media world, one thing's for sure: you deserve to feel confident.
For many women, lip fillers are a great way to feel better in their own skin. You can see natural, subtle results and nobody even has to know – unless you want them to, that is!
You should always make sure you do your research before booking with an injector. An experienced expert like Ada will:
Develop an authentic, trusting relationship with you,

Perform a full facial analysis and make expert recommendations,

Create an individualized treatment plan based on your goals,

Put your safety, satisfaction, and comfort first, and

Provide you with beautiful results that you'll love!



Book a complimentary consultation with Ada to begin your lip filler journey today.
One Life. Live Inspired.