If there's one thing we know for sure, it's this: you deserve to love the skin that you're in. Feeling confident, holding your head high, and taking charge of your life is a feeling like no other—but the path to self-love isn't always the easiest.
We all know by now that a balanced, nutrient-dense diet and regular exercise are key components of a strong and healthy body. In some cases, however, stubborn areas of fat stick around despite our best efforts to try and get rid of them.
What if we told you there was a safe, effective way to target those areas of fat and remove them for good? A method that's FDA-cleared, has minimal downtime, and actually freezes the fat cells you want to get rid of? "Pretty cool!", you might be thinking, and you're absolutely right. It's time to learn about this cool procedure and the power of freezing your fat!
"If you've been struggling with certain areas of your body and you've tried diet and exercise but you're still not satisfied with your appearance, you should definitely try CoolSculpting®," says Olga Bello, our Lead Aesthetician at HealthOne.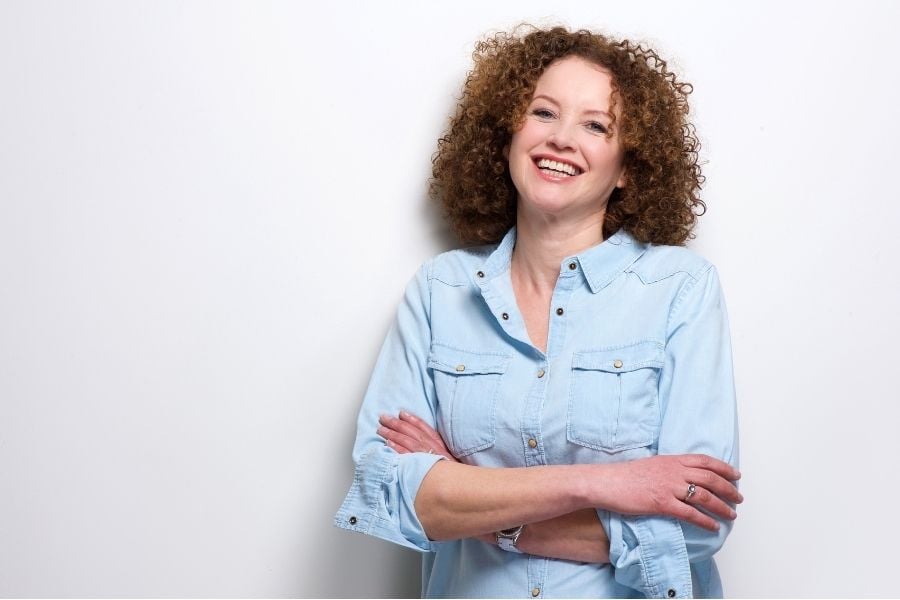 This innovative treatment can help you feel better about your appearance, increase your self-esteem and improve your emotional well-being, she adds. We sat down with Olga to learn more about freezing your fat for good.
What is CoolSculpting?
CoolSculpting® is a non-surgical procedure used to target and destroy unwanted fat cells in the body. According to Olga, the science behind CoolSculpting® treatment is rooted in a biological process called cryolipolysis. During the procedure, fat cells are directly targeted using controlled cooling which causes them to freeze. Once the fat cells are frozen, they are naturally destroyed by the body as part of its natural elimination system.
"This means that fat cells cannot return or enlarge with weight gain," she says, "So that's one of the main differences between losing weight on your own and doing CoolSculpting®."
CoolSculpting® is done using an FDA-cleared machine with a gel pad that protects the skin. A variety of different applicators are placed over the gel pad depending on the area of the body being treated. A smaller applicator would be used for an area like under the chin than would be used on the abdomen, for example.
"It can successfully treat many areas of the body, such as the flanks [also known as love handles], inner and outer thigh, upper arms, abdomen, back and bra fat, under the buttox and double chin," Olga adds.
It's important to point out that CoolSculpting® is specifically designed to reduce the appearance of stubborn pockets of fat. While average results show a 20-25% reduction of fat in the treated area, the best candidates are people who are not far away from a healthy body weight.
CoolSculpting® should not be used as a replacement for a healthy diet and regular exercise, but rather a way to target specific areas that are difficult to change using only lifestyle choices.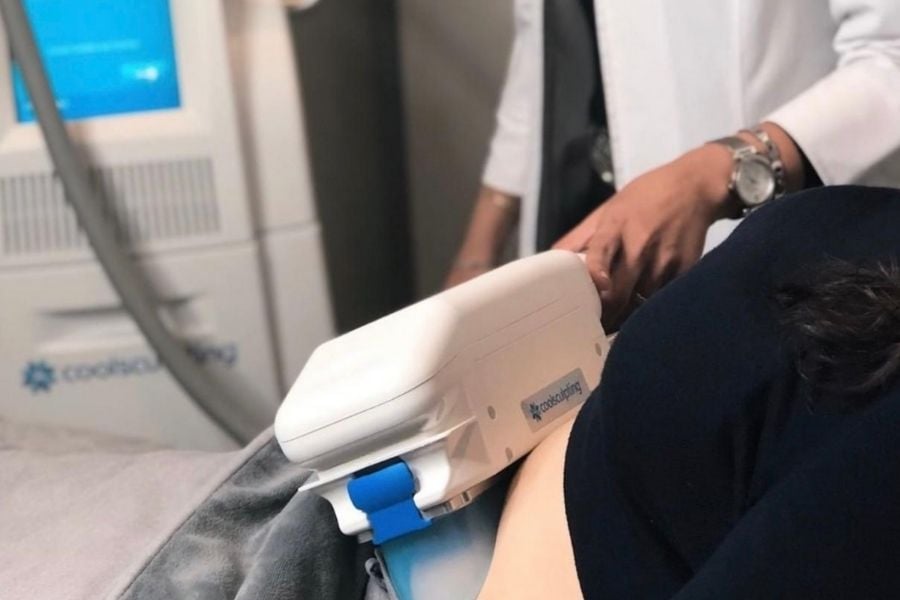 What Happens During a CoolSculpting Appointment?
CoolSculpting® is well-loved not only in Canada but around the world, too! It's been performed more than 7,000,000 times for satisfied adult patients of all ages. Olga points out that It's important to visit an experienced and well-trained provider to ensure the best possible results for your body contouring goals.
At HealthOne MediSpa & Skin Clinic, the safety of our patients is our #1 priority. This is why we always require a consultation appointment first—to go over the details of the procedure, find out what your body goals are, and confirm whether or not CoolSculpting® can help you accomplish those things.
"Then we'll go ahead and mark the area, determine how many treatments the patient will need, and then we schedule their appointment," Olga explains. This necessary consultation helps you understand everything you need to know and gives you an accurate idea of what to expect the next time you come in.
Your CoolSculpting® procedure will take place in our comfortable and modern treatment room. The practitioner will use different sized and shaped applicators placed over a gel pad to protect your skin from freezing. You can expect it to feel quite cold, Olga says, but after a couple of minutes, the area will become numb. After this, you won't feel any sensation.
Each treatment takes between 35 and 75 minutes depending on the body part and applicator being used. If you're planning on treating multiple different areas in the same appointment, it may take up to several hours to complete it.
"Once the machine has done its job, the practitioner will massage the treated area to break down the crystallized fat cells," she explains. It's normal to feel some tenderness, redness, or minimal bruising post-treatment, but aside from this, there is no downtime. Many patients can get right back into the swing of things while looking forward to their sculpted results!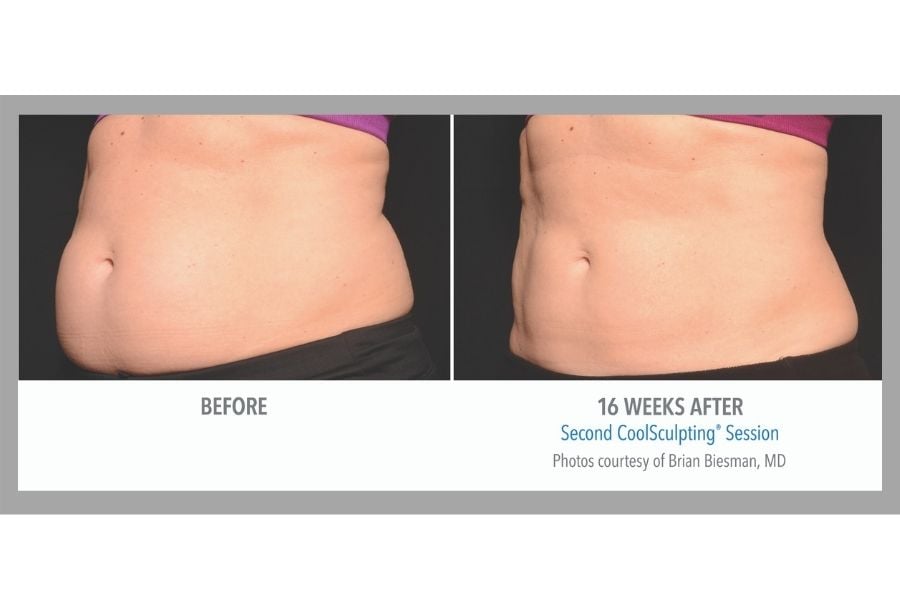 Does CoolSculpting® Work?
Yes! CoolSculpting® treatment can absolutely provide real, noticeable results in the areas you want to reduce stubborn pockets of fat. It's worth noting, however, that you shouldn't expect to see results right away. Since the frozen fat cells are naturally eliminated by the body, it can take anywhere from 2-6 months for your results to appear completely.
The final results are also dependent on how many treatments you require. "I recommend that patients wait at least 30 days before retreating any areas, and a follow-up visit can be booked after 4-6 months to review the final results," Olga shares.
Wondering about how to maintain your results? No need! You won't require additional treatments outside of the plan created by your practitioner. This is to avoid having too much fat removed. The goal is to shape your body without overdoing it or causing an indent. Natural, sculpted results are the ultimate goal with this procedure—so picking a clinic with experienced, trained professionals is a must.
Need CoolSculpting® in Toronto?
At HealthOne, we're passionate about providing beautiful results for our patients in Toronto's South Core district. Our practitioners work directly out of our modern MediSpa and Skin Clinic not only to provide professional aesthetic treatments but to be your go-to resource for all things beauty and self-care.
We understand that each person is on their own unique journey when it comes to feeling their best. Whether you have questions about CoolSculpting®, need recommendations for new skincare products, or want a long-term strategy for cosmetic procedures to enhance your look, we can help! CoolSculpting® is one of the many options available that can help you discover more confidence and love for your body.
"When you look and feel your best, it often results in higher self-esteem, allowing you to take control of other aspects of your life," Olga concludes. She's one of our many expert practitioners who use CoolSculpting® as a way to help our patients feel amazing from the inside out.
If you have stubborn areas of fat that diet and exercise can't fix, it's time to freeze it away for good! CoolSculpting® is a safe, FDA-cleared, and proven method to start seeing results and reveal a more sculpted you. Book a complimentary consultation for CoolSculpting® at HealthOne MediSpa & Skin Clinic to get started on your own journey today!