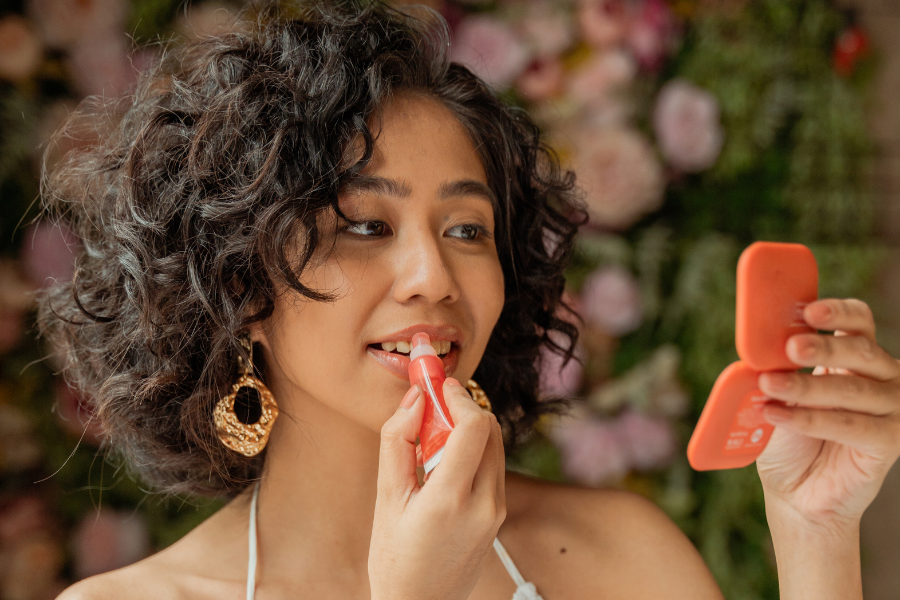 There's one misconception about lip fillers that Ada Shim hears the most often: that after the procedure, you'll look like a duck.
Although lots of women in today's day and age want to improve the way they look, the fear of looking "overdone" often stops them from booking an appointment. Why is that?
A quick look on Instagram can give you a good idea. With over 2.6 million photos using the hashtag #lipfiller, there are endless transformations that can influence how we feel about injectables. And while it's true that some of those photos feature dramatic, protruding lips, it definitely doesn't mean that's how your lips will end up looking.
It all depends on which cosmetic injector you visit.
"That's why looking at someone's portfolio is so important," Ada explains. "Different injectors can provide you with different results. Personally, I'm all about providing the "your lips but better" look. It's never ducky or overdone like some people are worried about."
If you've ever entertained the idea of getting fillers, the first thing you should do is look at before and afters from different injectors. This will give you a better idea of the way they inject and the types of results they can provide.
Think about it: would you ever walk into Home Depot and buy a random can of paint without thinking about it first? Of course not! You'd get inspiration from Pinterest and look at tons of different swatches before settling on the perfect shade. Finding the right injector shouldn't be any different.
We sat down with Ada to learn more about lip fillers, the importance of before and afters, and how to begin your very own (non-ducky) transformation.
What Are Lip Fillers?
To start off with the basics, you probably understand by now that lip fillers are used to enhance your lips. But what exactly are they? What are they even made of?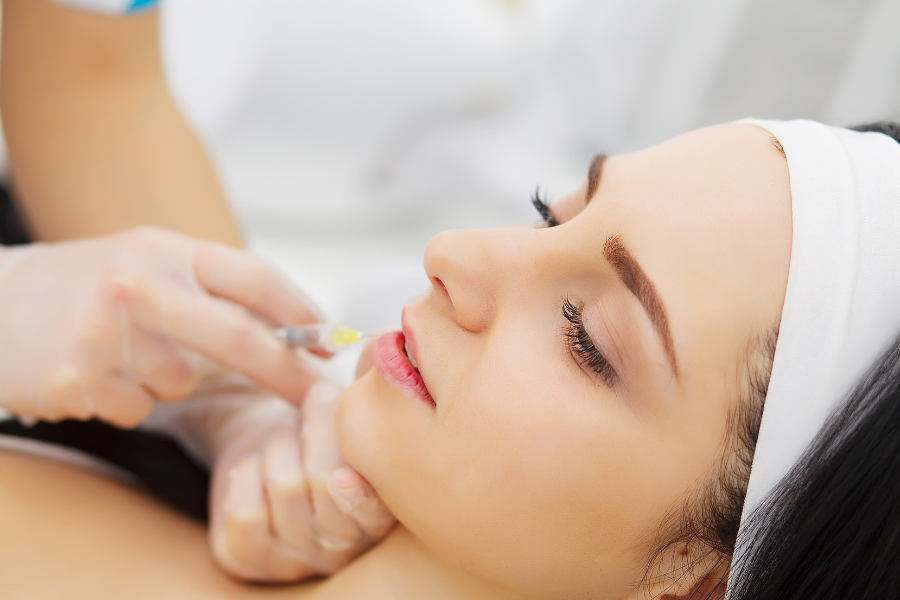 Lip fillers are a procedure performed by a skilled aesthetic nurse. They use a sterile syringe to inject the lips with a filler material comprised of hyaluronic acid. Hyaluronic acid is a substance that naturally occurs in the body, which means it will gradually break down and metabolize over time. To maintain your results from the lip filler procedure, touch-ups are recommended every 6-8 months.
There are a lot of different reasons why people decide to get their lips done. They might want to improve the symmetry of their lips, change the shape, or simply add a bit of volume. Another reason for a lot of clients is to simply feel better about their appearance! The whole "look good, feel good" trope totally applies when it comes to your face.
"A lot of my clients are insecure about their lips. But once we start to treat them, it can completely transform their confidence," Ada says.
With that, let's take a look at some of her best before and afters.
Lip Fillers Before and After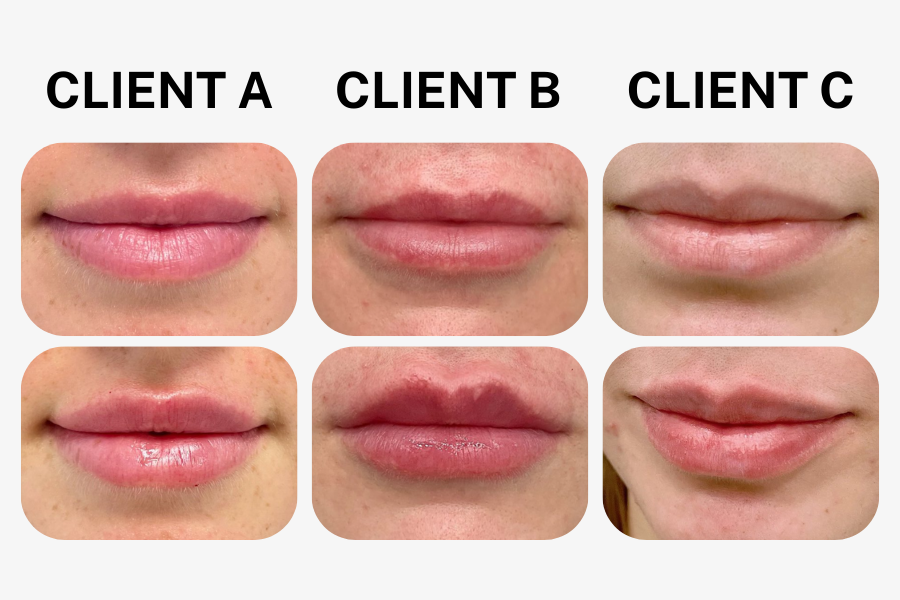 This client is a great example of what we like to call a "mini lip plump". Her results are oh-so-subtle yet she looks completely refreshed! Ada used x mL of filler to make this client's cupid's bow pop. The boost of hyaluronic acid also made her lips look more hydrated.
Here's a before and after that demonstrates how filler can help with balancing. In the "before" photo, the client's top lip was thinner than her bottom. In the "after", both her top and bottom lip have more of a 1:1 ratio.
This is what we like to call "your lips but better". It's about enhancing your natural beauty, not masking it or changing it completely. This client had naturally beautiful lips already; Ada simply used a bit of filler to add some extra oomph!
At HealthOne, we never perform lip fillers in a cookie-cutter way. Every patient (and their lips) are completely unique! The results of each person's treatment will vary from one to the next, and there are a lot of things a good injector will consider while developing your treatment plan.
"That's why when people come in, I like to do a thorough assessment from the hairline to their décolleté," Ada explains. "I never offer a-la-carte services. I tailor my treatment based on the client and the aesthetic objectives they have."
Types of Lip Fillers
Did you know there are different types of filler that injectors can use? At HealthOne, we make sure to use nothing but the best quality products. Some of the key attributes that can vary from product to product, as explained by Ada, include:
Plasticity. "This is how easily the filler can maintain its shape. This is important because the lips are very mobile. You don't want something that breaks apart and gets distorted."

Cohesivity.

"This is how cohesive it is with your own natural tissues, which the Belatero line is really good with."

G-prime.

"This means how well the product can withstand opposing forces – so if we're doing cheeks, we don't want a flimsy product, we want something that stands up and lifts. But if we're doing lips we don't want a high g-prime, we want something very soft so they don't appear to be standing up and protruding."
Based on these factors, her #1 choice lately has been Belotero. It provides soft, natural-looking results which is what most of her clients are hoping to achieve. Belotero is also a great product to fill lips with because it doesn't create any lumps or bumps after the procedure.
Your injector will let you know which product they recommend during your initial appointment before the treatment begins. Now, let's find out how much the procedure will cost.
Lip Fillers Cost
The price of your treatment depends on a couple of different factors. The first one is the amount of product that's used. A lot of Ada's clients – especially first-timers – are only looking for a subtle enhancement. This might only require a partial syringe instead of a full one.
At HealthOne Skin Clinic, patients typically pay anywhere from $450-599 plus additional taxes for their lip filler treatments. Pricing varies depending on the amount of filler required and pricing is subject to change.
The second factor is how often you come in for touch-ups. Since lip fillers are done using hyaluronic acid, they'll naturally break down (or metabolize) over time. Clients can expect their results to last for 6-8 months.
When you visit our clinic, our cosmetic nurses are here for you every step of the way. We want to create real, life-long relationships with our patients and welcome you to our clinic with open arms. If you know you want to maintain your results for years to come, we'll advise you on when to come back for a follow-up and help you book it with ease.
If you come in for one procedure and decide that lip fillers aren't for you, that's completely understandable, too! Each person's journey is unique, and we're here to guide the way when you need us.
Do Lip Fillers Hurt?
The thought of having someone inject your lips can be intimidating. We get it! That's why we go above and beyond to make sure you have a comfortable, easy experience.
We apply a topical numbing cream to make sure that if you do experience any pain or discomfort, it's minimal. According to Ada, most of her clients are able to tolerate the procedure well. We also offer relaxing music, comfortable chairs, and friendly practitioners – you can sit back, relax, and let us work our magic.
Finding the Right Injector
So, you've seen the before and afters and learned the answers to common questions. The last step of your journey is to find the right injector!
As we mentioned, this is arguably the most important step of all. Just like there are thousands of different colours you could use to paint your house, there are tons of injectors in Toronto you can visit for lip filler treatment. And in both of these scenarios, beauty is subjective.
"There's a big craze right now called Russian lips," Ada shares as an example. "It's a very accentuated Betty Boop shape. You can't miss it. Some patients might want those results, and there are definitely injectors who will provide them. But that doesn't mean it's what every client and every injector is going for."
Instead, Ada specializes in the "did she, did she not" style. In essence, it's a lot more subtle and natural-looking. These days, a lot of women are worried that they'll be judged by their friends, family, or even partner for getting their lips done. But if you visit an injector who specializes in natural results, no one has to know – unless you want them to, of course!
The best way to start your journey is by booking a complimentary consultation. You'll be able to meet the injector and learn about their approach before booking an appointment.
Lip Fillers Toronto
At the end of the day, everyone wants to love what they see when they look in the mirror. Filler should no longer be considered a "taboo" procedure. It's anything but!
By looking at an injector's before and after portfolio, you'll gain a better idea of the results they can provide you with when you visit their clinic. The more before and afters they have available, the better!
You won't walk out of your appointment looking like a duck when you visit a skilled injector. Natural, subtle results are oh-so-achievable when you're in Ada's chair at the HealthOne Skin Clinic. We provide free consultations so you can meet our injectors and learn more about their treatment approach before booking an appointment.
Click here to book a free consultation with Ada Shim, Aesthetic Injections Specialist.
One Life. Live Inspired.