Tired of having dry, dull skin? Frustrated with lines and wrinkles? For many of us, these skincare challenges are all too common. It's time to get on board with hyaluronic acid!
Hyaluronic acid (HA) is a skincare superstar known for its plumping and moisturizing factors. It might even be part of your current skincare routine. Better-looking skin is something we can all get behind, but there's more than one way to achieve it.
We sat down with our Cosmetic Nurse Injector and Medical Director, Shameeza, to find out more about HA and how dermal fillers can provide you with natural, beautiful results.
What is Hyaluronic Acid?
"Hyaluronic acid naturally occurs in your body. But as we age, it's produced less and gets metabolized quicker," Shameeza says.
Specifically, it's a sugar that attracts and holds moisture. A single gram of HA can retain six litres of water! "That's why hyaluronic acid fillers, or hyaluronic acid topically, really help to give you that hydration, moisture and fullness," she adds.
Many skincare products on the market include HA for this reason. Vivier Ultimage includes HA along with other pharmaceutical-grade ingredients. It can help boost hydration and minimize the appearance of lines and wrinkles.
You can also purchase HA as a serum, such as The Ordinary Hyaluronic Acid 2% + B5. Both options can give your skin the healthy dose of moisture it needs.
Adding HA to your skincare routine is an easy way to reap its benefits. Another popular option is using dermal fillers. Here at HealthOne, we use Restylane® by Galderma Aesthetics. But first: what exactly are dermal fillers?
What are dermal fillers?
Dermal fillers are a safe, non-invasive injectable procedure. The word "injectable" might makes you think of duck lips or looking "overdone". But they're intended to do quite the opposite.
"The goal isn't to change who you are or change how you look. It's to enhance your beauty," Shameeza points out. "It's to make you feel good about yourself."
As we grow older, we look older. Volume loss in the face is a natural part of the aging process. Skin can sag in areas such as the joules and cheeks, which can make you look less youthful. Other common areas of treatment include nasolabial folds, cheeks, and lips.
So what substance is the best for dermal fillers, exactly? Research claims that the most popular product used in Canada is – you guessed it – hyaluronic acid. Dermal fillers that use HA can safely and strategically improve these signs of aging.They can add volume, contour, and definition.
But according to Shameeza, not all products are made equal. That's why it's so important to choose a reputable brand of HA that professionals use and trust.
Restore, Enhance, Refresh



At HealthOne, our MediSpa & Skin Clinic uses Restylane® by Galderma Aesthetics. Driven by medical research, Galderma is a premier partner of choice for healthcare professionals across the globe.
They have decades of experience in the creation of science-based aesthetic products, which makes Restylane one of the best HA filler options on the market.

"What I love about Restylane is they have products that are tailor-made," Shameeza says. "For example, Restylane Lyft does exactly what the name says. It lifts the area that's beginning to lose volume–like the joules or cheeks."
Restylane® offers an array of fillers designed for the outcome you're looking for. Hyaluronic acid particles vary in size, which is an essential factor that other brands can overlook.
"Their products are different in terms of their density and molecule size. If you're trying to lift or add volume, it requires a bigger molecule. If you're trying to refill your tear troughs or add volume to your lips, you'd use a softer molecule because those areas are more delicate."
At HealthOne, we're proud to offer Restylane® Lyft, Volyme, Refyne, Defyne, Kysse, and SkinBoosters. Don't worry if you're unsure which one is right for you. One of our expert nurse injectors will determine which is the best option for the results you want during a comprehensive consultation.
Here's a brief overview of the types that we offer:
Restore
Want to restore a more youthful appearance? Restylane® Refyne and Volyme fillers might be the perfect solution. We use them to fill facial wrinkles and folds, as well as replace lost fullness due to aging.
Enhance
Want to restore balance and look more naturally youthful? Restylane® Defyne, Kysse, and Lyft fillers are great options. We use them to add definition to facial contours, correct wrinkles and smooth folds in the skin. Restylane Kysse is also specifically designed to add as little or as much definition to the lips as you desire.

Refresh
Want to improve your skin's smoothness and radiance? Restylane® Skinboosters could be exactly what you're looking for. We use them to deliver a hydrating dose of hyaluronic acid under the surface. This helps to create more plump, hydrated, and radiant skin. You can also get Skinboosters on your hands.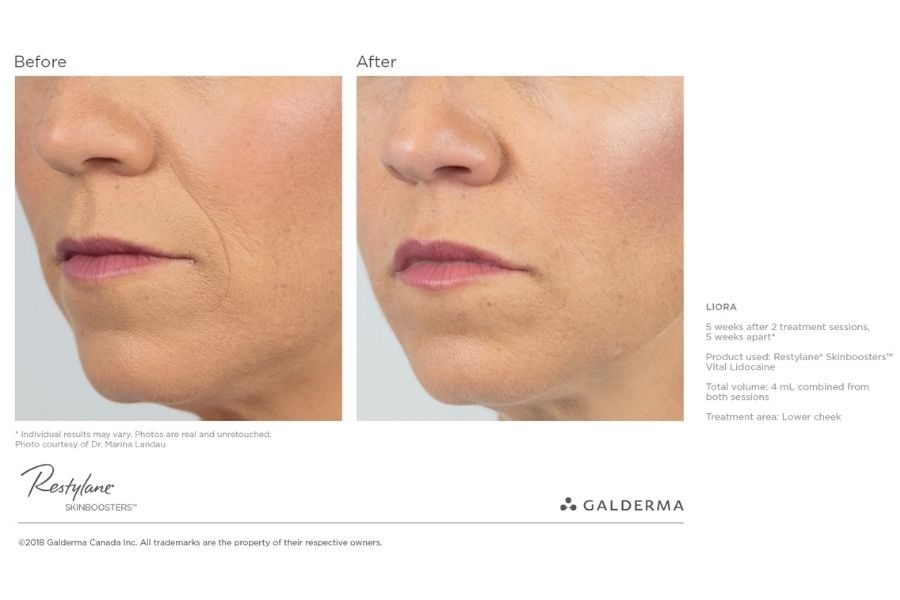 What happens during an appointment?
By now, you might have a better idea of what HA is and how it can be used. Maybe you're even considering how confident you'd feel with subtle lip enhancements or a little volume to your cheeks.
But what happens during an injectables procedure, and is it suitable for everyone? As a Nurse Injector who provides Restylane® filler treatments to our patients, Shameeza has all details about what to expect.
The first step is a consultation with a Cosmetic Nurse Injector or our Medical Director. You would discuss your concerns and explain what outcome you're looking for. They would also explain the treatment and types of fillers available, and answer any questions you have.
The next step is an important one–our Medical Director will review your medical history. Patients' safety is of utmost importance, Shameeza notes.
"The medical history component of the consultation is very important. It allows us to learn about the client and ensure that fillers are a safe treatment option."
For the most part, anyone can get fillers. But there are some contraindications such as pregnancy, certain allergies, and auto-immune disorders that can interfere. Once you get the green light from our experts, you can proceed with getting treatment.

Appointments will vary in time based on the areas being treated and how many there are. But on average, they take 45 minutes to an hour. "We always book a 2-week follow-up appointment to make sure everything is settling well, and to see if any touch-ups are necessary," she adds.
When it comes to discomfort levels, each person is unique. Overall, Shameeza's patients report minimal discomfort. Your safety and comfort come first. Our team will do everything we can to make your experience a positive one.

Are dermal fillers right for me?
Restylane® dermal fillers can last anywhere from 6 months to a year. Since hyaluronic acid occurs naturally in the body, it will metabolize over time. You might only wish to get Restylane® fillers once, but many patients return for more.
It's worth pointing out that fillers are different from Botox®. Botox® (or Dysport®) is a neuromodulator. This means it relaxes the muscles and prevents them from moving. Both Botox® and filler can be done in natural, subtle ways that complement your natural beauty.
"Even the smallest amount of fillers – which would be about half a syringe–is about half of a millilitre," explains Shameeza. "That's very small. The biggest misconception is that clients think they're going to look completely different."
It's normal to worry about having "duck lips" or looking "overdone". But undesired results won't happen if you visit an experienced injector who uses professional products. Research studies also show that dermal fillers are both safe and effective when you visit a trained professional.

At HealthOne MediSpa & Skin Clinic, Shameeza and the rest of our licensed cosmetic nurses put your safety and experience first. Our goal is to provide you with beautiful, natural-looking results using fillers you can trust.
Hyaluronic acid is a superstar ingredient that can give you the smooth, radiant skin you've always dreamed of! Book a free consultation to start your journey with Restylane® dermal fillers today.
One Life. Live Inspired.