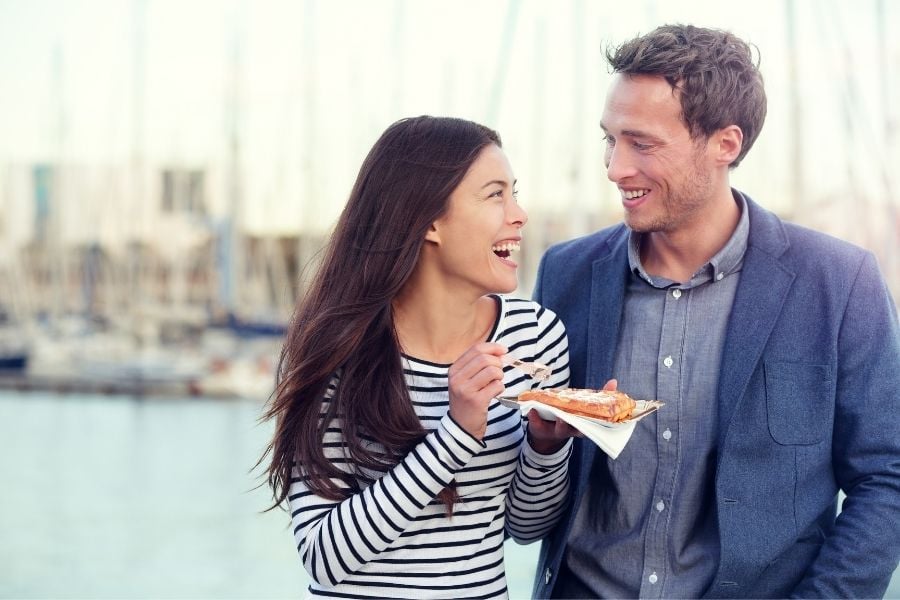 A chipped tooth or dental cleaning can cause fear – even phobias – for some. Any dentist you talk to knows it all too well. But their work is essential; having patients in their chair who are less than enthusiastic is just part of what they do.
That's why for Dr. Sunny Gill, Dental Director at HealthOne, providing patients with Invisalign® treatment is one of the highlights of his job. "In dentistry, we do a lot of things that people don't like because we have to," he shares. "With Invisalign® treatment, we're changing people's lives for the better. Being part of creating that for somebody is just amazing."
Invisalign® treatment by Align Technology has gained a substantial following since launching 25 years ago. 9 million smiles and counting simply can't be beaten! But what goes on during the experience of wearing clear aligners? We sat down with Sunny to get a deeper understanding of what a day in the life with Invisalign® treatment looks like.
What is Invisalign?
First, let's briefly recap what Invisalign®, is and how those 9 million smiles (and counting!) came to be. Invisalign® by Align Technology is a treatment used to gently move the teeth and the bones around them. It's most popularly known for teeth straightening and revealing better smiles, but can also be used for things like correcting a lisp.

Invisalign® clear aligners are made of a smooth, clear, flexible material. Using a machine called the iTero Element® scanner, dentists are able to get a complete 3D view of your teeth. They use this model and advanced dental technology to design your perfect smile.
Patients are instructed to wear their aligners for 22 hours a day. They will also attend check-ins with their dentist to pick up each new set of aligners in their treatment plan. On average, case time takes 6 months from start to finish with some as little as 90 days.
For a bright, brilliant smile, it's clear why Invisalign® treatment trumps other choices on the market. "It's a significantly better product for most people because you can accomplish the same thing you can with braces, but with much better aesthetics, a faster treatment time, and no limitations on the ability to eat what you want," Sunny says.
You read that right–you can have your cake and eat it too with Invisalign®. But before that can happen, make sure you know your role in the day-to-day experience.
How Does Invisalign Work?
It's not as easy as throwing in your aligners when you feel like it and calling it a day. There are simple – but extremely important – steps that go into ensuring your results turn out how you want them to.
"I think the biggest factor to being successful with your Invisalign® is being in," shares Sunny. "You have to be in on doing what you need to do, and that's wear them. If you don't wear them, it doesn't work. It's recommended you do for about 22 hours a day–that's the key to success."
The reason it's so important to wear them as instructed comes down to science. Underneath it all, your teeth and bones are being subtly pushed and moved into new positions. It might not look like much is happening, but the changes are crucial. Your bones are being rebuilt! Not having them heal properly could derail your perfect smile.
The first few days with Invisalign® treatment might also feel a bit different. The clear aligners are designed uniquely for your teeth, but can take some time to get used to.
"You have to bring your patience for the first couple of days. But once you get used to them, it becomes like any other thing on your body – like your socks, your glasses, or your watch."
With your patience in hand and a willingness to commit to daily wear, you'll finally be ready to get to the good part: food!
Can You Eat With Invisalign?
Pass the popcorn, please – and the chips, candy, and chocolate, too. With Invisalign® clear aligners, no food is off-limits.
A common complaint from braces wearers is that they can't eat certain foods. Since they're glued to your teeth, they make eating a challenge and the clean-up even harder.
Invisalign's flexible material makes them easy to remove and put in. Before digging into a meal, simply tuck your aligners in their case (and make sure to put them back in after!). The same applies to drinks, so don't shy away from popcorn and soda on your next trip to the movies.
How to Clean Invisalign
The cleaning recommended for Invisalign® wearers is simple. Rinse them when you're eating or brushing your teeth, but keep your toothbrush in your mouth. "It's not really recommended to brush them because it can create tiny little scratches in the plastic," warns Sunny. "But just generally rinsing them with warm water without soap in there will keep them clean."
You'll likely find that your mouth feels cleaner by the time that you're finished treatment, too. "What we notice is that with anyone who goes into treatment, their hygiene always gets better," he adds.
Brushing your teeth can be easily accomplished when your aligners are removed. The same goes for flossing, another benefit that braces fail to deliver on. Being able to reach the nooks and crannies of your teeth while they adjust will keep it looking polished and fresh from start to finish.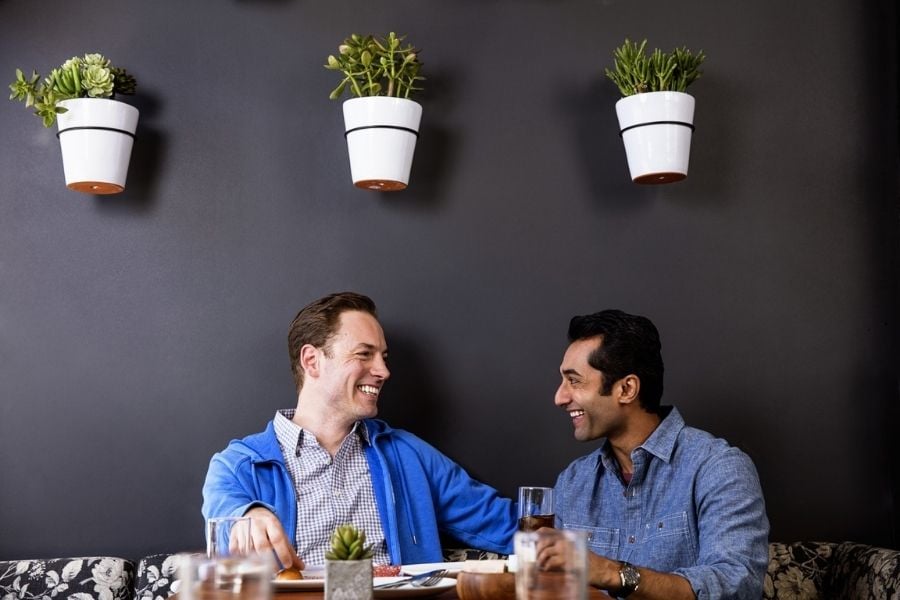 Smile with Invisalign
There's no denying how incredible a brilliant smile can make us feel. When we smile, we show the world our truest selves.
During a day in the life with Invisalign® treatment, you can pose for pictures with confidence whether it's a spontaneous selfie with friends or a headshot at work. You can easily remove your aligners, snap a picture, and put them back in. No "brace face" throwbacks here!
If you're not entirely comfortable with your smile just yet, you're not alone. Many patients Sunny sees feel less than confident because of their teeth. "When someone walks in one day and they're super shy and only smile with their mouth closed, and after treatment, they've got this bright wide smile, it's a whole different person."

So, go ahead and smile for a photo during treatment, and smile even wider in photos after it!
Invisalign Toronto
In order to eat, drink, and smile with Invisalign®, you need to find the right dentist to work with. One of the things people get wrong, according to Sunny, is thinking all dentists will provide the same experience.
"It's not a product that you go and buy", he explains. "If you buy a paintbrush and give it to three different people, you're going to have three different things. When you're looking for an Invisalign® provider, you have to find one that matches your goal. You need a dentist that uses Invisalign® in a way that's going to accomplish what you want."
At HealthOne, Sunny and the rest of our dental team aim to provide practical results in a sufficient amount of time. They also do this in a way that fits your life and lifestyle.
We all have growing to-do lists, so your teeth should be the last thing you worry about–even during a day with Invisalign® treatment.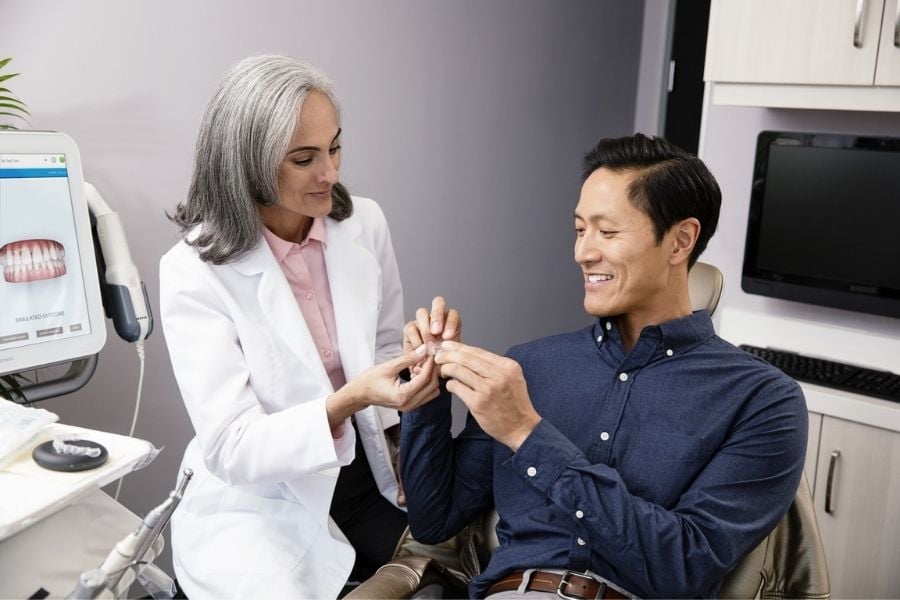 Our team also aims to involve patients each step of the way. We involve you in conversations. "We don't come in and authoritatively say 'You have to do this' or 'You have to do that'. If you're interested in certain things, we can talk about it," Sunny says.
We've helped many HealthOne patients reveal their new smiles in efficient turnaround times. Recently, we were recognized as a Diamond Invisalign® provider. This exciting accomplishment puts us in the top 1% of Invisalign® providers in North America!
Come see for yourself why so many patients choose HealthOne. We offer complementary Invisalign® consultations, so click here to start your journey today.
Dr. Sunny Gill looks forward to meeting you and creating your perfect smile. After all, it's one of his favourite parts of being a dentist.
One Life. Live Inspired.