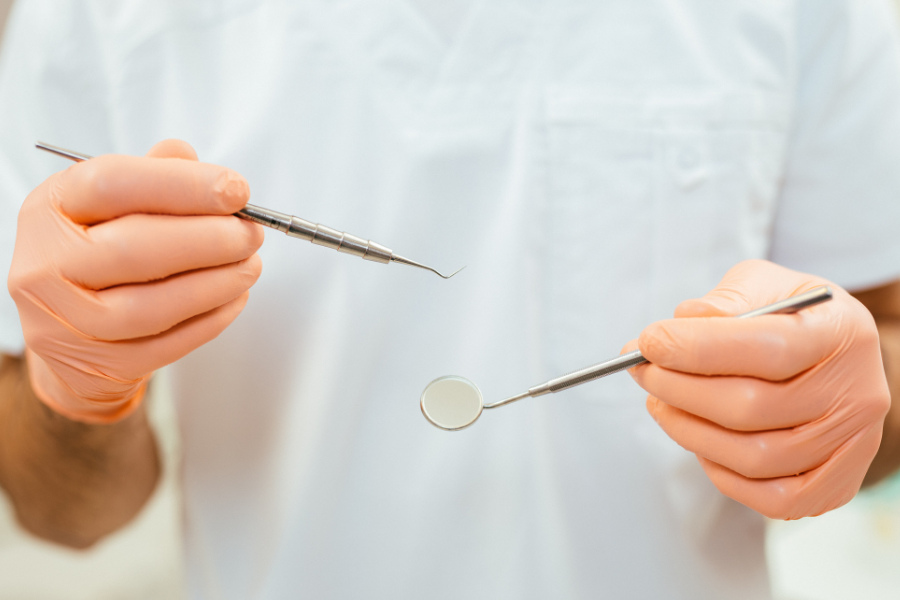 All it takes is a quick Google search to realize how many dentists there are in Toronto. From Invisalign providers to periodontists and everything in-between, choosing a dentist (let alone a good one) can be tough.
Should you pick a random clinic and hope for the best? Or spend hours reading every single Google review that exists? Everyone has their own way of researching before they book, which is why we wrote this blog post – to make your life easier!
At HealthOne, we have a unified team of dentists working in the heart of downtown Toronto. In this blog, we'll be introducing you to each one including their experience, areas of expertise, and reasons why you might want to visit them. Let's get started!
Meet HealthOne Dental
Dr. Sunny Gill
First up is Sunny, the head of our dental team! Born and raised here in Toronto, Dr. Gill brings his passion for dentistry to every patient he works with. He believes that a beautiful, healthy smile can light up a room and help you feel your best.
Dr. Gill has worked in a variety of clinics in Michigan, Vancouver, and throughout the GTA. As a Diamond+ Invisalign Provider, he spearheads quick and efficient Invisalign treatments at our clinic to help patients reveal beautiful new smiles (but more on that later!).
"Dr. Gill thoroughly went over all the issues that I had going on with my teeth. He showed me X-rays and explained everything that was going on. Would highly recommend this clinic." - Sarah S.
Dr. Yasmin Vakilian
Next up, we have Dr. Vakilian who also grew up here in Canada (Vancouver, BC, to be exact!). She completed her Doctor of Medical Dentistry in Budapest, Hungary before returning to Canada to begin her career in dentistry.
Dr. Vakilian is always expanding her skill set by taking additional training and courses. She's experienced in oral surgery, endodontics, and works closely with Dr. Gill to perform Invisalign treatments.
"I always look forward to visiting Dr. Vakilian for her kindness, professionalism, and experience." - Kristin C.
Dr. Iman Sabetahdjahromi
If you're looking for an accomplished dentist, look no further than Dr. Sabetahdjahromi! He brings over 25 years of experience to our team at HealthOne.
Dr. Sabetahdjahromi cares deeply about making sure his patients feel comfortable during their visits. From root canals to wisdom teeth extractions, he performs all of his procedures with precise attention to detail. Just take a look at what his patients have to say!
"My experience with Dr. Iman Sabetahdjahromi has been simply incredible. He is very skilled, patient and understanding." - Mohammad O.
Dr. Ryan Noh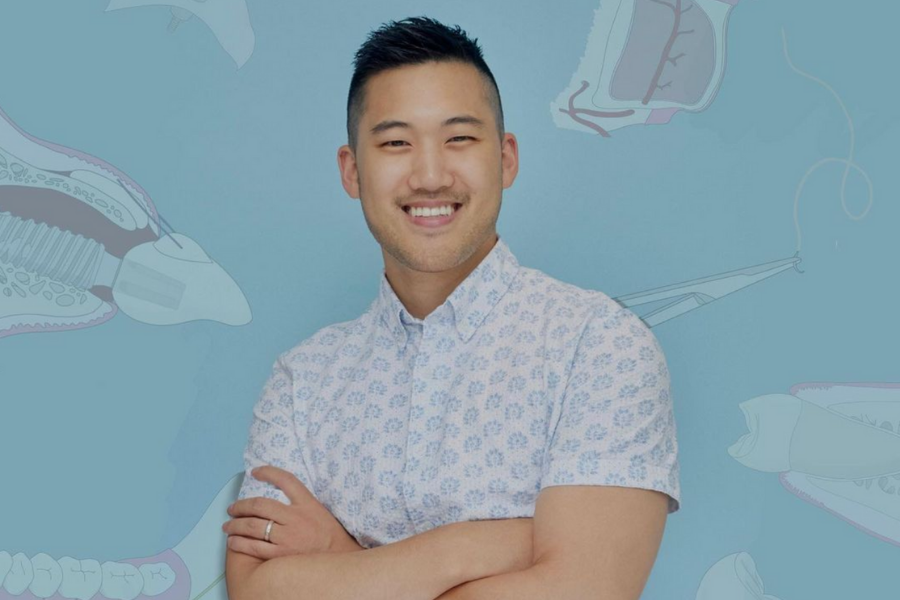 Next up is Dr. Noh, who obtained his Doctor of Dental Surgery from the University of Toronto. He's currently studying to become a board-certified periodontist and also works as a clinical instructor at UofT.
A unique fact about Dr. Noh is that he's a part-time dental illustrator! This allows him to share his expansive knowledge of periodontics (gum health) with patients while also educating people online about dental health. Check out some of his drawings on his Instagram page, @hardpalatte!
"I had a great experience with Dr. Noh. 10/10 would recommend!" - Celine R.
Dr. Aditi Sharma
Last but not least is Dr. Sharma, the newest addition to our team! She's an incredibly skilled dentist who completed her Bachelor of Dental Surgery in India before moving to Toronto and obtaining her Doctor of Dental Surgery.
Dr. Sharma actively participates in CE (continuing education) courses and seminars on dentistry. This is one of the many ways she provides her patients with top-quality care!
"Dr. Sharma has been amazing!" - Shoubhik B.
Dentist downtown Toronto
All five of our dentists work at our modern clinic in downtown Toronto. We're conveniently located in the One York building, just steps away from Scotiabank Arena and Union Station. Whether you live downtown or work in the area, visiting us is a breeze – you can even swing by on your lunch break!
You might be searching for a dentist for a lot of different reasons. Maybe it's been a while since you got a cleaning or you have a lingering toothache that's bothering you. Rest assured; our dentists offer a variety of services to help you! Here's an overview of the ways we can help.
Cosmetic Dentist Toronto
Who doesn't want to have a bright, healthy smile? Cosmetic dentistry in Toronto is one of the most highly sought-after treatments these days. There are many different ways to improve the appearance of your teeth. We offer:
Teeth whitening

.

Contrary to popular belief, you can whiten your teeth without damaging your enamel! The trick is to do it safely with professional products. We offer in-clinic whitening treatments as well as custom kits that you can use at home.
Implants and bridges.

A missing tooth can happen accidentally, with age, or from an oral health disease. Regardless of

why

it's gone, our clinic can replace it! We use high-grade materials and the utmost precision to restore your smile and have you feel more confident.

Dentures.

Missing more than one tooth? Our clinic has you covered. We can create full or partial dentures designed perfectly for your needs.
Invisalign Toronto
Another type of cosmetic dentistry we offer is Invisalign treatment! You can think of Invisalign as a clear, comfortable, more modern version of braces. There are a lot of Invisalign providers in Toronto, so how do you go about finding the right one?
One tip is to see if a clinic is part of the Invisalign advantage program. This recognizes dental providers who have completed certain amounts of Invisalign treatments. At HealthOne, we're a Diamond+ provider which puts us in the top 1% of Invisalign Providers in North America!
We've been able to accomplish this because our philosophy is simple: we want to create amazing outcomes in a short amount of time. Dr. Gill said it best: "At the end of the day, we want what the patient wants. We want a predictable, fast result. Our average case time is around 6 months, but we've had cases in as little as 90 days depending on the goal we're trying to accomplish."
Whether you have a gap in your teeth, an issue with your bite, or just want to straighten your smile – HealthOne is here to help! Read three reviews from our very own patients in this blog post.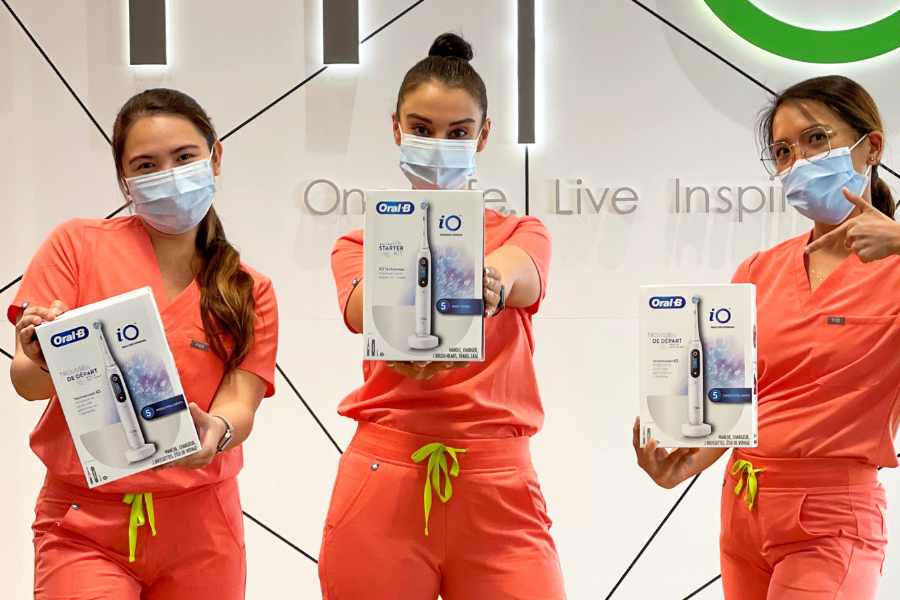 Toronto Family Dentist
Attending hygiene appointments is important for people of all ages. Why? Because brushing and flossing at home is only half the battle. When you visit a dentist, they'll use special tools to remove plaque and tartar. If left untreated, these can cause tooth decay and oral health diseases.
Regular dental check-ups are also necessary to rule out other oral health concerns. Problems like gingivitis, for example, may often go unnoticed by a patient – and the longer they put off their dental visit, the more damage that'll be done.
Our dentists treat patients of every age, including children. We believe that creating healthy habits and routines starts early! Many children are scared of visiting the dentist, which is why we go above and beyond to make sure their experience is enjoyable. From Netflix in the room to our caring, friendly staff, we'll make sure that your family's experience is nothing short of amazing.
Emergency Dentist Toronto
Along with providing hygiene services and cosmetic dentistry like Invisalign, our team can also treat dental emergencies. Chipped teeth, broken teeth, severe tooth pain, you name it — we always prioritize emergency appointments as part of our ongoing commitment to our patients.
Get in touch with our clinic ASAP if you're looking for emergency care.
Best Dentist in Toronto
At the end of the day, everyone deserves to have a brilliant smile. Not just one that looks great, but one that's healthy and properly taken care of.
With so many dentists in Toronto, it can be hard to make the right choice. We're confident that our well-rounded team of professionals can accomplish your goals and make you feel at ease!
Dr. Gill, Dr. Vakilian, Dr. Noh, Dr. Sabetahdjahromi, and Dr. Sharma would be thrilled to meet you at our dental clinic in Toronto. Start your journey by booking an appointment for an Invisalign consultation, dental examination, or hygiene cleaning. We look forward to seeing you!
One Life. Live Inspired.