Healthy relationships are an essential part of your happiness and health. Whether it's friends, family, coworkers, or your local barista, the people you choose to surround yourself with matters.
Research even suggests that poor quality of social support can be associated with depression, mood disorders, and high mortality rates. It's no wonder why these connections are so important.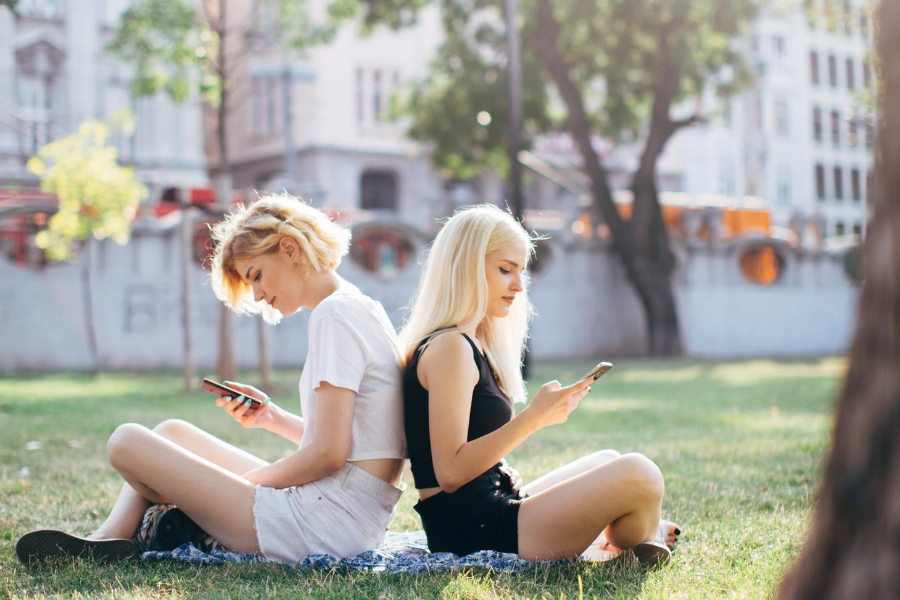 At HealthOne, we're strong believers in achieving optimal levels of physical, mental, and social well-being. We aim to live the same healthy lifestyles that we recommend to you!
That's why we formulated these tips for anyone and everyone in the HealthOne community: to live a more inspired life, one connection at a time.
Set Boundaries
Boundaries are a building block of all relationships. Communicating your needs and limits allows others to understand your values.
Encouraging others to speak about their boundaries will also foster a sense of respect.
As you grow and change, your boundaries will, too. They can be influenced by your heritage, past experiences, and even family dynamics. By engaging in self-reflection, you'll feel more confident in your relationships.
Aim for Balance
In today's digital world, staying connected has never been easier.
Social media platforms like Facebook, Instagram, Twitter and LinkedIn continue to grow in popularity. They provide unique ways for people to interact all across the globe.
A lot of people worry that these digital styles of communicating will replace face-to-face time. Experts refer to this as "social displacement. But this paradigm didn't develop overnight.
This is why we recommend a balance between in-person and screen time.
Comment something kind on your friend's latest Instagram post. But don't forget to schedule a lunch date with her, too.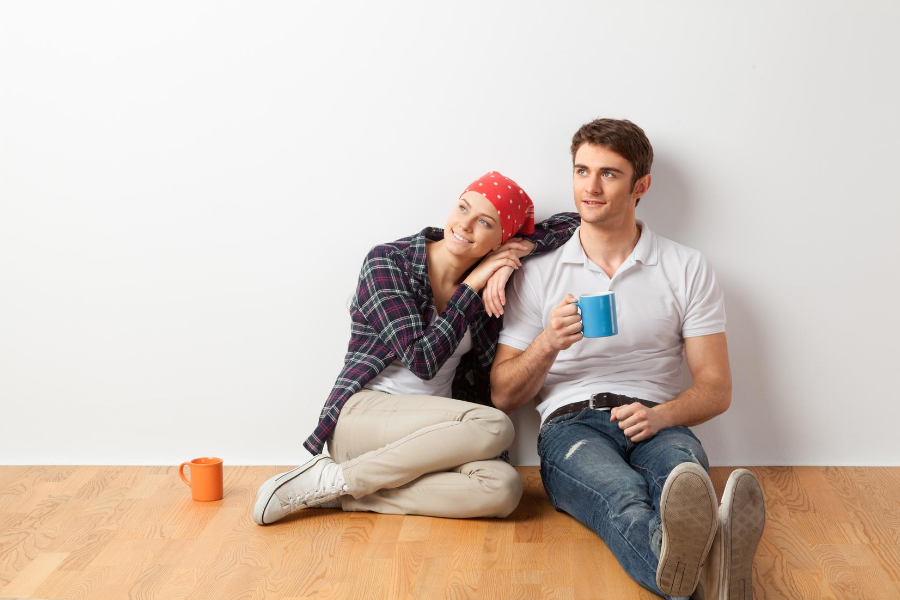 Lend a Hand
Did you know that a recent study suggested children as young as two can feel rewarded by helping others?
They expressed more joy watching other people get help than when they received help. Lending a hand to others feels good, period. Even toddlers agree!
Think about the last time you offered help. Maybe you did an extra load of laundry for your spouse or held the door for another person. Chances are, this act of service felt pretty rewarding.
Don't hesitate to help out others while keeping your boundaries in mind. Offering support shows your trustworthiness and willingness to help. In turn, this will nourish your connections.
As important as it is to lend a hand, it's equally necessary to lean on others.
Ask for Help
It's challenging – and quite unrealistic – to try and face life's obstacles alone. Asking for help isn't easy, but it's essential. Something as simple as asking for a favour generates good feelings for both people involved.
Whether it's advice on a career change or borrowing $20, turning to your network for help will allow you to feel supported.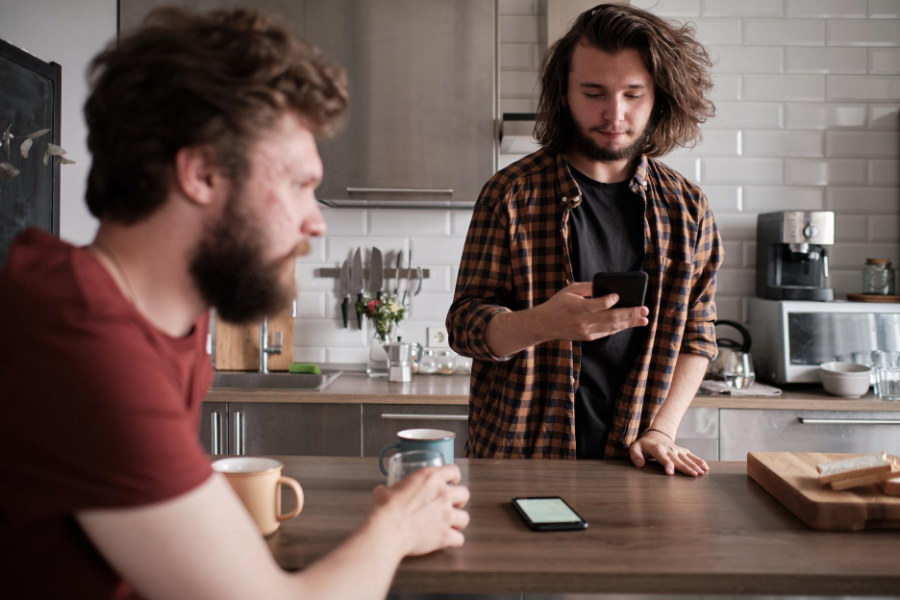 Receiving help looks different for everyone, and for some, it means seeking professional help. Working with a mental health practitioner can have an invaluable impact on your life. It can also provide expert guidance for life's more pressing roadblocks.
There are many types of counselling available to suit each individuals' needs and goals. At HealthOne, our Mental Health team is experienced in providing a variety of counselling services to fit your unique needs.
Our Social Worker & Therapist, Feven Gebremicael, works at creating a nonjudgmental, safe, and comfortable environment. She fosters a space where you can be yourself and talk about difficult issues. Feven has worked with individuals, couples and families with a variety of clinical models.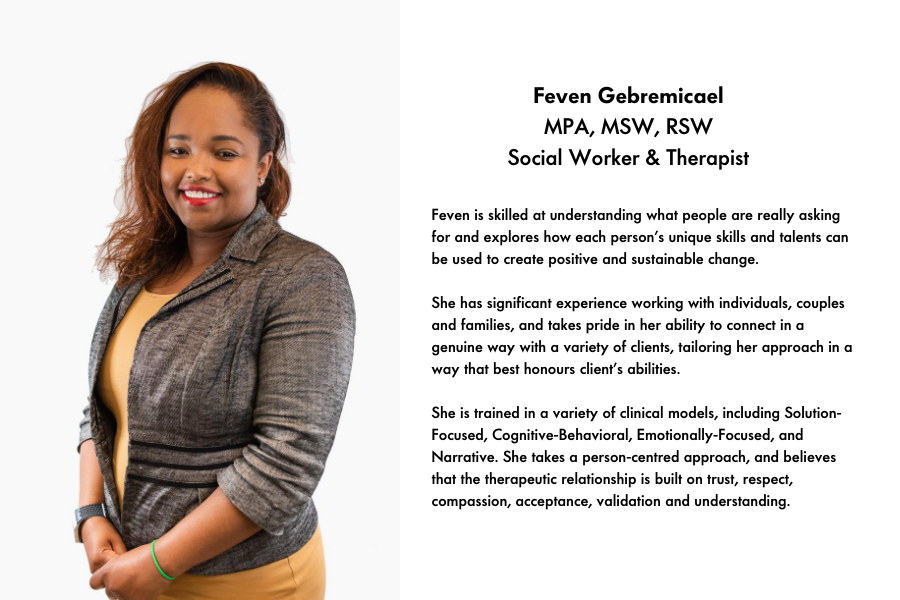 Individual counselling can help you navigate personal challenges. In turn, this will help you bring the best version of yourself to your relationships.
Couples' therapy will focus on you and your partner. It helps you learn about yourselves, each other, and how to strengthen your relationship.
Family counselling is designed to help members of the family gain understanding, work through issues, enhance communication, or resolve conflicts.
The goal in all of these types of counselling is to improve your quality of life and well-being. Building healthy relationships starts with you, and getting professional support is a great way to begin.
Looking for more ways to live an inspired life? Book a meet and greet with a member of our Wellness team to get started.