Healthy relationships are an essential part of your happiness and health. Whether it's friends, family, coworkers, or your local barista, the people you choose to surround yourself with matter.
Research even suggests that poor quality of social support can be associated with depression, mood disorders, and high mortality rates. It's no wonder why these connections are so important.
At HealthOne, we're strong believers in achieving optimal levels of physical, mental, and social well-being. We aim to live the same healthy lifestyles that we recommend to you! We sat down with our Social Worker, Feven, to hear her top recommendations on how to create and nurture healthy relationships every day.
What is a Healthy Relationship?
There are many key factors that you should look for when answering this question. A healthy relationship is often built on the foundation of:
Mutual trust in one another

Mutual respect and kindness

Strong communication

An ongoing feeling of balance

Setting and maintaining boundaries
This applies not only to romantic relationships, but those with your friends, family, and beyond. You should feel safe and comfortable in your connections with these people.
It's also important to remember that healthy relationships require effort. It requires effort from both parties to keep things moving forward! With that being said, here are our top tips for building healthy relationships.
Set Boundaries
Our first tip for building healthy relationships is to set boundaries. Boundaries are an essential building block of all relationships. Communicating your needs and limits allows others to understand your values.
For example, a boundary could simply mean saying no when you're invited to plans. They can also be physical ("I'm not a hugger!") or verbal ("I don't like when you speak to me that way.")
As important as it is to communicate your own boundaries, you should also encourage others to do the same.
Remember: as you grow and change, your boundaries might too. They can be influenced by your heritage, past experiences, and even family dynamics. By engaging in self-reflection, you'll feel more confident in your relationships.
Balance is Key
Our second tip for building healthy relationships is to find balance between in-person and digital communication. Staying connected via technology these days has never been easier! Social media platforms like Instagram, Twitter and TikTok continue to grow in popularity. They provide unique ways for people to interact all across the globe.
Commenting something nice on your friend's Instagram post or sending them a DM is great, but it's not exactly a replacement for quality time in-person. If you live in the same place, try to carve out the time to see them in IRL. If you live far from each other, even a video call can help you feel more connected. Both types of communication can come in handy when it comes to a healthy relationship!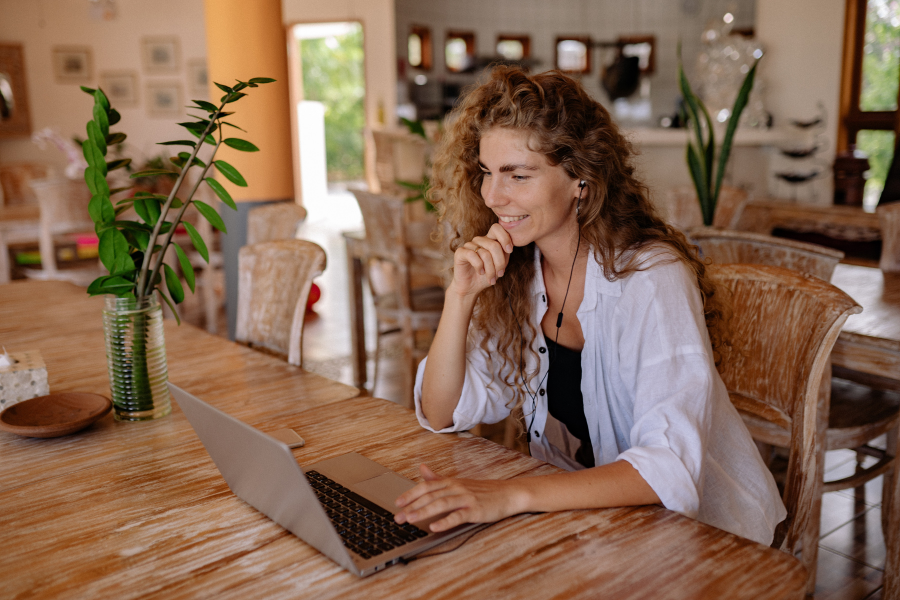 Lend a Hand
Our third tip for building healthy relationships shouldn't come as a surprise: lend a hand to others! Whether it's grabbing something for your friend at the grocery store or helping your sibling move to a new apartment, it simply feels good to help others out.
In fact, a recent study suggested that children as young as two can feel rewarded by helping others. They expressed more joy while watching other people get help than when they received the help themselves. Lending a hand feels good, period. Even toddlers agree!
Ask for Help
Our last tip goes hand-in-hand with the last one – and that's to accept help from others, too. It's unrealistic to think that we can face all of life's obstacles alone. The people close to you should be willing to support you the way you're willing to support them!
It's important to keep in mind, of course, that balance with this is key. This is where healthy communication comes into play and will ensure your relationship feels balanced.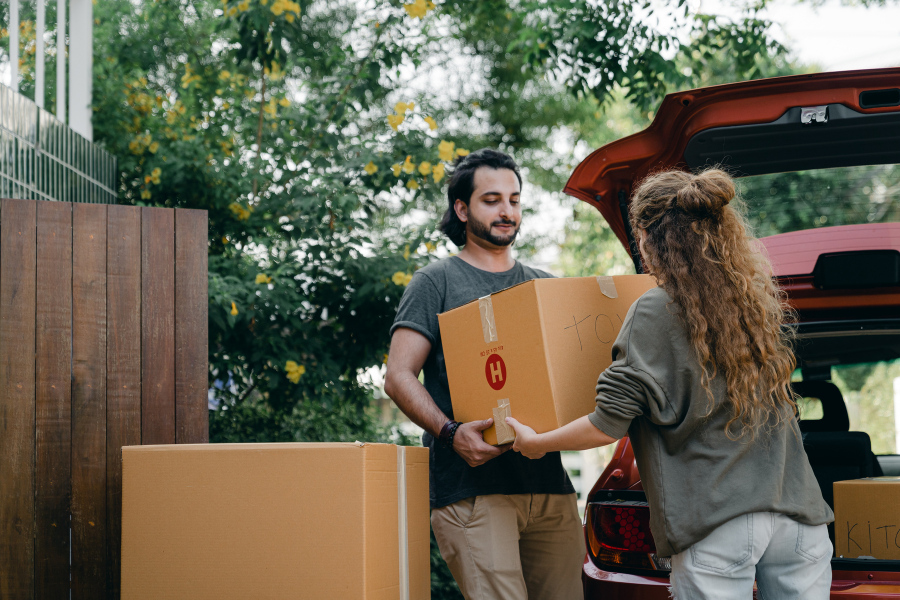 Receiving help looks different for everyone, and for some, it means seeking professional help. Working with a mental health practitioner can have a huge impact on your life. It can also provide expert guidance for life's more pressing roadblocks.
There are many types of counselling available to suit each individual's needs and goals. At HealthOne, our Mental Health team is experienced in providing a variety of counselling services to fit your unique needs.
Our Social Worker & Therapist, Feven Gebremicael, is passionate about creating a nonjudgmental, safe, and comfortable environment. She fosters a space where you can be yourself and talk about difficult issues. Feven has worked with individuals, couples and families with a variety of clinical models.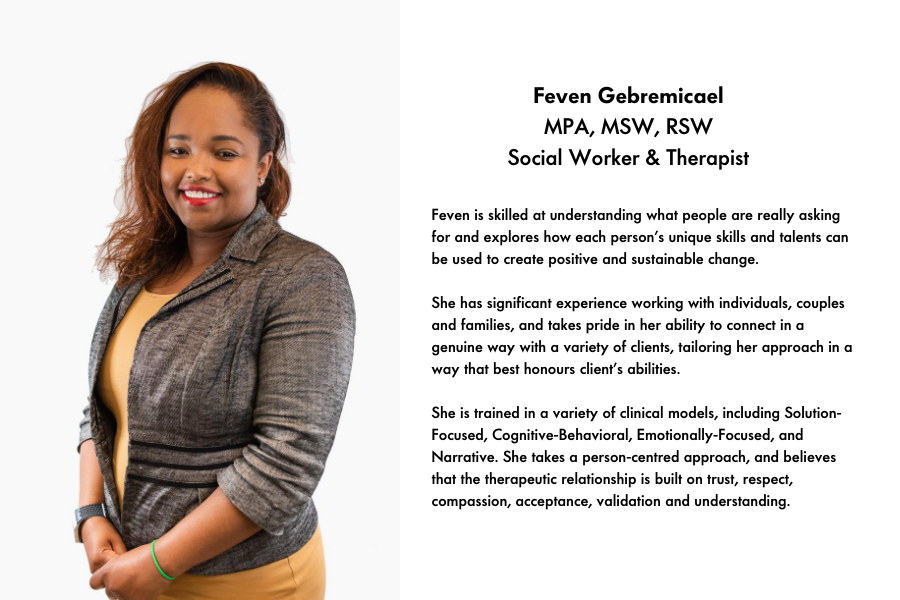 Individual counselling can help you navigate personal challenges. In turn, this will help you bring the best version of yourself to your relationships.
Couples therapy will focus on you and your partner. It helps you learn about yourselves, each other, and how to strengthen your relationship.
Family counselling is designed to help members of the family gain understanding, work through issues, enhance communication, or resolve conflicts.
The goal of all of these types of counselling is to improve your quality of life and well-being. Building healthy relationships begins with you, and getting professional support is a great way to begin.
Looking for more ways to live an inspired life? Book a meet and greet with a member of our Mental Health team to get started.