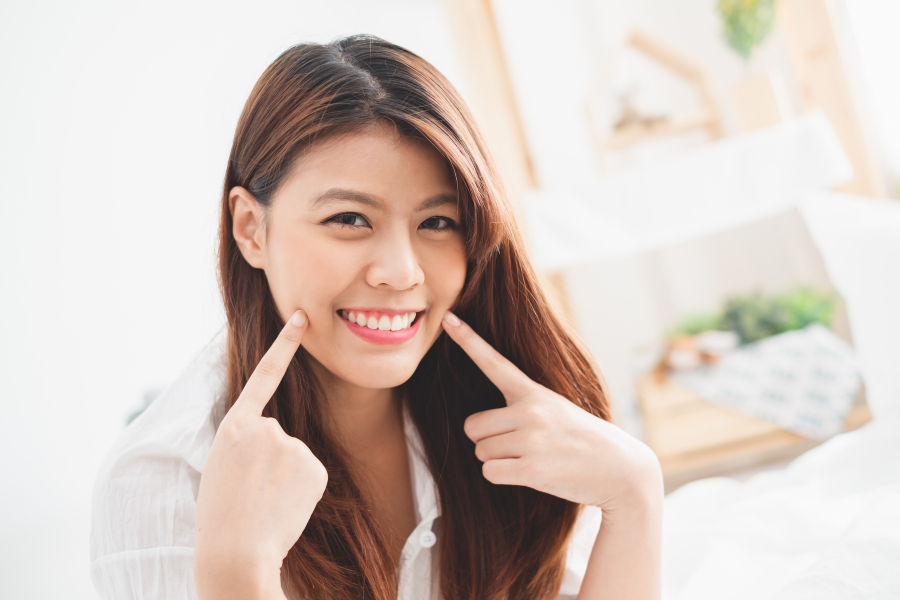 If you're a millennial living in 2022, you've probably heard of Invisalign treatment at least once. With 11 million smiles and counting, over 350k Instagram followers and a star-studded #SmileSquad featuring people like Kyle Lowry and Charlie D'Amelio, this orthodontic treatment has definitely received more than 15-minutes of fame.
Considering how convenient and comfortable Invisalign treatment is, it's no wonder why more and more people are considering it for their own smiles. Maybe you're considering it, too, if you've landed on this blog post!
Do you have misaligned teeth? A crooked bite? A gap between your front teeth or a lisp when you speak? These are all things Invisalign can fix – and guess what? That's just the beginning.
In this blog, we'll be telling you more about Invisalign treatment including 3 important questions you should ask yourself if you're considering it. Our team is here to help you every step along the way, whether you're ready to book a consult or still wrapping your head around the whole "clear aligners" thing.
Let's start off with a recap of the basics!
What is Invisalign?
Remember when you were a kid and had classmates with fun-coloured braces? You can think of Invisalign as braces, but better. Gone are the days of being called "brace face" and getting things stuck in your teeth. Those problems are a thing of the past thanks to Align Technology's newest breakthrough in orthodontic treatments.
"Compared to stainless steel or titanium braces, Invisalign has a lot of advantages," says Dr. Yasmin Vakilian, our dentist at HealthOne. "Like the name suggests, the aligners are pretty much invisible. They're made from a material that creates a custom fit to the teeth, so the person wearing Invisalign knows they're wearing it but most of the general public won't know you're wearing something.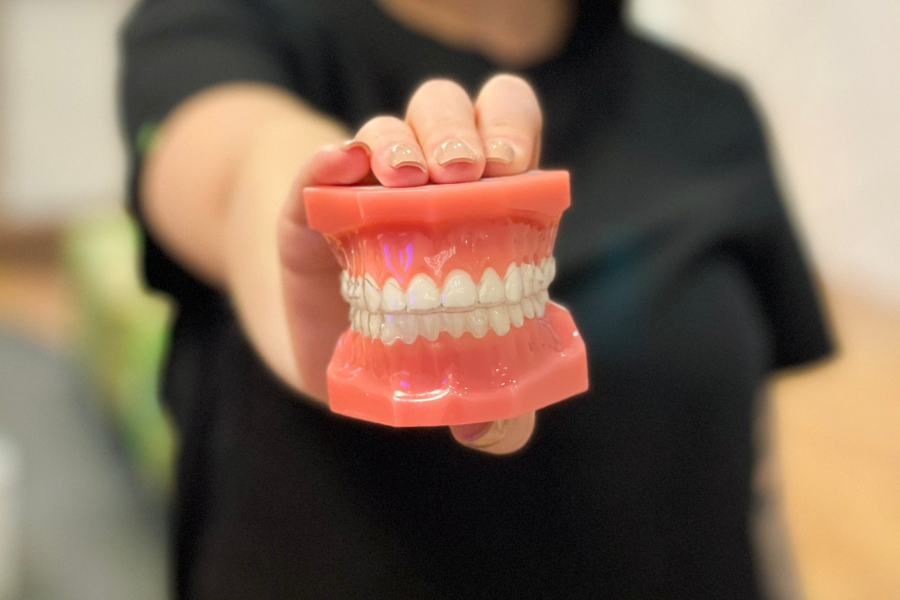 You can also eat whatever you want, and enjoy your food because they're removable. I've heard a lot of complaints from people with braces about not being able to enjoy food the same, so that's a pro. Being removable also means you can brush your teeth properly, or take them out if you're playing a sport where they might get in the way. They're also made of a smooth plastic that has no rough edges so there's no discomfort in the mouth that you might get from traditional braces."
How does Invisalign work?
When you decide to do Invisalign treatment, a dentist will take a 3D scan of your mouth using an impressive piece of technology called the I-Tero scanner. This allows them to get a customized, 360 view of your teeth and also allows them to map out every step of your treatment.
Based on your unique treatment plan, they'll create a certain number of aligners which you'll wear for 1-2 weeks each. Every set of aligners is subtly different from the next, designed to shift your teeth closer and closer to the final outcome.
"What we're doing is moving teeth and rebuilding bones," explains Dr. Sunny Gill, dentist at HealthOne. "That's why it's so important for patients to wear their aligners for at least 22 hours a day. It might not feel like much is happening, but there's a lot going on beneath the surface."
How long does Invisalign take?
Every person's Invisalign treatment will depend on a variety of factors. Someone making a very subtle shift will have a much shorter treatment time than someone with severe crowding and excessive overbite, for example. With that said though, the overall consensus is that Invisalign is much faster than braces.
"At a minimum, people with braces are wearing them for 18 to 30 months," Dr. Gill shares. "But at HealthOne, we like to be super-efficient and use Invisalign in a way that gets the patient results as fast as possible. Our average case time is around 6 months, but we've had cases as little as 90 days depending on what kind of goal we're trying to accomplish."
Just because thousands of different dental offices offer Invisalign doesn't mean you'll end up with the same results no matter who you visit. Invisalign is a tool, and different dentists have different approaches and beliefs with how they use it. This is why it's always important to find a dentist who matches your goals. "We're here to find very practical results for people in a sufficient amount of time," Dr. Gill explains. If that's the type of treatment you want, our team would love to help!
Now that you understand what Invisalign is, how it works, and how long it can take, it's time to get to the good stuff. Here are 3 questions you should ask yourself if you're considering this treatment.
1. What am I trying to achieve?
First things first: you should understand your why. The reason you're seeking Invisalign treatment is an important thing to narrow in on. Here are the two main categories patients fall under when considering Invisalign.
FUNCTIONALITY. Do you have an overbite, underbite, or crossbite? Some people know they have a misaligned bite, but others might have no idea until they visit a dentist. This is why regular examinations are so important – so you can get a professional assessment and identify any issues.
Something else that people fail to realize is that a misaligned bite can lead to problems down the road. Issues like crowding, jaw pain, and even periodontal disease (including teeth falling out!) are all potential risks of leaving this type of thing untreated.
Click here to learn more about 8 different bites that Invisalign can fix.
AESTHETICS. Invisalign can also help if you want to change the appearance of your smile. Whether you have crooked teeth or minor gaps, a dentist can use this treatment to straighten things out for you.
An added plus of Invisalign treatment is that for many patients, their teeth become whiter. This is mostly because wearing clear aligners encourages better oral hygiene and thus – you guessed it – a brighter smile! Our dental clinic also offers at-home teeth whitening products if you're interested in taking things up a notch once you finish with your treatment.
Although Invisalign can fix a wide variety of dental malocclusions, it's important to understand that it can't fix everything. For complex scenarios that require significant movement and/or rotation, your dentist may recommend other treatment options instead. The best way to find out if you're a good candidate for Invisalign is by booking a complimentary consultation.
2. What does my future hold?
The second question you should ask yourself is a matter of thinking ahead. Doing Invisalign requires a level of commitment, so it's important to consider what your future is going to look like.
For example, if Melissa plans on getting married in Spring 2024 and her dentist quotes her treatment at 7-months, this will give her plenty of time to start and finish her Invisalign journey before her wedding.
On the other hand, if she plans on getting married only 4 months from the day she starts treatment, she'd be halfway through her trays by the time the big day rolls around. This wouldn't be a huge hindrance considering that Invisalign is clear and removable – but it's definitely a case of personal preference from patient to patient.
The good news is that during your initial consultation, a dentist can give you an idea of how long your expected treatment time will be. This can allow you the freedom to think ahead about your future and decide on the best time to begin your Invisalign journey.
3. What are my payment options?
The last question you should ask yourself when considering Invisalign treatment is perhaps the most important: what will your payment plan look like?
You can pay the cost upfront or in segments month-by-month. Just like any other orthodontic treatment, the cost of Invisalign can vary depending on your unique dental needs.
The good news is that for people who have dental insurance, they can often be put towards covering part of the cost. And at HealthOne, we also have a dedicated Treatment Coordinator named Justine who can help you as well!
Our priority is to provide our patients with individualized treatments based on their needs. Our dental team can answer any questions you have about your payment options and come up with a plan that works for your unique situation.
For patients who wish to undergo Invisalign treatment to fix the functionality of their smile, it's also worth noting that making an investment now could prevent you from having to pay more money in the future. An untreated overbite or underbite, for example, could lead to tooth decay or severe oral health issues down the line. The treatment for those types of problems (think: root canals or oral surgery) may potentially cost even more than the initial investment you're making with Invisalign.
Invisalign Toronto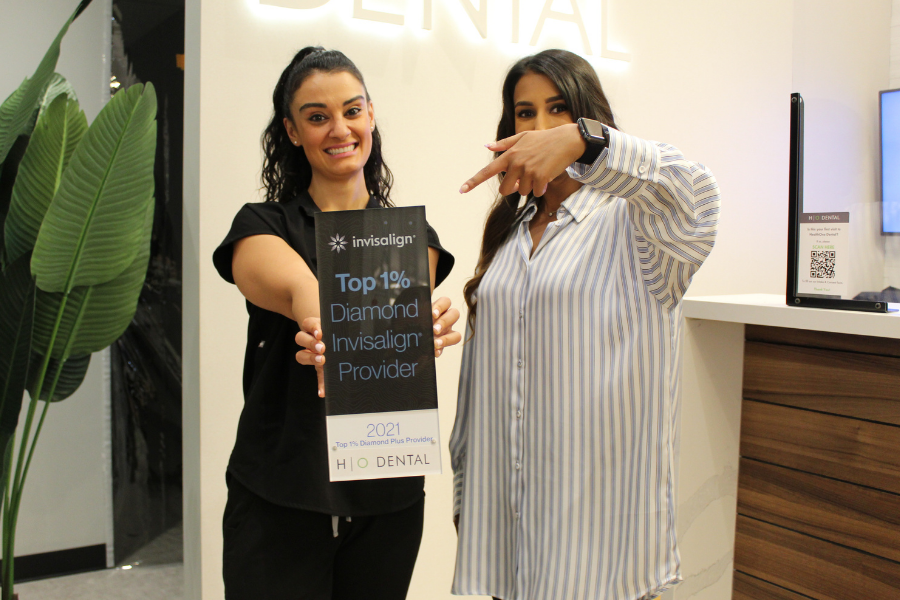 At the end of the day, if you're considering Invisalign, it's important to choose a clinic that aligns with your goals. There are thousands of dentists who can provide you with this treatment, but that doesn't mean your results will be the same from place to place.
At HealthOne, we're proud to be a Diamond+ Invisalign Provider which puts us in the top 1% of Invisalign providers in North America. We've achieved this by providing our patients with fast, efficient results. You have a busy enough life already – straightening your smile shouldn't have to interfere with that!
To recap, there are 3 things you should ask yourself if you're considering Invisalign treatment.
What am I trying to achieve?

What does my future hold?

What are my payment options?
This will help you decide on the perfect time to begin. When the time comes, our dental team would love the opportunity to make your smile dreams a reality!
"I always say as a personal mission statement that we're here to impact as many people in as positive of a way as possible," Dr. Gill concludes. "We believe that having a great smile is literally life-changing. When a patient walks in one day and they're super shy and only smile with their mouth closed, and after treatment, they've got this bright, wide smile... it's a whole different person. A whole different energy comes out. And to be part of creating that for somebody is one of the best parts of my job."
Get started on your Invisalign journey today by booking a free consultation!
One Life. Live Inspired.