There are many reasons why Invisalign® has become a go-to option for so many people, young and old, all looking to transform their smiles. Aesthetics is a big one. Stainless steel or titanium braces, the old way of fixing teeth, have many challenges attached to them.
First off, the world is going to know you have braces. As the name suggests, the aligners used with Invisalign® treatment are pretty much invisible. Invisalign® is recognized as a leading-edge cosmetic orthodontic option. They are made from a smooth plastic material that creates a custom fit for the teeth. This means the person wearing it will know they're on, but the general public won't.
For young people, in this age of social media posts, that's a real advantage. Having straight and beautiful teeth translates to a confident smile. Plus, they are removable—so if you want to take them off for an Instagram pic, you can!
Invisalign® treatment has fast become a well-loved option for transforming smiles. But what bites can it help with? Invisalign® is not just about straightening teeth. It's not just a cosmetic fix. There are other cases it can correct as well.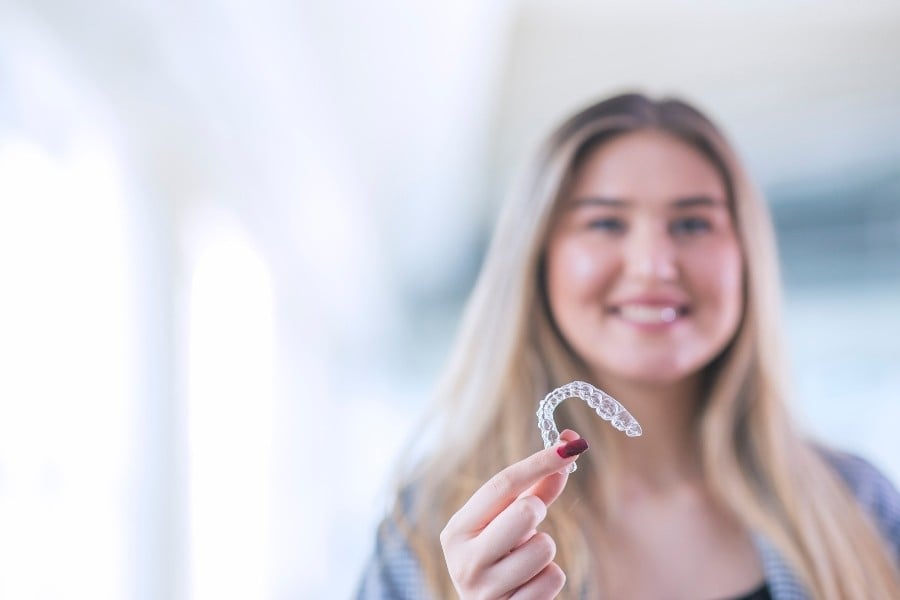 If you're concerned about your bite or the alignment of your teeth, don't fret. We sat down with Dr. Vakilian, Dentist at HealthOne, to cover eight of the cases that Invisalign® treatment can fix.
Overbite

Most people have at least a little overbite. It's when your upper teeth overlap with your lower teeth. Left untreated, it can wear down the teeth, causing cavities, worn down tooth enamel, and gum disease. At worst this condition can lead to pain in your jaw.
Underbite

This is when you close your mouth, and your lower teeth are in front of your upper teeth. An underbite condition can cause difficulties with eating and chewing. Like with an overbite, it can also cause tooth decay, including cavities. In the more serious cases of underbite people suffer from headaches, speech issues, chronic mouth breathing, mouth and jaw pain, even sleep apnea.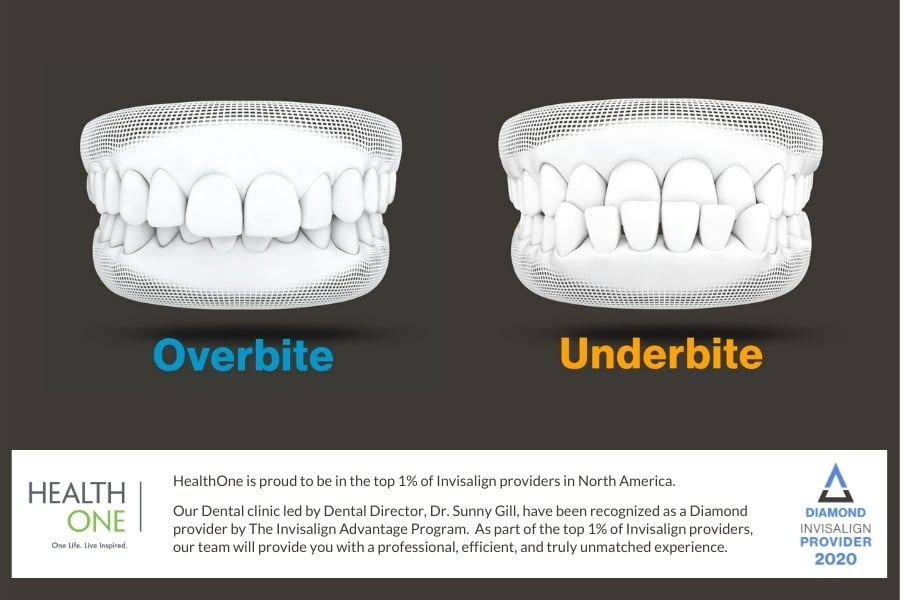 Gap Teeth
This is when you have a gap between two or more of your teeth. The challenge with gap teeth is it traps food particles. That leads to a build-up of bacteria and plaque, which weaken the teeth and gums. That can cause teeth decay, gingivitis, and other complications like periodontitis.
Crowded Teeth

This is a situation where teeth are bunched up, overlapped or twisted. Teeth in this condition makes it challenging to brush or floss. Misalignment like this can cause chronic headaches, neck and jaw pain. It can also result in bacteria and plaque build-up, leading to gum disease. Bad chewing habits as a result of crowded teeth can result in gastrointestinal problems. Teeth in this condition are more likely to chip or break.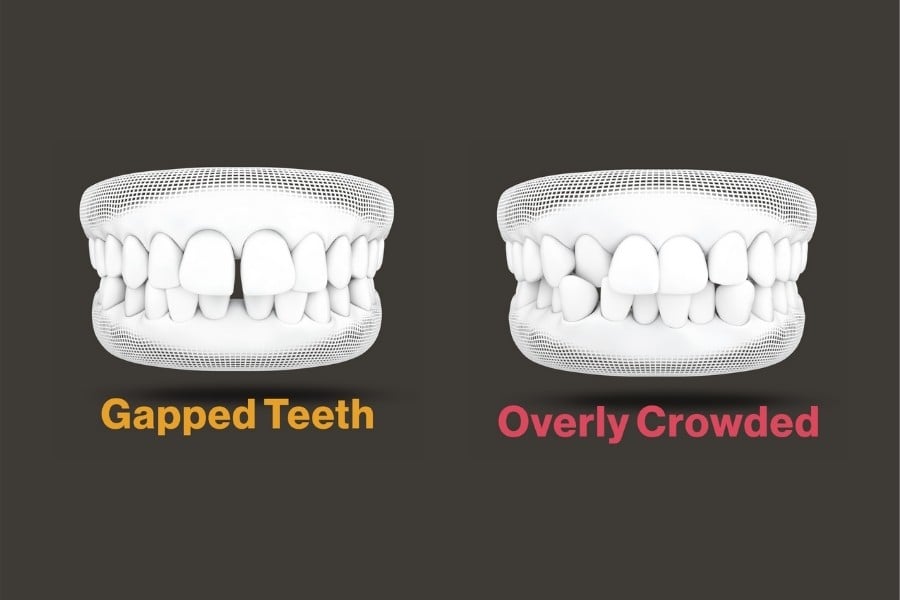 Open Bite

Open bite is a condition when your upper and lower teeth don't touch when your mouth is closed, slanting outward. It can make it challenging to bite or chew food. Aesthetically, it looks like the teeth are sticking out. And it can cause teeth wear, even fractured teeth, at the back of the mouth since teeth there are coming together more often.
Crossbite

A crossbite impacts the way your teeth are aligned. When you close your mouth, some of your upper teeth sit behind your lower teeth, rather than on the outside. This condition affects a few of your teeth, where something like an underbite affects them all. This too can cause pain in the jaw, pain in the neck and shoulders, frequent headaches, tooth decay, difficulty speaking, and sleep apnea.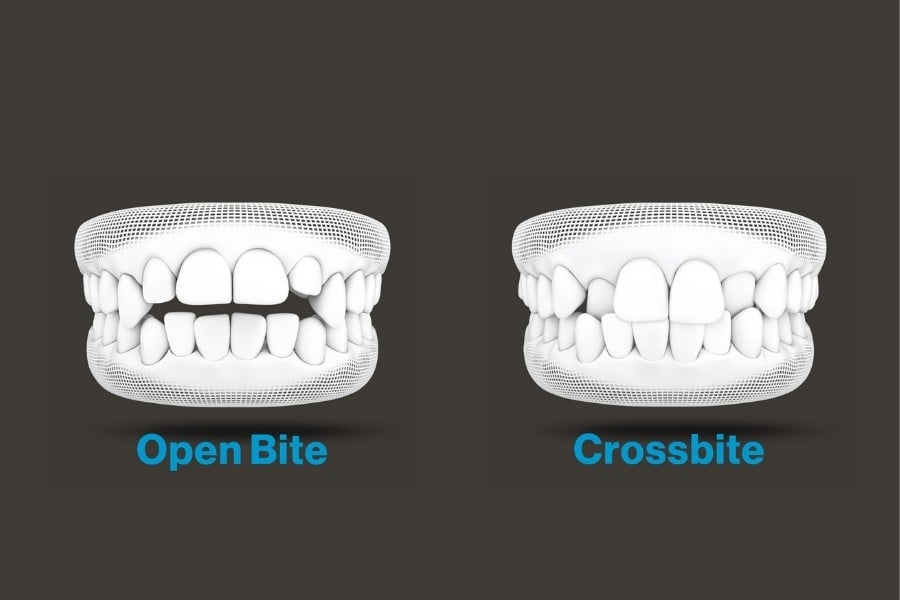 Generally Straighter Teeth

As said, maybe you're active on social media. Perhaps there is an important family event coming up, where photography will be a focus – like a wedding or a graduation. It could just be a smaller fix you are looking for, more of a tweak, to bring your smile to perfection.
Baby and Permanent Teeth

This is for children, to help build a better foundation as they lose their baby teeth. A treatment plan for kids aged six-10 will help them avoid future challenges with their teeth as they age. Invisalign® treatment at this age can help them better develop jaws and arches, as their permanent teeth grow in. It can fix any teeth-straightening issues at an earlier age. It can tackle any bite issues before they worsen. Keep in mind that if you commit to the Invisalign® treatment you need to follow the dentist's instructions. You are very much in control of your own treatment compared to braces.
"Most people are good candidates for Invisalign® but there are exceptions to that rule," Dr. Vakilian says. "The first one is anyone who may not present the motivation to actually wear the aligners for at least 20 hours a day." That initial assessment is key. The process behind Invisalign® treatment is like building a house – you need to have a strong foundation before proceeding anywhere. "It goes back to the same ideas as teeth whitening," she says. "Anyone with severe gum disease or bone infection is not a good candidate for that. In the case of Invisalign®, we are moving teeth so if there's an underlying issue it needs to be assessed prior to starting Invisalign®. Children who are too young to follow the guidelines are also not a good candidate. Other than that, most other people are good candidates."
What is Invisalign?
Now that you know the 8 bites Invisalign treatment can fix, let's talk a little bit more about the treatment itself. Invisalign is an orthodontic treatment developed by Align Technology. It's made of a smooth, clear, plastic material that feels comfortable in your mouth. When you become an Invisalign patient, a dentist will take a 3D scan of your teeth and this will be used to create your trays. They'll be perfectly fitted to your teeth and gradually shift with each tray in your treatment plan.
Benefits of Invisalign Treatment

As we mentioned, one of the main benefits of Invisalign® treatment is that it's basically invisible when worn. It's an extremely useful way to correct the eight cases we mentioned, but the benefits don't stop there!
With Invisalign®, you have the advantage of being able to eat whatever you want, whenever you want. Eating can be extremely difficult if you wear metal braces. "I've heard a lot of complaints about people with braces having wires and not being able to enjoy food the same," says Dr. Vakilian. "So, with Invisalign® if you're brushing or flossing your teeth you can do it properly. If you're enjoying a meal, you can enjoy it properly. If you're playing a sport where it might get in the way, you can take it out.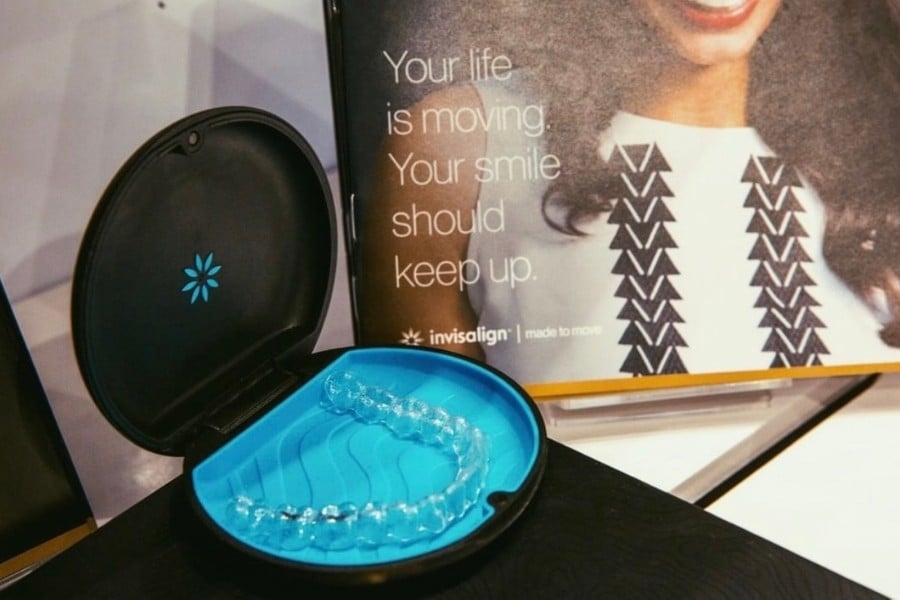 "They're also increasing in popularity because the younger generation have a hard time keeping their teeth clean with braces on," she adds. "I've seen a lot of youth with cavities because they can't clean braces and those are very young, healthy teens. Again, the trays are removable so flossing your teeth is easier. You know, food can get stuck in places – with Invisalign® that isn't an obstacle at all."
And then there's overall comfort level. The Invisalign® aligners are made with no rough edges. There's no discomfort in the mouth that you would get from metal brace wires poking the cheek or lips. And treatment time is often 50 per cent faster than braces, as little as six to eight months in some cases. You could be looking at 24-30 months of treatment time with conventional braces.
It's no doubt that the benefits of Invisalign® showcase why so many people, young and old, have been delighted with their new smiles after treatment. The Invisalign® Advantage Program has recognized the HealthOne Dental as a Diamond Provider, meaning we are in the top one percent of Invisalign® providers in North America. That's a testament to the success and popularity of the program, the skill level of the professionals who use it at our clinic.
Invisalign Toronto
If you're interested in getting Invisalign in Toronto, look no further! We have a team of experienced dentists who would love to make your smile dreams a reality.
Think you might be a good candidate for Invisalign® treatment? The best way to map the best course of action for you is to book a complimentary consultation with a dentist at HealthOne. We would love the opportunity to help you determine if Invisalign® is a good fit for your bite so we can help more people live inspired lives, one confident smile at a time.
One Life. Live Inspired.