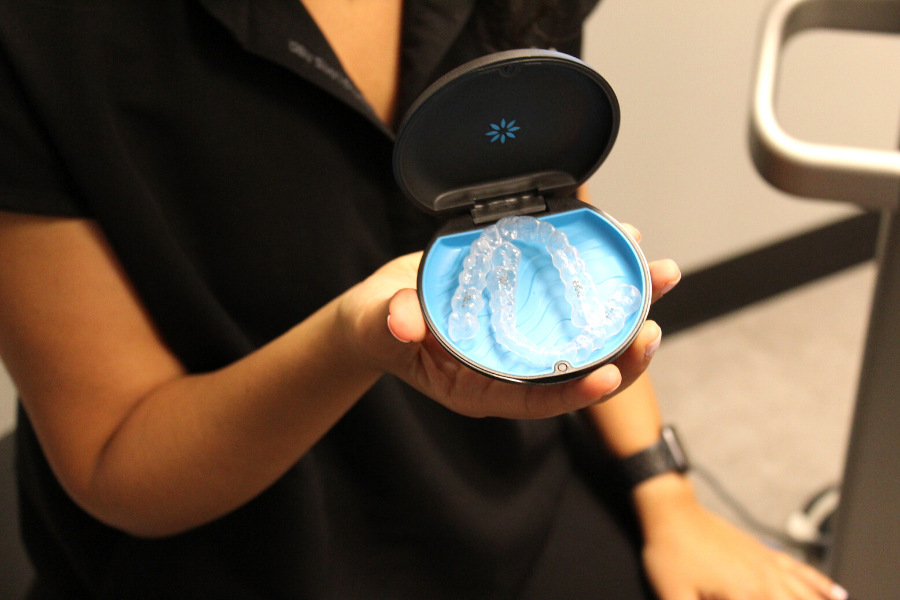 Here's a fact we can all agree on: when we look good, we feel good. And everyone deserves to feel confident!
Whether you just visited the spa or got a new 'do at the salon, the one thing that looks great on everyone is a brilliant smile. One of the most popular ways to achieve it these days is with Invisalign clear aligners!
Maybe you know someone who did Invisalign or you've seen it on social media. With over 11 million smiles and counting, there's a good chance you've heard about it somewhere! We've already written about the bites it can fix, how it compares to braces, and details about how treatment works. In this blog, we're doing a case study on two of our very own Invisalign patients!
Since every person's Invisalign journey is unique to them and their teeth, we wanted to compare and contrast two different success stories. We hope it provides you with a better understanding of the ways Invisalign could transform your smile, too!
What Is Invisalign?
Invisalign is a popular form of orthodontic treatment created by Align Technology. It can be used to fix malocclusions like an overbite, underbite, or crossbite, or for cosmetic purposes like straightening or closing a gap between your teeth.
Unlike traditional metal braces, which are uncomfortable and easy to notice, Invisalign is comfortable and nearly invisible when worn. It's made from a smooth, clear material called SmartTrack® that's backed by eight years of research and development.
Patients are given a certain number of aligners which they swap out every 1-2 weeks. This slowly and effectively shifts the teeth into their final positions. Every set of aligners is custom-designed for a snug, secure, and one-of-a-kind fit.
Invisalign Benefits
People love Invisalign for a lot of notable reasons. One of the biggest benefits is that it doesn't interfere with your lifestyle. The aligners are removable, which means you can eat, drink and floss the way you normally would. With braces, things like flossing and eating popcorn are a nightmare, to say the least!
The fact that they're nearly invisible is also a huge benefit. Whether you're on a Zoom call or meeting up in person, most people prefer to do so without a mouth full of metal. Clear aligners mean you can complete your orthodontic treatment while still looking great for the 'gram.
On top of this, Invisalign treatment can be completed in a short amount of time. A skilled dentist, like the ones at HealthOne, can complete minor adjustments in just a few months!
Based on what you're trying to fix, a good Invisalign provider will be transparent with you about every step of the process. With that, let's dive into our two Invisalign case studies.
Invisalign Reviews
Olivia and Jasmin both completed their Invisalign treatment at HealthOne. They have very different stories, however, which will demonstrate how unique each person's Invisalign journey can be.
Olivia's Invisalign Story
Olivia had never considered Invisalign until she visited HealthOne. But during a dental examination with Dr. Yasmkin Vakilian, she found out that she had a deep bite that was causing wear and tear on her bottom teeth. Dr. Vakilian explained that as she got older, her bottom teeth would continue to wear down which could eventually cause problems (so much so, they could fall out entirely.)
"I was pretty surprised when Dr. Vakilian told me that she recommended Invisalign treatment. I grew up with very straight teeth and even had people ask if I ever wore braces! It turns out that just because they looked good didn't mean they were functioning properly.
When I saw the scan of my teeth from the I-Tero machine, it really put things into perspective. It has a setting that uses different colours to show how much contact there is between the top arch and the bottom arch. I was surprised to see that my bottom teeth had a lot of red (which indicates the highest amount of pressure), which really helped me understand the problem on a deeper level."
When her treatment started:

April 2020.

When her treatment finished:

September 2020.
Total length of treatment:

5 months.

How many trays she had:

17.
Olivia's story is a great example of how Invisalign can be used to improve the functionality of your teeth.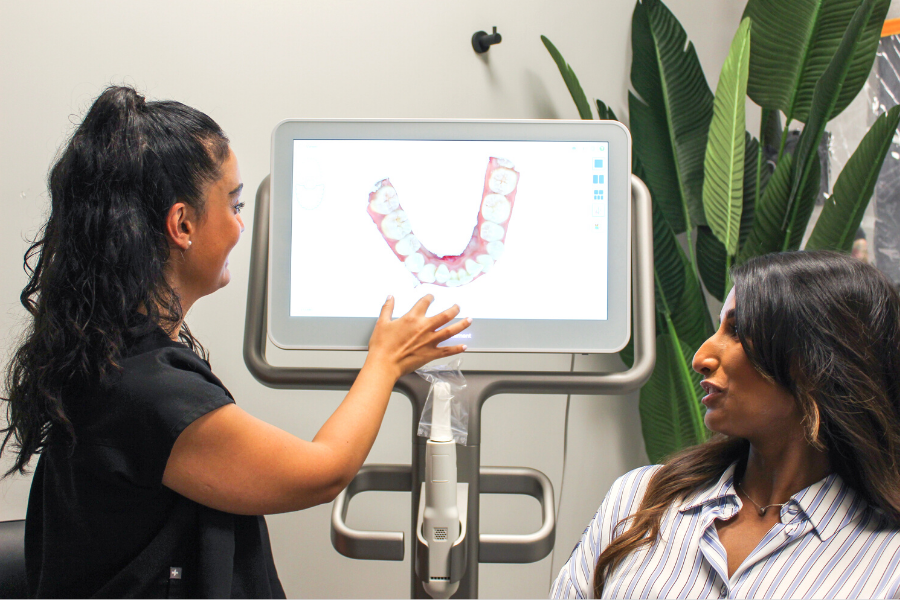 Jasmin's Invisalign Story
On the other hand, Jasmin had been told from a young age that she would need braces to fix her bite and her smile. Dentists had even recommended jaw surgery, but the cost and recovery period (6 months) deterred her from going down that path. When she visited Dr. Vakilian, she gained clarity about the problems with her smile and how Invisalign could help.
"Initially I was interested in Invisalign for aesthetic reasons. My smile and the overcrowding in my teeth were definitely a big insecurity of mine – I used to never smile with my teeth. I had also been living with a deep bite for a long time, but I never really realized how bad it was until I went for the consultation with Dr. Vakilian. It was really helpful to have her explain everything I was unsure about."
When her treatment started:

January 2020.

When her treatment finished:

October 2020.

Total length of treatment:

10 months.
How many trays she had:

24 trays + 8 trays of refinements (32 total).
Jasmin's story is a great example of how Invisalign can be used to improve the functionality and appearance of your smile. When you visit a skilled Invisalign provider, they'll also make sure you have a say in your treatment plan. As Sunny Gill, our Dental Director, states:
"The patient gets to be part of the conversation. We don't come in authoritatively and say 'You have to do this' or 'You have to do that'. If you're interested in certain things, we can talk about it. But we will make recommendations to do things the best possible way."
This is what happened to Jasmin when she needed further refinements beyond her original treatment plan. "I had such a deep bite that we knew refinement was probably something I would have to do," she shared. "By the end of my 24 trays, a couple of my teeth also hadn't rotated as much as I wanted them to. Doing refinements was a discussion and mutual decision between me and Dr. Vakilian."
Your dentist will explain early on if they think refinements might be necessary for your treatment plan. And as you near the end of your trays, they'll check in to see how happy you are with your progress and ask if you want to make any further changes. Ultimately, the end goal of every Invisalign case is a smile that the patient loves!
Invisalign Attachments
Olivia and Jasmin had different success stories, but one thing they had in common (aside from a deep bite!) was needing attachments while doing Invisalign. Attachments are small, tooth-coloured bumps that help the aligners move the teeth into position. They come in different shapes and can be played on the front or back surface of the tooth. A dentist will bind the attachments to the teeth using composite, and when Invisalign treatment is complete, they are simply buffed off.
For very minor problems, attachments are not always necessary. Your dentist will let you know if attachments are required to accelerate your results and produce the smile you want.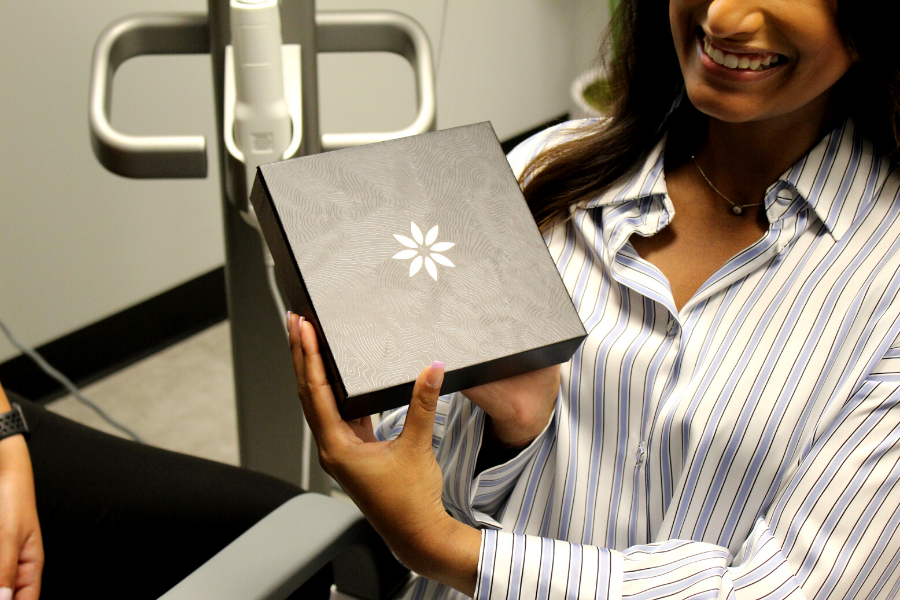 Invisalign Cost Toronto
As Jasmin alluded to, the cost of traditional orthodontics can be steep. That's why Invisalign offers a variety of payment plans so people on every budget can access their services.
Some patients may agree to pay a set amount over the span of 12 or 24-months, for example. At HealthOne, we have an Invisalign Treatment Coordinator who manages payment plans and helps patients better understand the exact route of their treatment. As each case is unique, you can discuss what specific costs for your treatment might look like during a complimentary Invisalign consultation at our clinic.
Invisalign Toronto
Olivia and Jasmin are two examples of patients who transformed their smiles at HealthOne. For Olivia, she chose Invisalign as a preventative measure, and for Jasmin, to fix the functionality and appearance of her bite.
Whatever troubles you're facing with your smile, Invisalign treatment can help!
You deserve to love what you see in the mirror and an important part of that is your smile. Book a free consultation for Invisalign in Toronto to begin your own before and after story today!
One Life. Live Inspired.