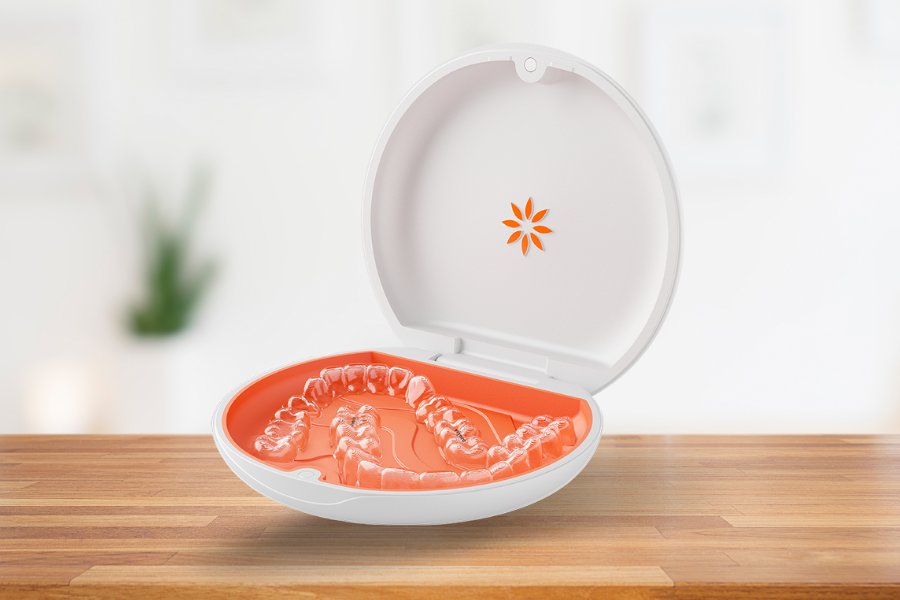 Invisalign clear aligners have an impressive reputation. They're known for being clear, faster than braces, and oh-so-easy to integrate into your lifestyle.
But have you ever heard someone refer to Invisalign treatment as strong? It's a suitable adjective when you consider how much work goes on under the surface.
After all, the aligners are quite literally moving your bones into new positions. They might be small, incremental movements – but restructuring teeth is no easy feat! And for Invisalign clear aligners, achieving the smile of your dreams can only be accomplished with a little help from its friends: attachments, retainers, and munchies.
Keep reading to learn more about these three key components that'll play a big role in your Invisalign experience.
What is Invisalign?
Let's kick things off with a recap of what Invisalign is. Invisalign is an advanced clear aligner system developed by Align Technology. They've been transforming smiles for over 25 years – and have over 12 million smiles to date! Talk about impressive.
People love Invisalign treatment for a variety of reasons:
It's clear.

The aligners are made with a smooth, comfortable plastic that isn't obvious to the naked eye (unlike braces).

It's convenient.

Invisalign treatment is a fan favourite because the aligners are removable. That means eating your favourite foods, drinking overpriced lattes, and brushing and flossing your teeth normally can all be achieved.

It's quick. From simple fixes to advanced malocclusions, Invisalign can fix teeth much faster than traditional braces. At HealthOne, we've completed minor cases in as little as 3-6 months!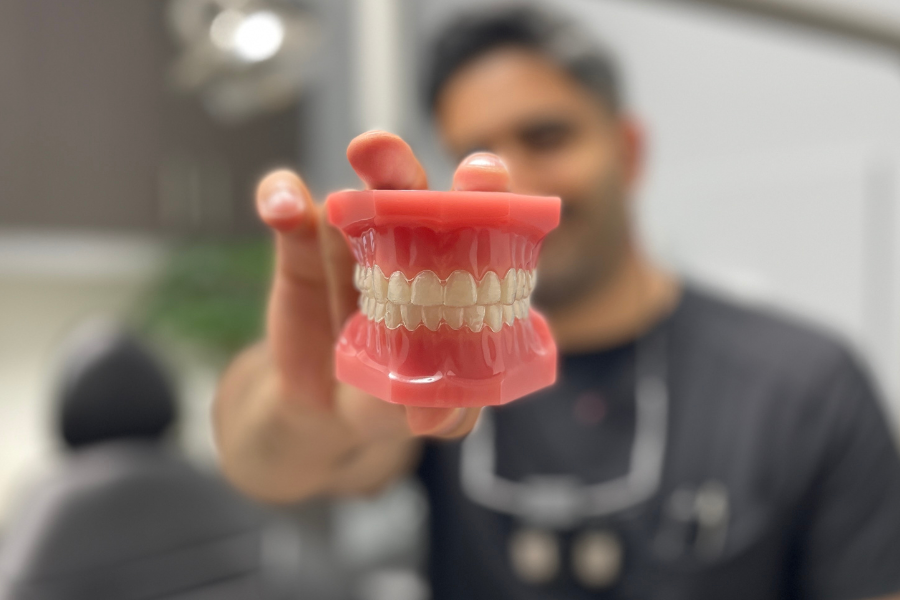 How does Invisalign work?
When you come in for an Invisalign consultation, you'll discuss your desired smile goals with a dentist like Dr. Vakilian. Then, she'll use a 3-D scanner called the iTero element to create a 360 digital image of your teeth which is used to plan out your treatment.
You'll be given a set of customized trays which you'll change out every 1-2 weeks. Each tray is slightly different from the next, which slowly shifts your teeth into their brand-new positions. As we mentioned, the clear plastic alone isn't quite strong enough – which brings us to our first of three treatment components: attachments.
What are Invisalign attachments?
"Attachments are small tooth-coloured buttons or spikes that get attached to the teeth at the beginning of treatment and removed at the end," Dr. Vakilian shares. "They allow for some of the movements to happen that we wouldn't be able to do with just the plastic alone."
Examples include rotating the teeth, pulling them out, and pushing them inwards as well. Every person's Invisalign journey is unique and will include different variations of these movements.
During your first appointment, a dentist will prep your teeth for treatment which includes adhering the attachments to your teeth. Once treatment is over, they're simply buffed away like nothing was ever there in the first place!
"Almost everyone gets them," she adds. "They're visible on our models so they know they'll be getting attachments during treatment. Some other aligner brands don't use attachments in comparison, which means there's a limit to how much they can actually accomplish."
If you have questions or concerns about how attachments work, you can always speak with your dentist. Once your attachments are – well, attached, you'll be sent home with your sets of aligners. You'll also be given the second component of treatment we're highlighting in this blog: munchies.
What are Invisalign munchies?
You might feel a bit puzzled when your dentist hands you a small rubber object that slightly resembles a fidget spinner. Rest assured, it serves a purpose – and it's definitely safe to put in your mouth.
"During Invisalign, in order for the movements to happen on the teeth there needs to be pressure," Dr. Vakilian explains. "By biting down on the trays, you put pressure onto the root of the tooth which is where the pressure needs to be applied in order for the teeth to move."
Munchies are a device designed for you to chew on while wearing your aligners. Each end has a different bite option so you can find the one(s) that fit your teeth best. Dr. Vakilian recommends chewing on your Munchie at least once a day. They can also be especially helpful when you start a new tray because it might be tighter and a bit less comfortable. It's normal to experience some pressure and discomfort when starting a new tray, but you can expect it to go away after a day or so.
"The Munchie basically aids the movement. Without them the treatment will still happen, it just might take longer – so it kind of facilitates the whole process."
Once your treatment time is up, it's time to visit the dentist for a final look at your teeth. As long as the teeth have moved according to plan, you can say bye to your aligners and hello to your new retainers.
What are Invisalign retainers?
You might think that once your teeth have shifted with Invisalign, they'll stay that way forever – right? Not quite. Dr. Vakilian shares that statistically during the first 2 years after any tooth alignment is finished, the teeth are most likely to relapse back to their original positions.
This is why it's incredibly important to get a retainer and wear it as directed.
"Especially in the beginning of your treatment, the teeth are still quite mobile because they just finished moving," she explains. "They're going to want to back to where they started. That's why patients should be wearing the retainers every night to maintain the current position of the teeth while they heal."
It's recommended that you wear your retainers every night for the first 2 years following treatment. At HealthOne, we provide our patients with custom-made retainers by Invisalign's retainer brand called Vivera. They're twice as durable and 30% stronger than other clear aligner retainer materials, making them the best possible choice by a landslide. "You can think of retainers like your insurance policy," Dr. Vakilian concludes.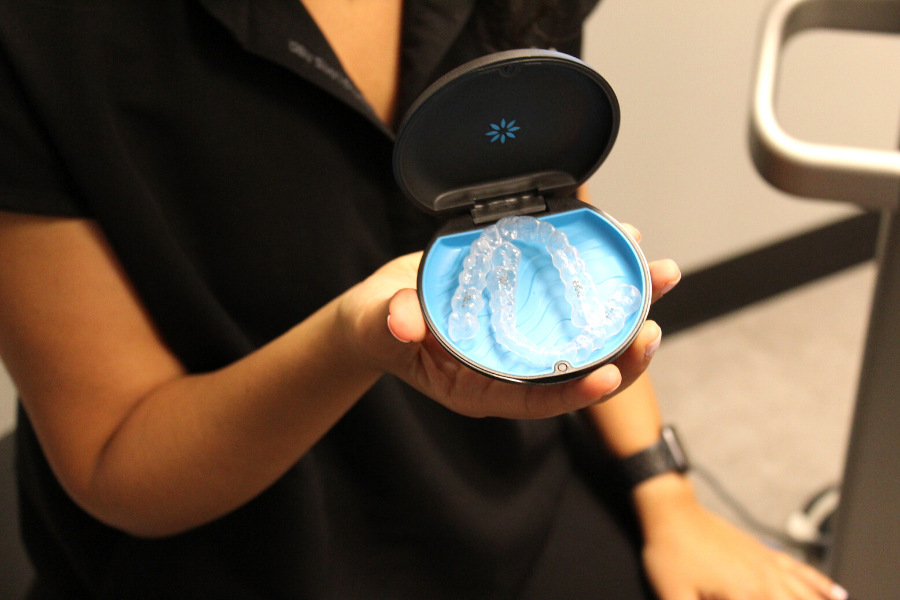 Invisalign Toronto
If you're looking for a proven way to achieve the smile of your dreams, Invisalign can certainly help you get there! Although these advanced clear aligners do a lot of impressive work on their own, attachments, munchies, and retainers are what really make the magic happen.
Our Dental team at HealthOne is recognized as a Diamond+ Invisalign Provider. This puts us in the top 1% of Invisalign providers in North America! If you want fast, predictable results delivered by top-tier dentists in Toronto, we'd love the chance to meet you and make your smile dreams a reality.
Click here to book a free Invisalign consultation with Dr. Yasmin Vakilian!
One Life. Live Inspired.