Razor burns and cuts. Tedious waxing sessions. Tweezers pinching at your sensitive skin. Not to mention the short-term results, and constant emptying of your pockets to sustain these reoccurring hair cycles.
What if you could invest in a modern hair removal solution that yields long-term results and saves you money in the end? Well, you can with laser hair removal.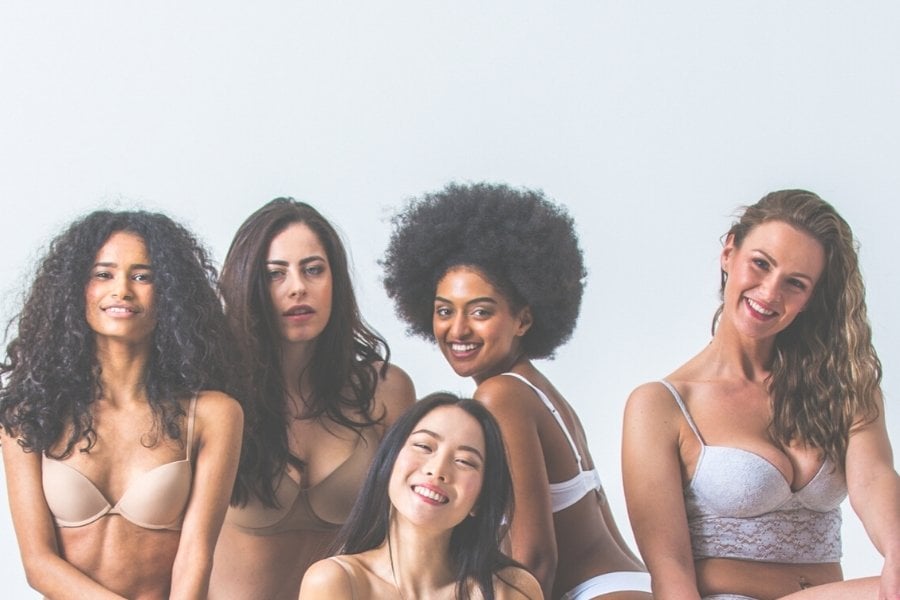 We sat down with Rachel Pooyanmehr, our Advanced Cosmetic Nurse, to get her expert advice on laser hair removal treatment. By going to a trained professional who is the most knowledgeable and in their field, you can have full confidence in your treatment being safe and effective.
In this blog, Rachel answers your most pressing questions about laser hair removal. She also explains why our advanced Venus Velocity™ machine makes treatment at HealthOne a modern, unmatched experience.
What is laser hair removal?
Laser hair removal is a medical procedure that uses a laser to target the dark pigment (melanin) in the hair. The laser beam generates a heat which penetrates and kills the hair follicles. As a result, it inhibits future hair growth in that area.
Those who choose laser hair removal enjoy permanent hair reduction; permanent refinement of dark, coarse hair; and no undesirable results such as ingrown hairs.
Why are more people seeking it these days?
With so many options available for hair removal, it can be difficult to know which one to choose. Waxing, shaving, and creams are effective but have disadvantages that can make them a not-so-enjoyable experience.
This is why laser hair removal is so highly sought after. It offers a more permanent method of reducing unwanted body hair with results that last longer.
One common misconception is that people are looking to permanently get rid of their unwanted hair. But this is not achievable with laser hair removal. The confusion generally arises during the prospect's research phase. They might mistakenly read permanent hair reduction as permanent hair removal, but these mean two different things.
At HealthOne, we ensure our clients understand what results they can and cannot expect. The results from laser hair removal vary, but typically you will see a permanent reduction in hair growth. For some clients, over time this can mean permanent removal of hair on the treatment area. Other clients may require further laser hair removal sessions years later as a follow up to create better results.
In addition, laser hair removal clients get to enjoy a fast, efficient treatment session with a considerably low pain level. Your own individual pain threshold also plays a role, but many clients have expressed reduced pain levels compared to other hair removal methods.
Rachel explains, "the level of discomfort experienced during treatment depends more on the sensitivity of the area being treated as well as the amount of hair present in that area. Some clients have more sensitive skin and lower pain tolerance. But overall, our clients have remarked that 'the pain is so mild and tolerable—and is much less than waxing."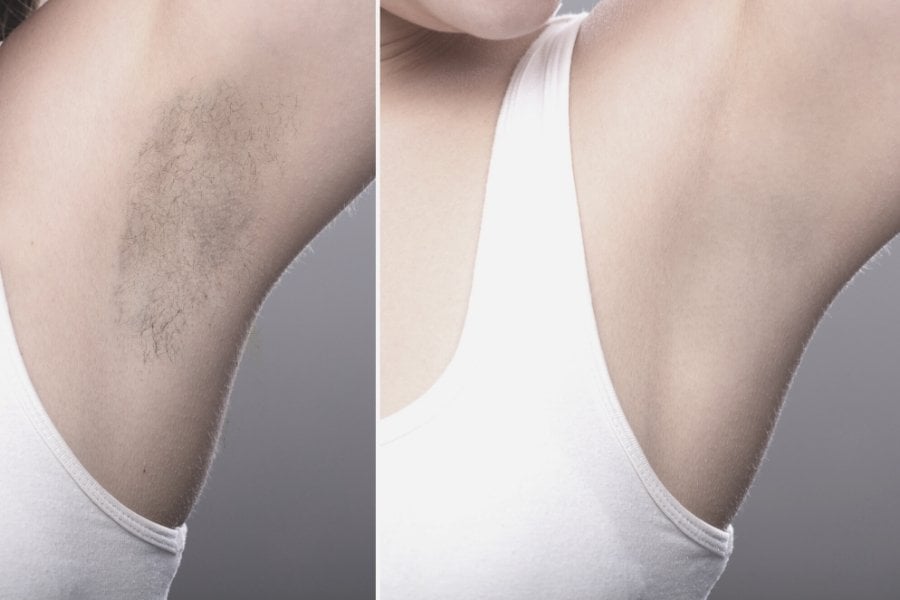 You have thick, unwanted body hair.
The first step is to determine which area(s) of the body you hope to see a permanent reduction of hair growth. Laser hair removal can be done in a wide range of areas on the body, but not all.
The key areas you can receive treatment are: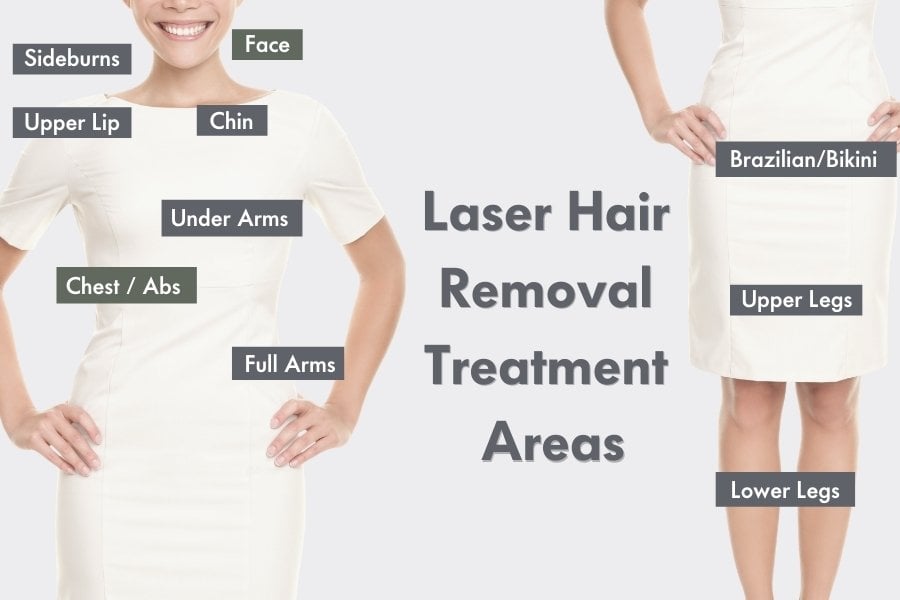 Our Venus Velocity™ machine can be used on these areas in small, medium, and large sections. Venus Velocity™ provides effective, quick, and comfortable hair removal using state-of-the-art laser technology. It's recommended that clients avoid treatments that are close to the eyes.
Laser hair removal is especially desirable if you have thick body hair in these areas. Thicker hair can be especially challenging to remove. Methods like shaving can also cause hair to grow back more coarse than it was before.
You have dark hair and light skin.
Laser hair removal technology yields the best results on high-contrast hair-skin types. Dark brown hair and pale skin is the best-suited combination to work the lasers on—without damaging the skin barrier. Results on these clients are the most accurate and noticeable.
In contrast, those with light hair or dark skin may experience less satisfactory results with some laser hair removal clinics. That's why a key factor to consider is what kind of technology is being used?
Rachel, explains why HealthOne MediSpa & Skin Clinic is the number one choice for people of all skin types, "Venus Velocity™ has the proven efficacy of diode laser technology and a real-time cooling system. It provides the optimal balance between high energy absorption of melanin chromophores and deep penetration into the skin. This makes it safe and effective for all skin types, including tanned skin."
This means that having dark hair and light skin will result in better outcomes. Especially if treatment is done with equipment that is not specifically designed to work on all hair types. However, with the innovative technology used at HealthOne, you will be able to see results regardless of what skin colour or hair type you have.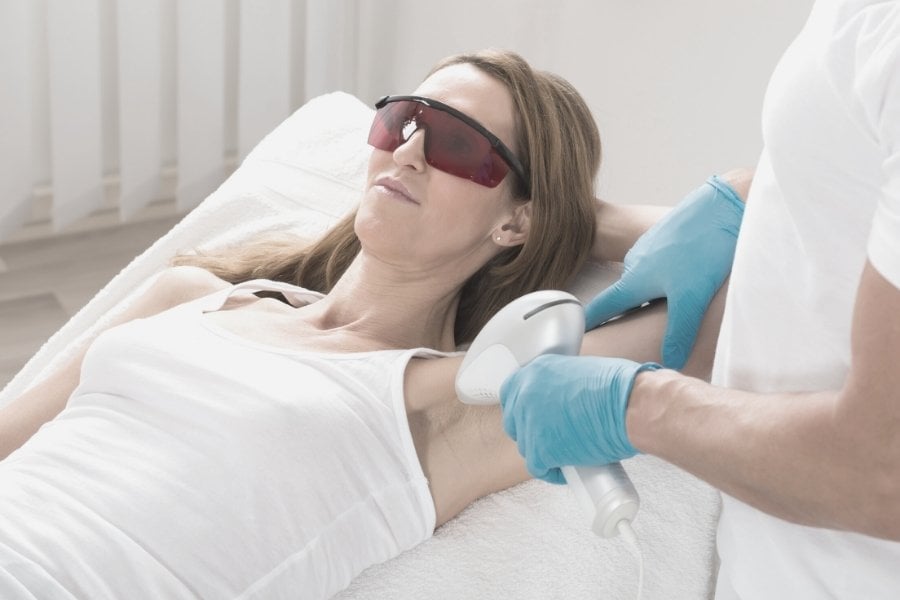 You have a busy schedule.
Hair removal appointments are probably not the #1 way you want to spend your valuable time. Think about it. How many times have you forgone shaving to save time? How many more waxing appointments are you going to put up with? A method that causes that much sting should surely be an annual visit!
If this sounds like you, it's time to give laser hair removal a try. Swap out those high maintenance monthly, weekly, even daily hair removal regimens. Instead, opt for a fast, smooth experience with less frequent appointments.
With laser hair removal, the length of time varies based on the treatment area. At HealthOne, sessions can last from 10 minutes for small treatment areas to 60 minutes for full body. Treatments are usually done in six sessions spaced out approximately every six weeks. This means a full cycle can last up to nine months total. Results last anywhere from three to six months and become more pronounced as procedures continue.
Your skin is healthy and medical history is clear.
Laser hair removal may not work the same for everyone. It can even damage some skin types. Certain medical conditions like psoriasis and bleeding disorders, and some medications, can contraindicate with it.
Laser hair removal might also not be recommended for people who are immune-compromised, who've had chemotherapy or radiation in the past six months, and pregnant or breastfeeding women. However, one of our nurses will discuss your suitability even if these apply to you. We will be happy to determine the best treatment approach for your needs.
At HealthOne, all clients will receive a full medical assessment before committing to any package or service. Our MediSpa & Skin Clinic experts will ensure beforehand that your skin is suitable and that no contraindications will occur during treatment.