All the world is on Instagram, it seems, with more and more people also using Zoom calls to do business, meaning Dr. Yasmin Vakilian has been focusing a lot on teeth whitening of late.
Men and women who come to see her at HealthOne's Dental clinic have a lot of questions about the procedure and the price.
In some cases, they are also asking her about teeth straightening, for even nicer smiles.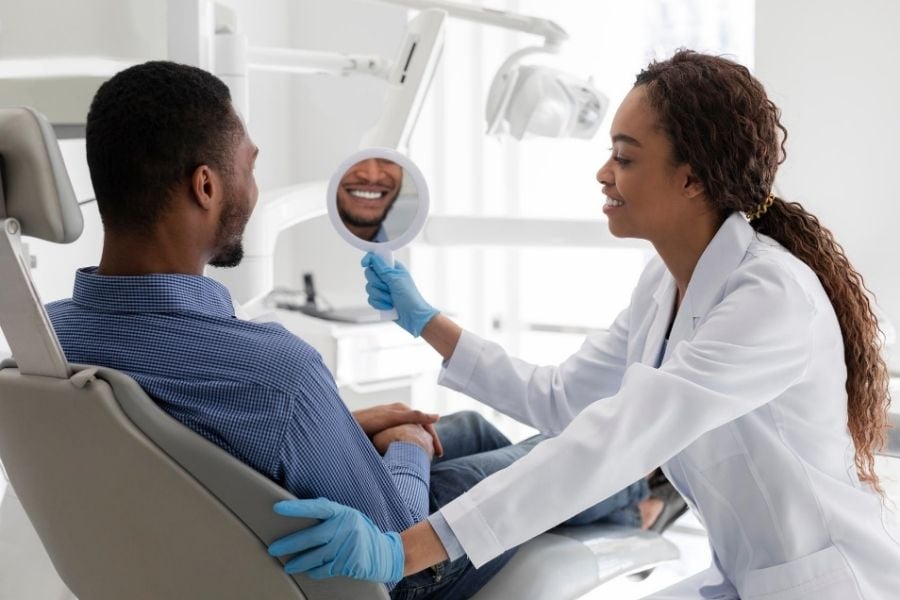 She says she has seen a noticeable uptick in queries over the past three to five years, especially among the younger Millennial generation.
The culprits are usually drinking too much coffee, tea, and red wine, or the patient may be a smoker.
With the connection between social media and appearance, it's no surprise then there are more television commercials for "do-it-yourself" teeth whitening products one can pick up at any local drug store or online, such as whitening strips and toothpaste (including charcoal toothpaste), gels, kits, or pens.
There are several important differences between over-the-counter, at-home options, and professional teeth whitening offered at HealthOne, however, that you should be aware of: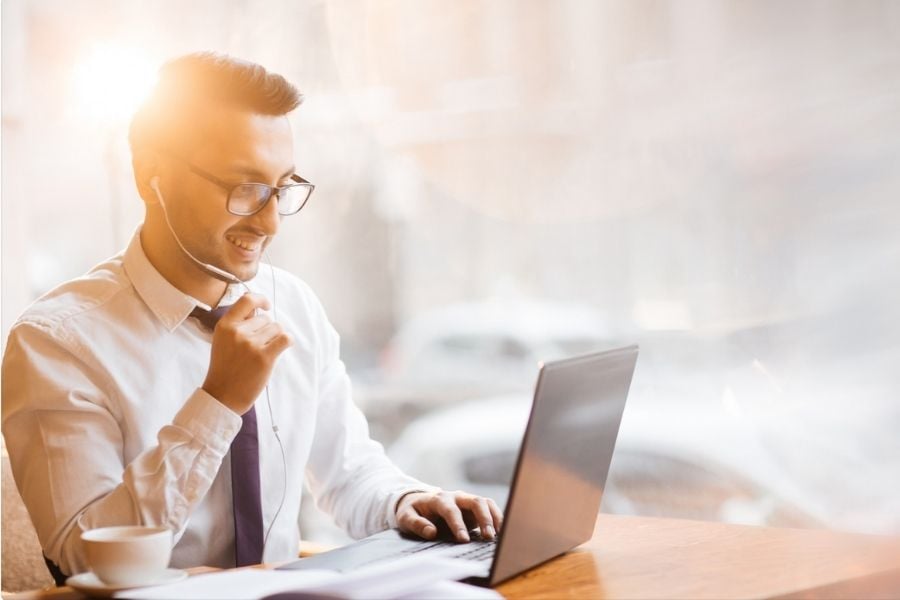 Differences in Treatment Method
The teeth whitening procedure performed by Dr. Vakilian involves taking a mold of your teeth, but only after a full assessment is completed. The purpose of the check-up is to sign off on the health of the jawbone, gums, and teeth.
At the dentist's office, if the teeth are covered in plaque, for example, you will see a hygienist and get a cleaning done prior to whitening. The process of whitening will take longer if there is a lot of plaque.
Customized trays are made from the mold. In a week or so you'll come back to pick up the trays, together with two tubes of whitening gel. You'll go over the instructions with the dentist and take everything home.
The bottom line with the professional route is there is a dentist overseeing the process, helping you out, as opposed to you having to figure it out on your own.
Custom Treatment Over Ready-Made Treatment
The custom-fit trays for the top and bottom teeth from the professional method will better target the tiny edges and crevices specific to your teeth and gums, producing a more effective result.
By going through the assessment beforehand, the dentist can also ensure that sensitive gums don't become more irritated during the whitening process.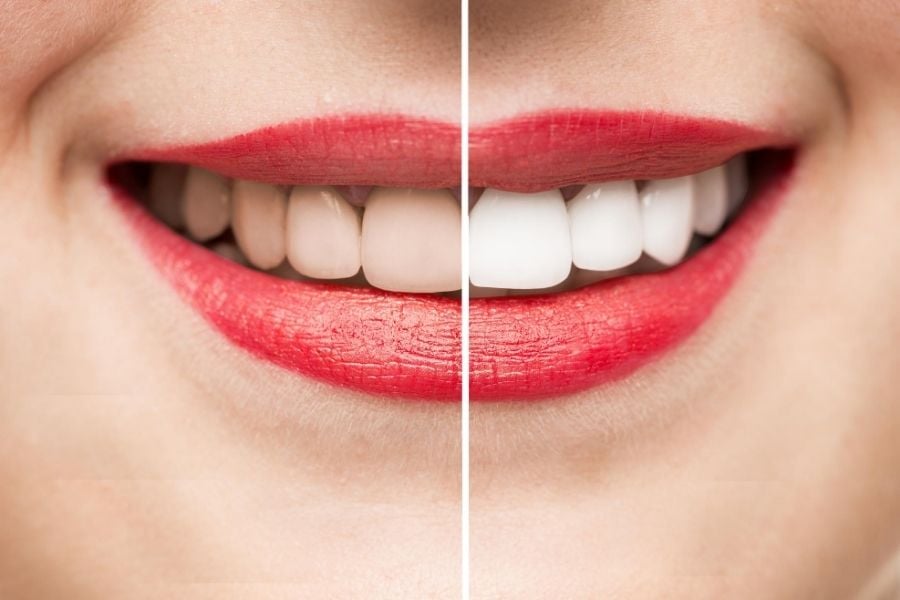 The Professional Method Lasts Longer
A small amount of the whitening gel is placed into the tray, which you'll wear for ten to fifteen minutes, once a day, for two weeks.
"We don't recommend using it consecutively for more than 14 days at a time," she adds. You should take a break of a few months after the two-week treatment period is over.
Again, results depend on the individual patient, but they usually last two to six months, before you start looking to repeat the procedure.
The better white strips out there might also produce effects that are long-lasting, even months, but you will likely be doing a lot of experimenting with different brands before finding one that lasts that long.
The assessment you get from the HealthOne dentist helps ensure you get the most out of your treatment.
"There is a big misconception that whitening materials in the household, DIY brands are the same as the professional ones, and they are not," Dr. Vakilian says.
"The key bleaching agent might be the same, but professional whitening products that dentists use are a lot stronger, making them more effective than over-the-counter gels.
Dentists are allowed to sell products that have a higher percentage of bleaching materials, whereas over-the-counter products are much more diluted, therefore not as effective."
Teeth Whitening Results Are Quicker

With professional treatments with a dentist, you should see improvement right away, but keep in mind that everyone's teeth react differently.
Dr. Vakilian says she saw a difference with her teeth after the very first time she used it, and never had to use the treatment for more than five days in a row.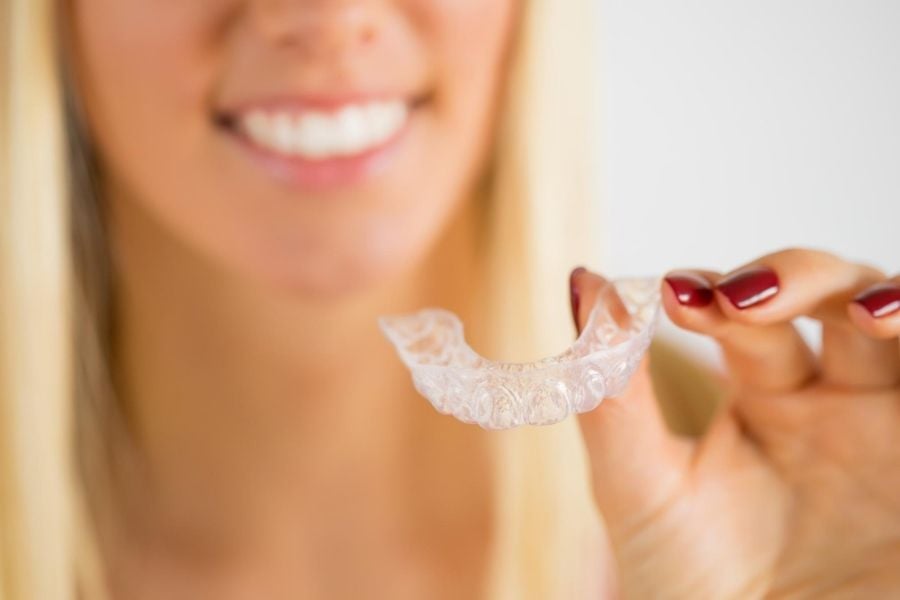 Price For The Procedure
There is currently a whitening (10 treatments 20 individual strips, and a handheld device that boosts the treatment) kit priced on Amazon for $62. A package of Whitestrips (14 treatments) from the same company is priced at $32, also on Amazon. You can pick up a 6 oz. a twin pack of whitening toothpaste now for under $6.
Our professional treatment costs $175, for the custom-fitted trays and two syringes (with the gel in it). The trays will last a long time, assuming your teeth are not shifting. The syringes will last up to two years, Dr. Vakilian says. If you need another tube of whitening gel the cost is $30.
In the end, more clients are coming to her because they know they're getting access to the best products on the market, and treatment by a professional, meaning less stress and even a whiter smile in the end.
"Because of the popularity everyone is jumping on the bandwagon now," says Dr. Vakilian. There are a lot of options out there, not all of them good. There is a lot of misconception out there that a whiter smile is indicative of a healthy smile.
"It really goes back to boosting the confidence of the patient," she says. "When people start to think their appearance has improved, and they are happier with their smile, they will smile bigger, and more naturally."
Learn more about teeth whitening at HealthOne by heading here.