Does this sound like you? On the search to find the right skincare routine, you find yourself at the drug store reading the ingredients on a bottle of face wash. You settle on it after the flashy packaging and claims convince you to purchase.
After a few weeks, you see no improvements. Even worse, you have an entirely new skin issue like redness, bumps, or acne. Does the cycle ever end?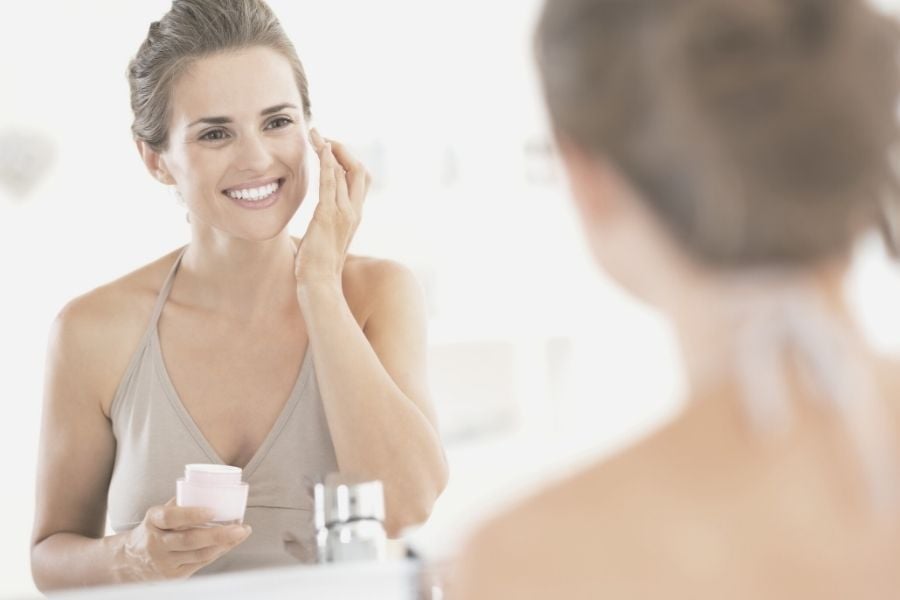 It can feel overwhelming to choose from all of the skincare options on the market. You might assume that cheaper items work the same as ones with higher price points.
According to Jess Vivier, CEO & Founder of Vivier Pharma, makers of pharmaceutical skincare, there are many key differences that are important to understand.
"Low grade ingredients are made at a lower standard because of their low costs," he says. "They may be made in sub-standard facilities under sub-standard quality control. They can give your skin irritation, redness, dryness, acne (comedones), and more. Lastly, they may not deliver on their promise to provide visible results."
So, don't go spending your money on another sub-par skincare product. Brush up on how much you know about cosmetic and pharmaceutical skincare first.
It's in the Ingredients
How many words on that bottle of face wash did you understand? If the world of skincare lingo makes you feel left in the dark, you're not alone.
The first difference between cosmetic and pharmaceutical skincare is the ingredients used. Cosmetic products are designed to be applied to the face or body. However, they do not have many ingredient rules or regulations.
This means a company can use a liquid like tap water in your product. It might be cheaper and easier for them. But it does little to no good for your skin.
On the other hand, pharmaceutical quality products are manufactured at pharmaceutical standards. They use pharmaceutical ingredients in a licensed and inspected pharmaceutical facility.
They also require Health Authority market registration and approval.
Let's take a closer look at a widely used skincare favourite: Vitamin C or L-Ascorbic Acid.
Product Spotlight: Vitamin C
Vitamin C or L-Ascorbic Acid is a commonly sought-after skincare choice. It can aid in skin repair and collagen production. Your skin can look and feel firmer while having a healthy, radiant glow.
There's a lot more to ingredient quality than we might know. But for Jess Vivier, it's what he knows best. He has a background in Chemistry and over 30 years' experience in the pharmaceutical industry.
"There are 3 grades of Vitamin-C or L-Ascorbic Acid," he explains. "Pharma grade is denoted by USP (United States Pharmacopea). It is the grade standard for all pharma drugs. This includes the oral Vitamin-C you buy at your retail pharmacy. Pharmaceutical products give you 100% L-Ascorbic Acid concentration." It's pure Vitamin-C.
Vitamin-C USP or L-Ascorbic Acid USP is the only grade used in Vivier C Serum. It's an advanced anti-aging serum formulated to diminish the appearance of environmental damage.
Buying a Vitamin-C USP or L-Ascorbic Acid USP at $169.00, you know you're getting the highest quality Vitamin C available. You're also getting it in a quantity (100% L-Ascorbic Acid USP)that's worth every penny. You can count on seeing results within the first few weeks.
In comparison, there are two other lower grade Vitamin Cs. They are Esters and Food grade. While used in many cosmetic skincare products, their percent (%) concentration is less than 50% at best.
This is why lower quality products are typically accompanied by low price points.
"At the end of the day, you get what you pay for. That's why Vivier only uses the best pharma quality ingredients."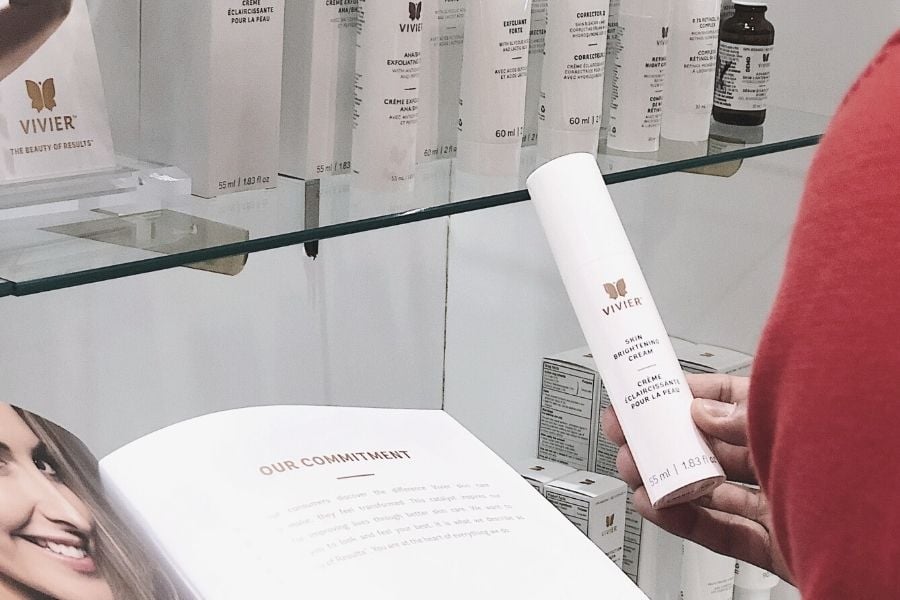 Tried, Tested and True
Ingredient lists only take us so far. What people care about is whether something works. Can the product actually deliver the results you want? It can be difficult to know where to begin.
"If you try to mix and match [products] and you experience a skin problem, you will never know which product or product mix is causing it," says Jess. "This is why using a kit in the form of a skincare program specifically designed for your skin issues can be a great place to start."
Vivier offers pharmaceutical-grade skin programs for aging skin, redness, hyperpigmentation and acne. They also offer their signature program. "All Vivier products are skin pH balanced and specifically formulated to give you a quality product for your skin," he adds.
Selecting a program designed for your skin issue is a great way to start seeing results. But how is product quality measured? At Vivier, there are more ways than one.
All of their products are manufactured and tested by pharmaceutical manufacturers and testing labs. They are also inspected by the FDA & Health Canada to ensure their product quality meets pharma standards. This is not a standard practice for cosmetic skincare, such as the ones found at drug stores.
Vivier also has what they call the "bottom of the jar guarantee". If you don't like the product, you can return it for your money back. They're confident in this because they quality check every batch they produce.
"All products are made in a licensed and inspected pharma manufacturing facility," Jess shares. "Every product has what is called a "Master Batch Record". It gives specific and accurate step by step manufacturing information. Also, every step has a 200% due diligence inspection done by a production supervisor."
But the rigorous quality testing doesn't stop there.
"The final test is done by a licensed and inspected testing laboratory. All batches are tested to see if they meet testing specifications. Then we go further by doing what is called long term stability testing. This way, we can assure you 100% consistency from batch to batch."
With so many steps put in place, it's clear why there is a higher dollar value on pharmaceutical products. But for results that meet – and exceed – your expectations, it's certainly a price worth paying. You are worth it!

Transform Your Skin with Vivier
Your skin should be cared for daily. Similar to how you view brushing your teeth or even maintaining your car. If you're used to poor-quality and low-cost products, making the switch to pharmaceutical skincare can feel like a big jump.
But the feeling of skin you feel confident in is priceless. Especially if it means supporting a company whose values align with your own.
Vivier is a family-owned business. It puts its employees, partners, suppliers, and community first. Incorporated by Jess Vivier back in 1997, they have spent the last 20+ years creating innovative pharmaceutical skincare products.
Vivier's products are formulated and manufactured to the highest standards. This is why they can promise you "the beauty of results". Cosmetic and pharmaceutical skincare are not created equal. Ingredients, testing, and visible results are the key differentiators.
So, when you finish your current product, consider switching to a high-end alternative – Vivier Skin Care. A pharmaceutical product, such as one from Vivier, will deliver beautiful results from the inside out.
Are you ready to see the beauty of results?

Click here
to learn more about Vivier.